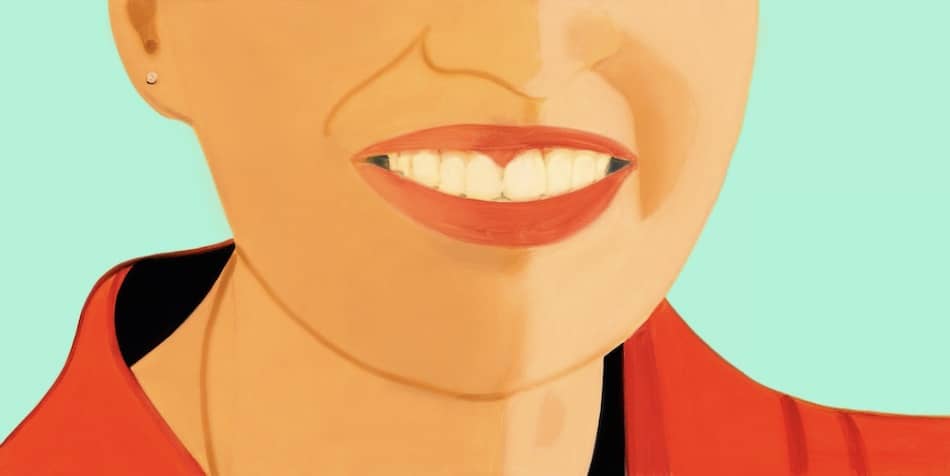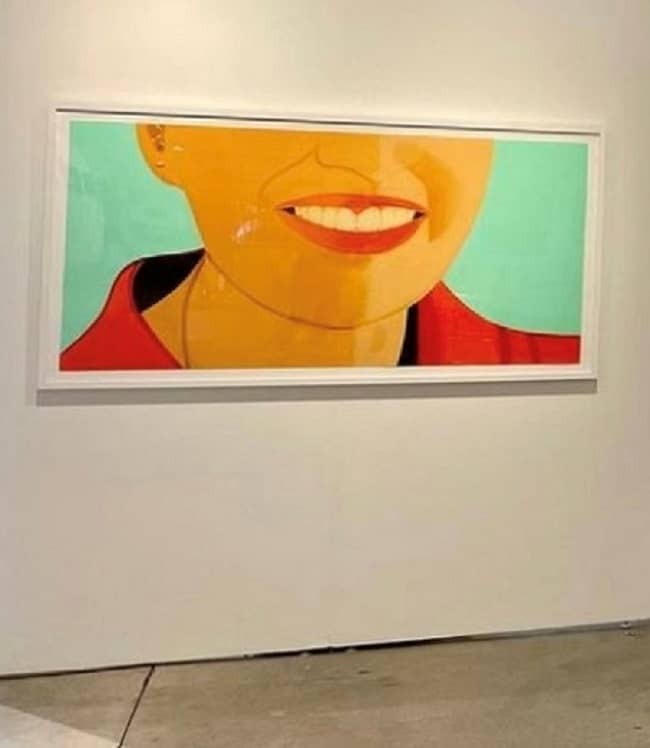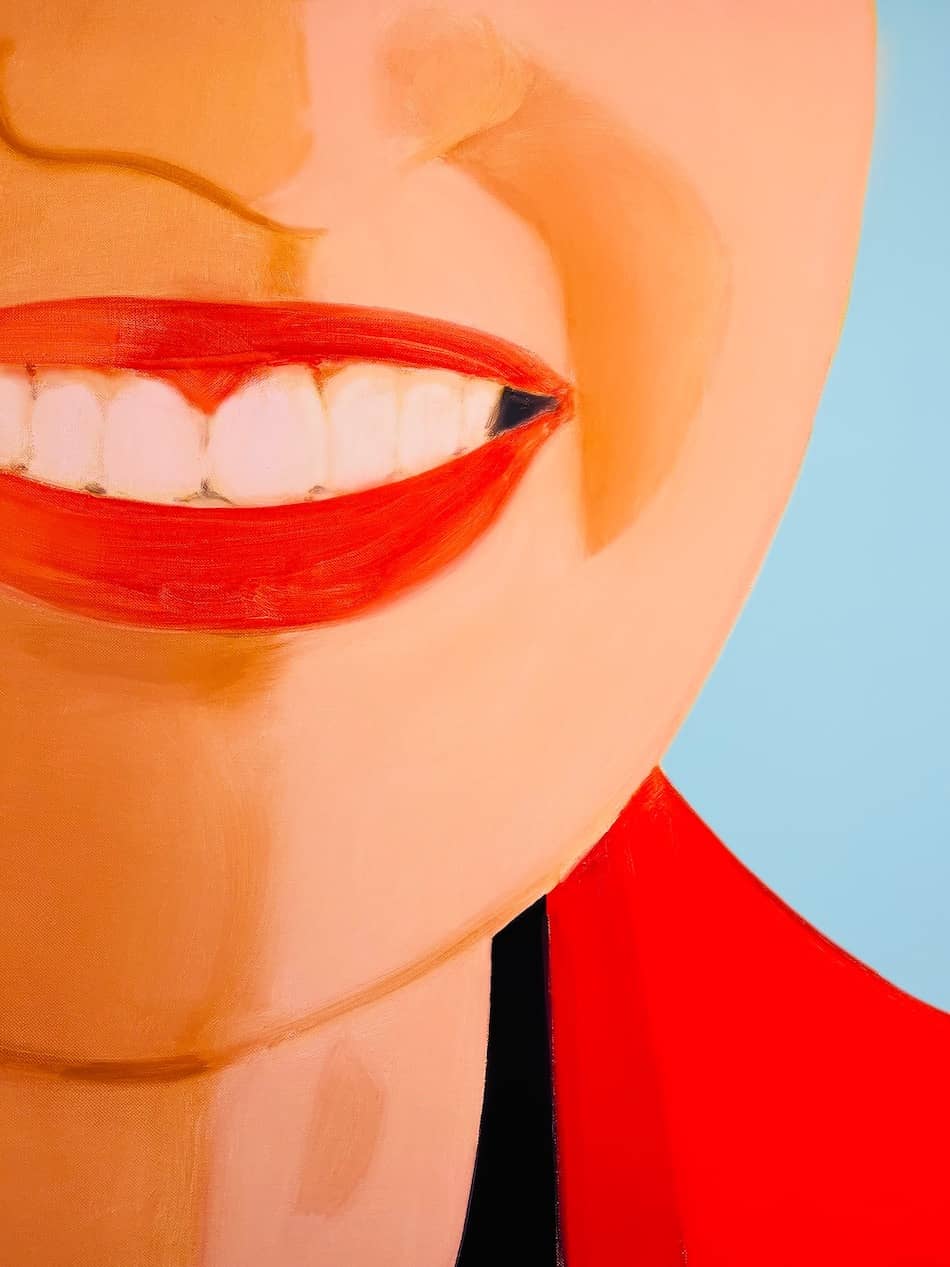 Alex Katz Big Smile (Vivien) / Pigmentprint / signed, numbered / Edition 100
| | |
| --- | --- |
| Year: | 2021 |
| Format: | 177,8 x 88,9 cm / 69.7 x 34.6 inch |
| Material: | Innova Etching Cotton Rag 315 gsm |
| Method: | Pigmentprint |
| Edition: | 100 |
| Other: | handsigned, numbered |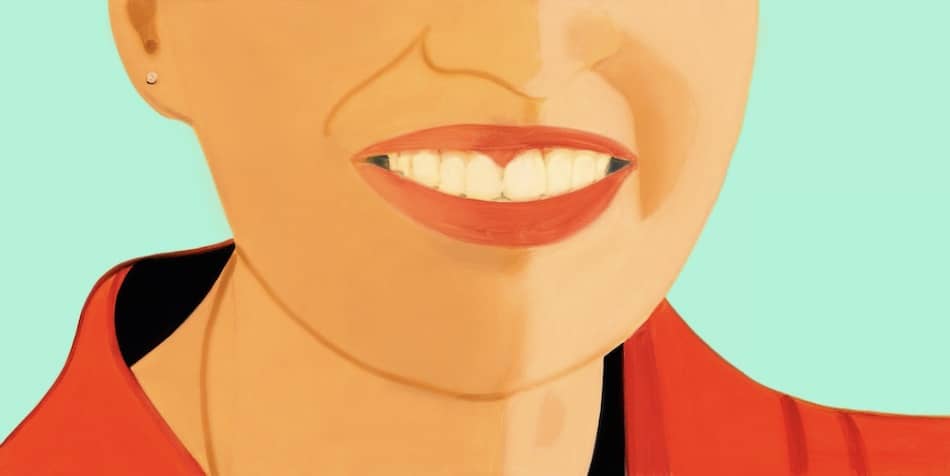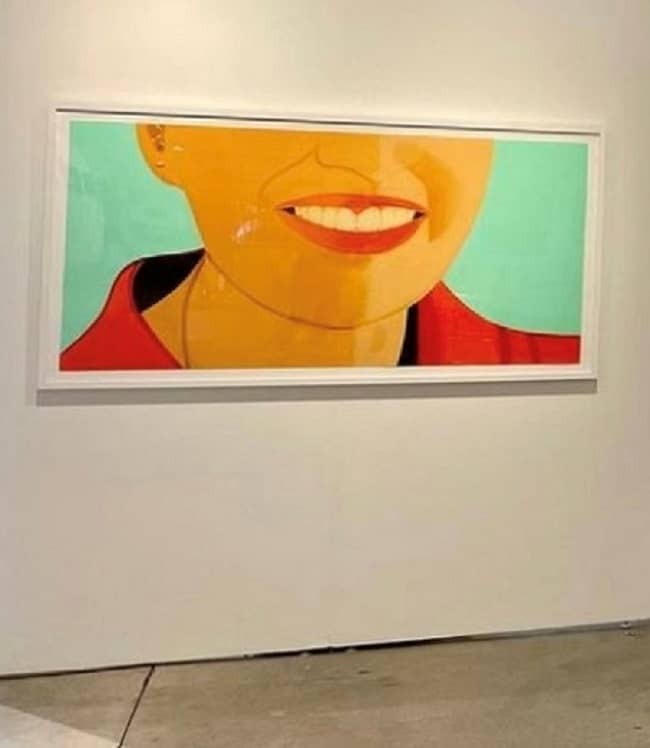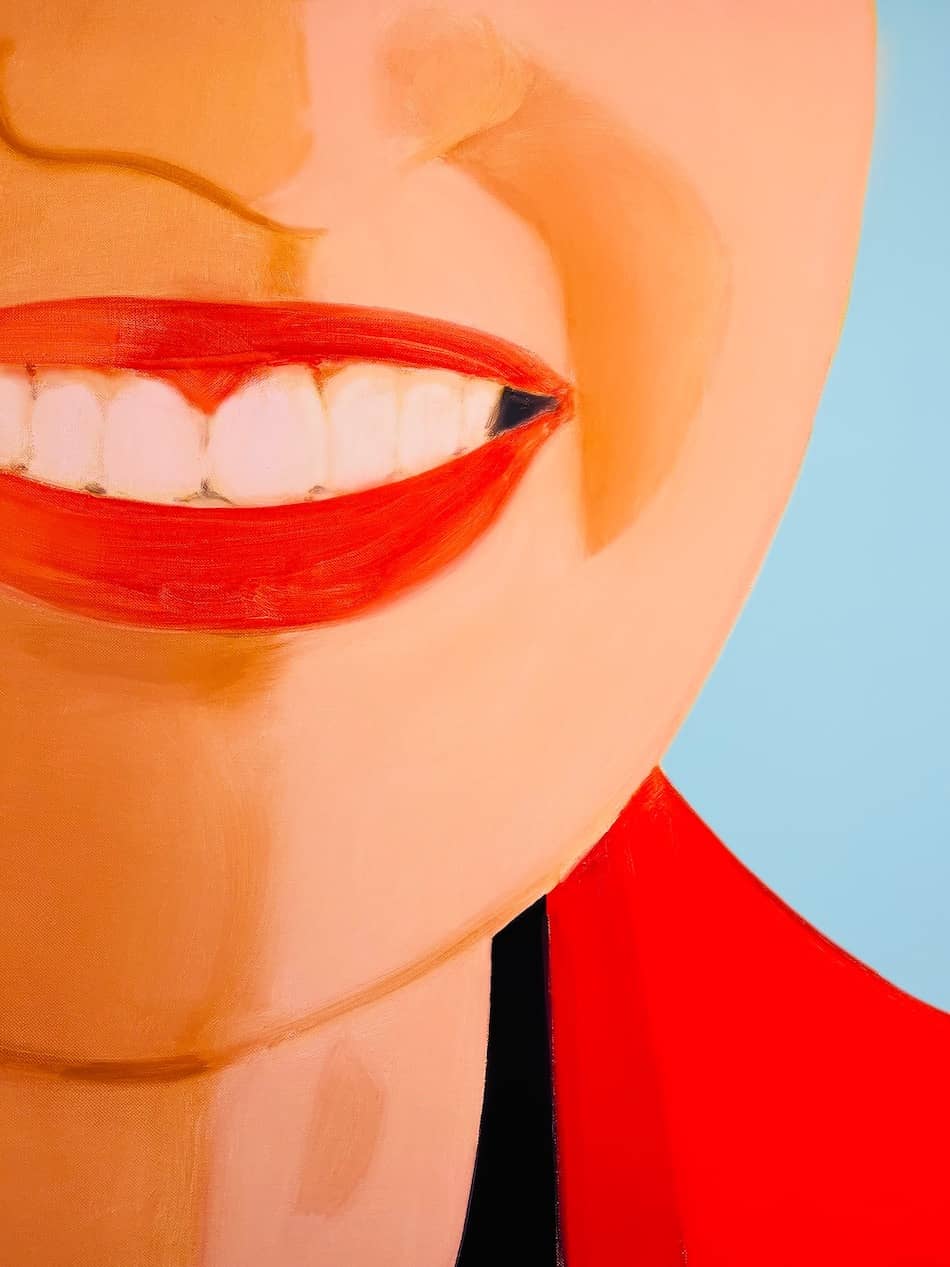 Alex Katz Big Smile (Vivien)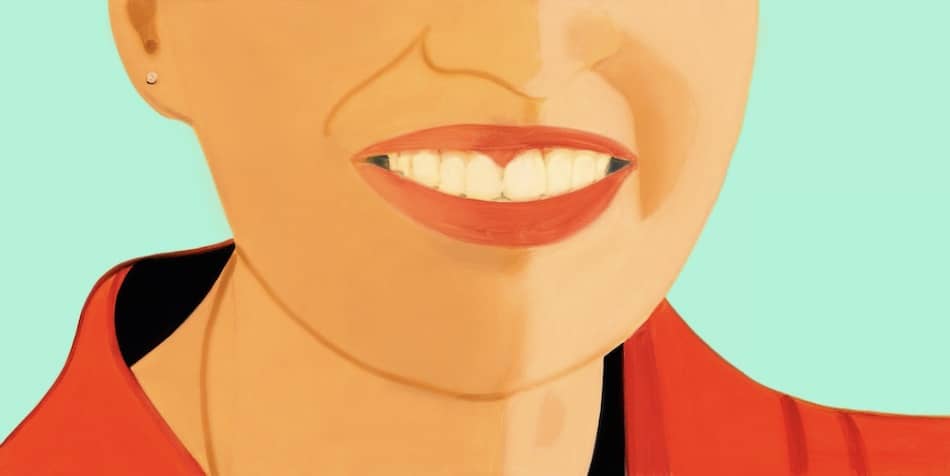 | | |
| --- | --- |
| Year: | 2021 |
| Format: | 177,8 x 88,9 cm / 69.7 x 34.6 inch |
| Material: | Innova Etching Cotton Rag 315 gsm |
| Method: | Pigmentprint |
| Edition: | 100 |
| Other: | handsigned, numbered |
Alex Katz Big Smile (Vivien)
Alex Katz Big Smile (Vivien) is a typical artwork by Alex Katz. The large format portrait Big Smile (Vivien) in color shows Vivien Bittencourt. A woman Alex Katz has portrayed many times. She is his daughter-in-law. Vivien Bittencourt grew up in São Paulo, Brazil, where she received a degree in history from the University of São Paulo. In 1986, she moved to New York City to pursue her interest in filmmaking. She produced and directed documentaries about artists, including Rudy Burckhardt, Alex Katz and Kiki Smith. She also captured several historical poetry readings on film, including a 1988 reading of Jack Kerouac's "Mexico City Blues" with Eileen Myles, Allen Ginsberg, Charles Bernstein, Nina Zivancevic and Richard Hell, and a 1989 reading of Hanuman Books authors with Herbert Huncke, Taylor Mead, Elaine Equi, Cookie Mueller, Gregory Corso and Rene Ricard. Big Smile (Vivien) is an exemplary work by Alex Katz now available at Frank Fluegel Galerie – this print features Katz's clean lines and minimal approach to portraiture, and the monochromatic lightblue background that is typical of his compositions. These portraits have no clear narrative – it is not important for the viewer to know the person or story behind the artwork. What Alex Katz is trying to emphasize with the work Vivien with White Hat is actually the beauty of the subjects. The use of soft colors and emphasis on fashionable details in his paintings transforms the coldness of sharp lines, lack of detail, and flatness into a work of art that the viewer can enjoy. Big Smile (Vivien) is a pigment print similar to screen printing.
Alex Katz / Pioneer of Pop Art
Alex Katz is especially famous for his figurative paintings: The son of Russian Jewish immigrants, he was born in New York in 1927. As a pioneer of Pop Art, he always concentrated on the essentials and early on, he dealt with simplified forms and contrasting color compositions. His art is diverse, but always has beauty as its central theme. The artist can now look back on more than 200 solo and around 500 group exhibitions; his diverse works are part of over 100 collections worldwide. Alex Katz lives and works in New York and Maine. Alex Katz Big Smile (Vivien) will become an all time classic in his recent print portfolio and is for sure a Talking Piece.
Ihr Ansprechpartner
Frank Fluegel
E-Mail: info(at)frankfluegel.com
Ihr Ansprechpartner
Frank Fluegel
E-Mail: info(at)frankfluegel.com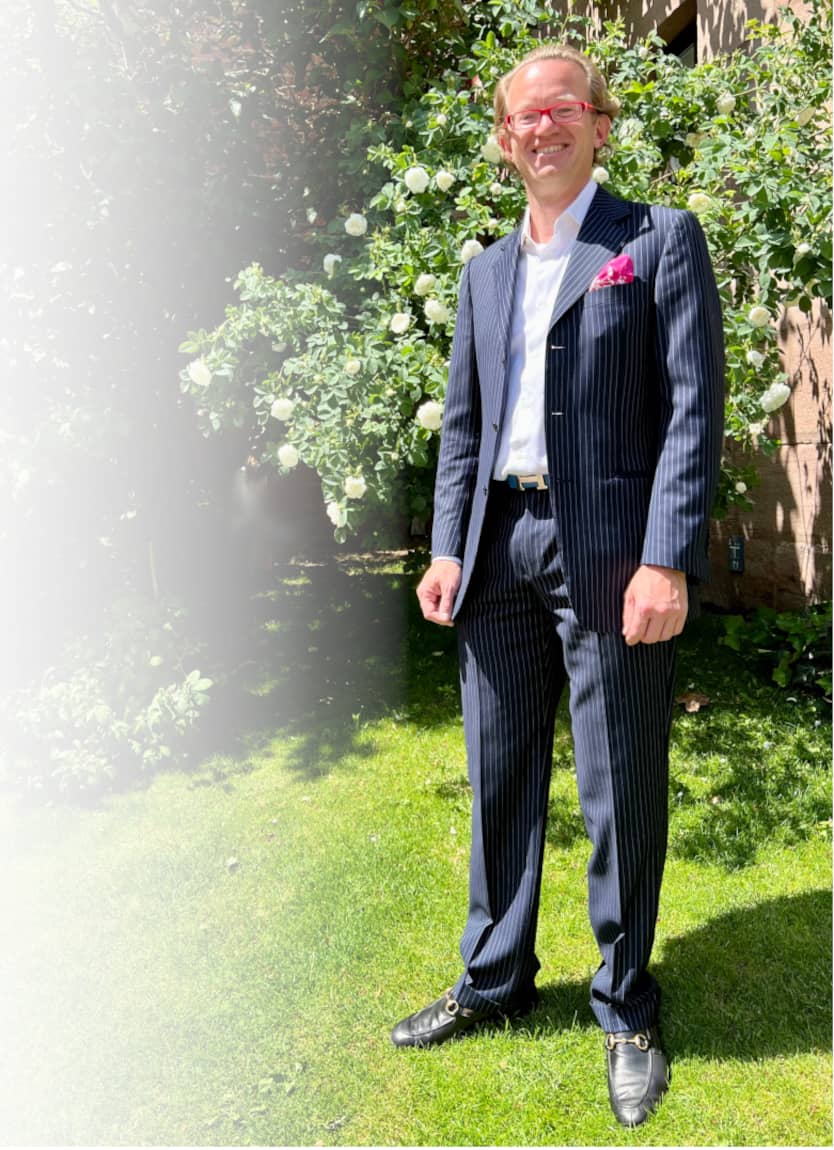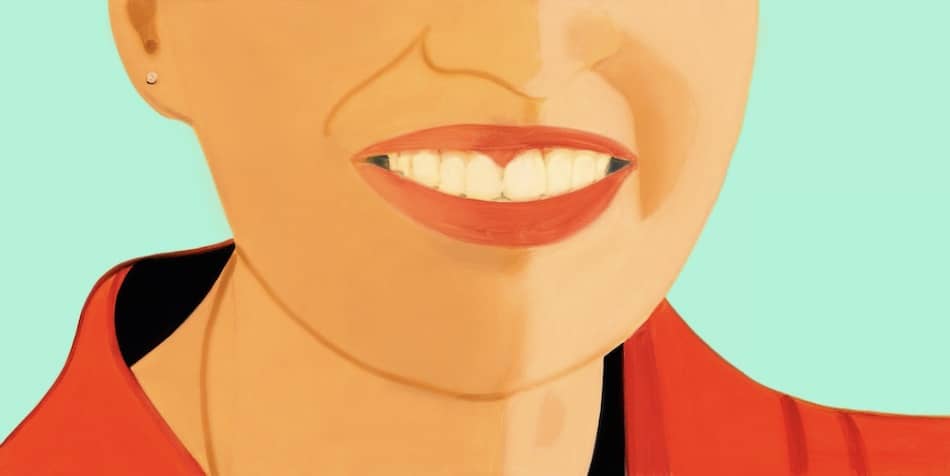 Alex Katz Big Smile (Vivien) / Pigmentprint / signed, numbered / Edition 100
Year:
2021
Format:
177,8 x 88,9 cm / 69.7 x 34.6 inch
Material:
Innova Etching Cotton Rag 315 gsm
Method:
Pigmentprint
Edition:
100
Other:
handsigned, numbered