The artist Alex Katz, forerunner of the Pop Art movement.
The American artist Alex Katz, born in Brooklyn, New York, in 1927, is one of the most important Pop Art key figures of our time. The 2007 recipient of the Lifetime Achievement Award from the National Academy Museum, he lives and works in New York and Maine.
His Russian-born family always instilled in him a great enthusiasm for art. From 1946 Alex Katz studied for three years at the Cooper Union Art School in New York and subsequently attended the Skowhegan School of Painting and Sculpture in Maine from 1949 to 1950. His first solo exhibition at the Roko Gallery, New York in 1954 was a failure – today the artist Alex Katz looks back on more than 200 solo and nearly 500 international group exhibitions.
The artist Alex Katz / Work
Alex Katz received a decisive impulse for his artistic work during his summer studies at the Skowhegan School. He was studying modern art in particular at Cooper Union under Morris Kantor. Skowhegan encouraged him to paint from life – according to Alex Katz the reason to dedicate his life to painting.
Every intelligent guy should paint abstract.

Ada Del Moro Katz
A piece of advice from his wife Ada, which the young artist Alex Katz fortunately did not follow. Producing abstract art does not feel right to him, he wants to paint what he sees – just from life. Thus, in the late 1950s, as a reaction to abstract expressionism, he creates the works that make him a key figure of Pop Art: Facial portraits in front of monochrome background transparencies, for which his wife and muse Ada usually sits as a model for him. From the early 1960s, Alex Katz increasingly relied not only on painting but also on Pop Art's favorite medium, printmaking – which he mastered.
Timeless beauty and the appearance as a mystery
His artistic path is varied, but always focuses on the beauty of the motifs: it takes him from the parallel world of fashion design to large-format landscapes and seascapes to flower paintings such as "Yellow Flags" and depictions of dancers as well as nude figures.
Artist Alex Katz is fascinated by the appearance of the people he paints; for him it is "the greatest mystery" – what it means is irrelevant: "I'm not interested in content". He makes family and friends the subject of his works, using visual techniques borrowed from the advertising and film worlds. The most famous today are certainly the more than 250 portraits of his wife Ada, such as "Ada in Spain" (2018) and "Purple Hat" (2017). The picture Blue Umbrella, which exists as a graphic and also as an original painting, became the most expensive work by the artist sold at auction to date.
Architecture and city views of his hometown New York, as in Purple Wind or Cityscape, are also an important oeuvre in the work of Alex Katz. In addition to the silkscreen technique, he often uses etching and woodcut, such as in the work Nicole in Red Coat. In october 2022 The Guggenheim Museum in New York will open the extensive retrospective with Alex Katz called "Gathering".
Also in 2022 new Alex Katz prints will be published with images of Straw Hat, Sunrise, Halsey and Grace.
Alex Katz is an artist of the immediate. As much as people like to project all sorts of meanings onto his work, it is, as he says, about the "immediate present" – not about politics or capitalism or commerce or Trump, but about that brief, heavenly, unknowable moment when you look at something without thinking and just see. His images try to capture the flash of light, the visual that hits the eye in that moment. The feeling of looking at someone across a room or on the street and seeing the mouth, the eyes, before recognizing them – as the ex, the colleague, the girl from the movie. Or maybe it's like the emptiness in your head in the morning when you first wake up, before any memories come to mind. The moment when you "don't understand the particulars, the details," as Katz puts it.
Katz is not remotely interested in the notion of the artist as activist. "We're in a time of hysterical 'diversity,' as it's called," he says. Social art, as he calls it, was big when he was in art school, and he is "very hostile to it. Social art to me is particularly sentimental – you tell people what to think. I do stuff with flowers. It's very abstract, it's just the opposite. It has nothing to do with making society better."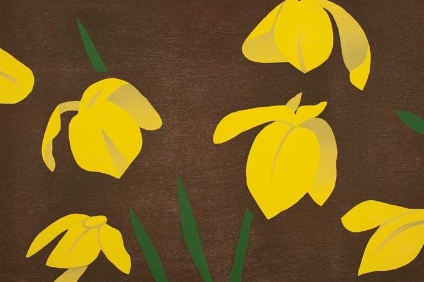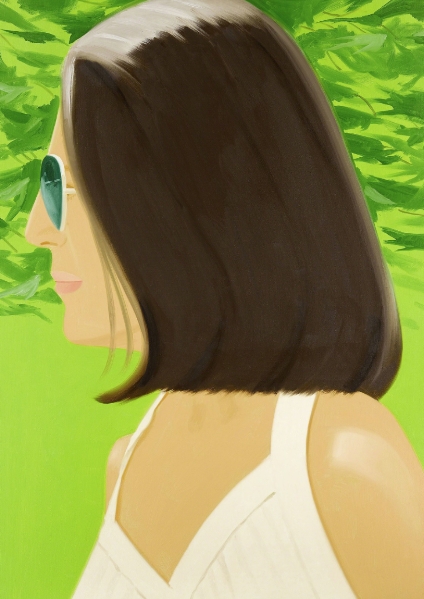 Other famous works of the artist Alex Katz are:
Vita / Alex Katz
born July 24, 1927 in Brooklyn, New York
1946 – 1949 Studies at the Cooper Union Art School, New York
1949 – 1950 Studied at the Skowhegan School of Painting and Sculpture, Maine
1954 First solo exhibition at Roko Gallery, New York
1968 Moved to his present studio and home in SoHo,New York
1972 Guggenheim Fellowship for Painting
since 1988 Member of the American Academy of Arts and Letters
1994 Elected Member (NA) of the National Academy of Design
April 2001 Visiting Fellow of the American Academy in Berlin
Awards / Alex Katz
2007 Lifetime Achievement Award des National Academy Museum, New York
2000 Cooper Union Annual Artist of the City Award
1985 Queens Museum of Art Award for Lifetime Achievement
1985 Award for Art in Public Places
Solo Shows / Alex Katz
1986 A traveling retrospective exhibition, The Whitney Museum of American Art
1988 A Print Retrospective, Brooklyn Museum of Art
2014 Zeichnungen, Kartons, Gemälde, Albertina Museum Vienna
2015 Guggenheim Museum Bilbao, Spain
2017 Black and White, Tampa Museum of Art
2017 Subway Drawings, Timothy Taylor 16×34, New York
2017 Brand-New & Terrific: Alex Katz in the 1950s, The Cleveland Museum of Art
2018 Alex Katz, Museum Brandhorst, Munich
2022 Alex Katz Nationalmuseum Thyssen-Bornemisza, Madrid, Spain.
2022 National Museum of Art Osaka, Osaka, Japan.
2022 Alex Katz – Gathering. Guggenheim Museum New York, USA.
2023 Museum Voorlinden, Wassenaar, Netherlands.
---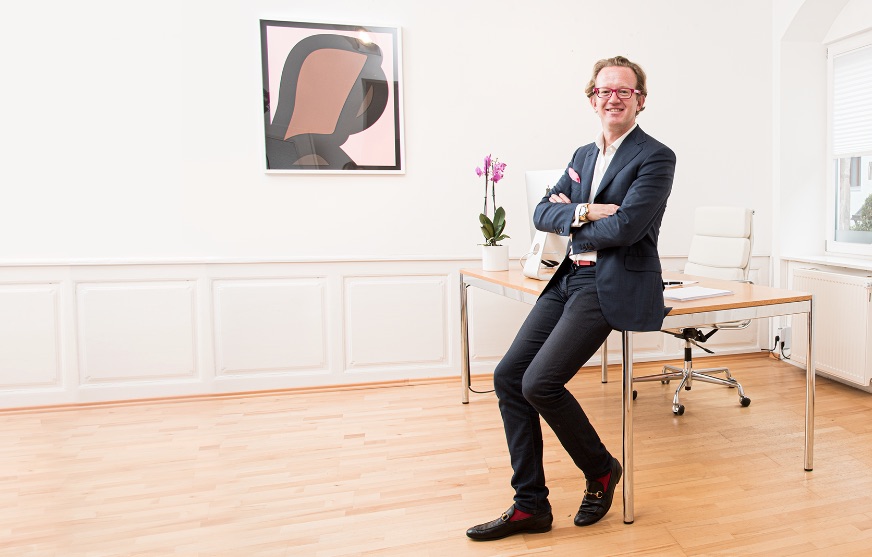 About the author:
Frank Fluegel specializes in high-quality originals of Pop Art, Street Art as well as Contemporary Art. Since 1999 he runs the GALERIE FRANK FLUEGEL with locations in Nuremberg, Germany and Kitzbuehel, Austria.

Kontakt