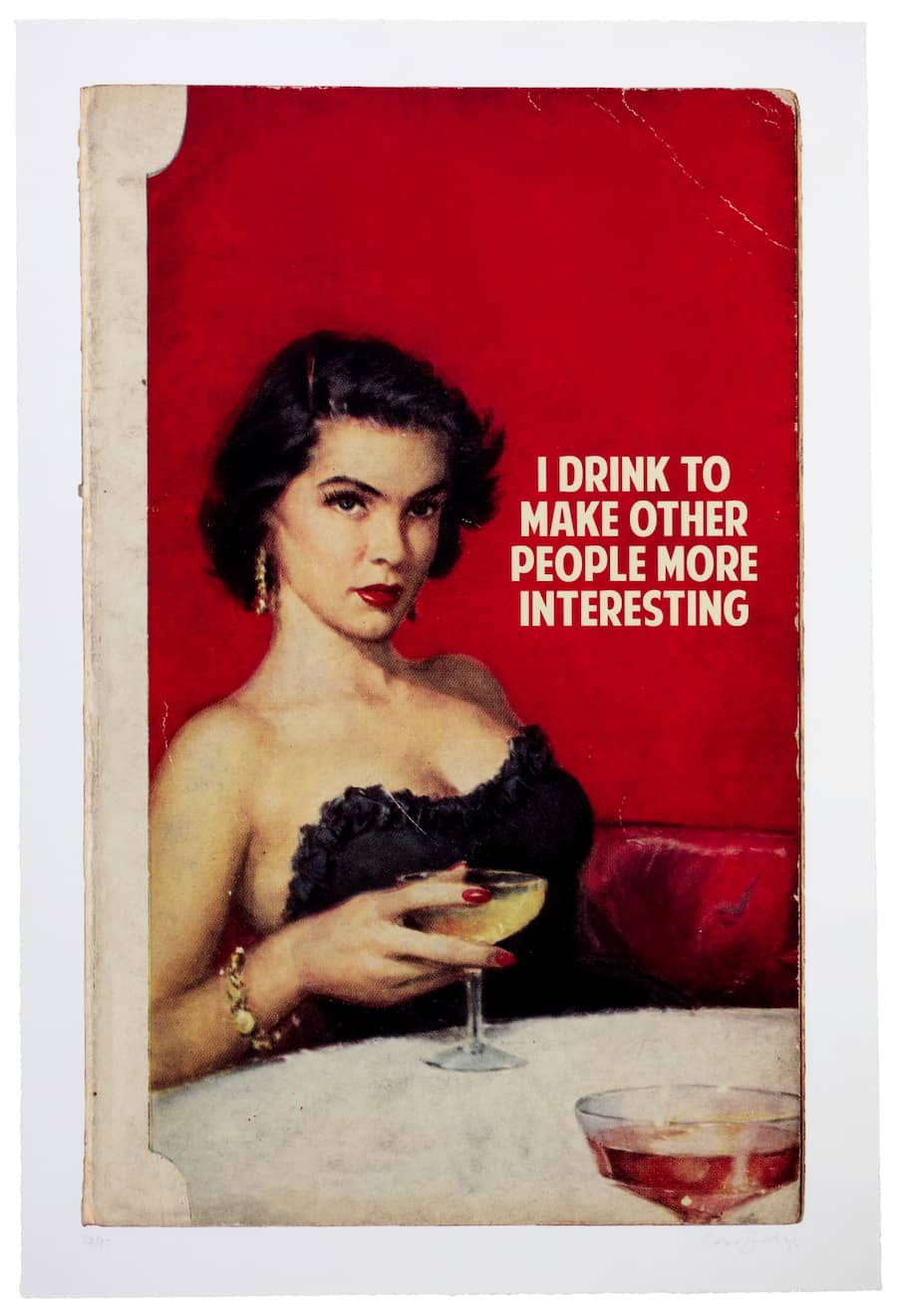 The Connor Brothers I Drink / Silkscreen / signed, numbered / edition 150
| | |
| --- | --- |
| Year: | 2017 |
| Format: | 90 x 130 cm / 35.4 x 51.2 inch |
| Material: | 400g Somerset Velvet Paper |
| Method: | Silkscreen, varnish |
| Edition: | 150 |
| Other: | signed, numbered |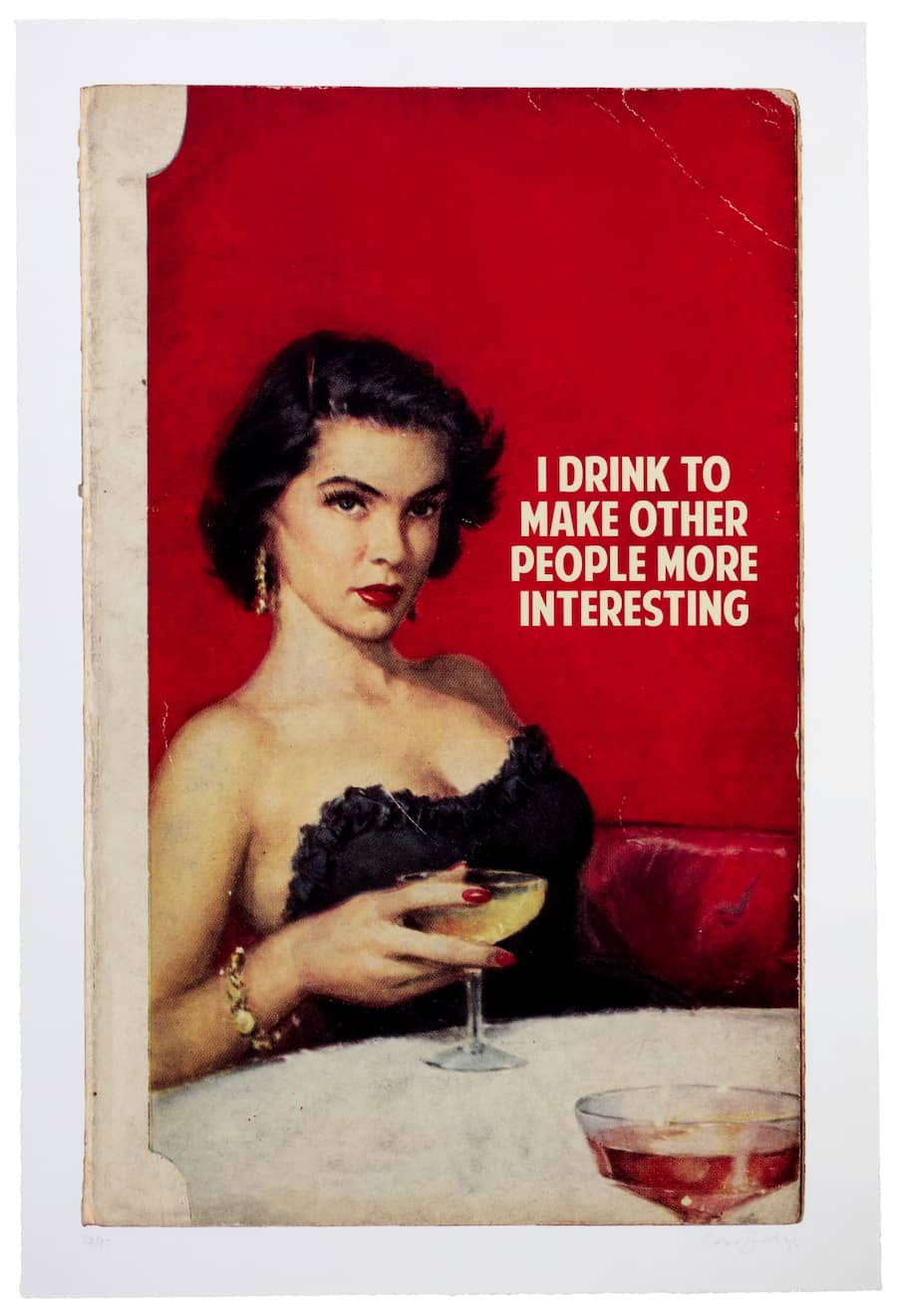 "I Drink To Make Other People More Interesting." is a quote by Ernest Hemingway.
The Connor Brothers – I Drink to make other people more interesting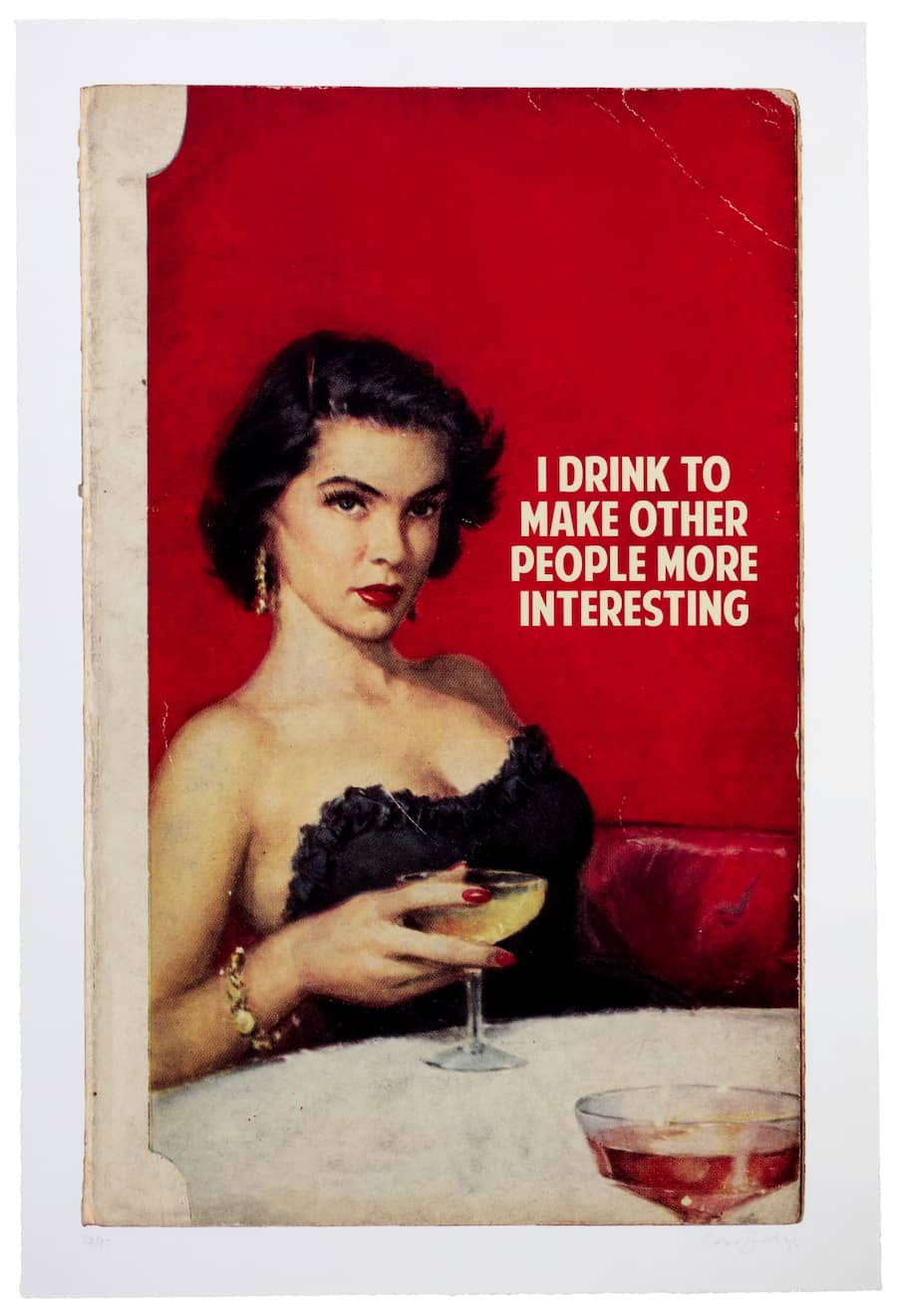 | | |
| --- | --- |
| Year: | 2017 |
| Format: | 90 x 130 cm / 35.4 x 51.2 inch |
| Material: | 400g Somerset Velvet Paper |
| Method: | Silkscreen, varnish |
| Edition: | 150 |
| Other: | signed, numbered |
The Connor Brothers - I Drink to make other people more interesting
"I drink to make people more interesting" is a captivating artwork by The Connor Brothers, the collaborative duo of James Golding and Mike Snelle. Known for their thought-provoking pieces that blend elements of popular culture and literature, this artwork explores the complex relationship between alcohol, social dynamics, and the desire for enhanced human connection.
The artwork commands attention with its intriguing composition. The words "I drink to make people more interesting" are presented boldly, drawing the viewer into a contemplative space. The typography itself adds a layer of visual interest, capturing the essence of the statement and evoking a sense of curiosity.
The contrasting elements within the artwork contribute to its thematic impact. The juxtaposition of drinking and the quest for more interesting people creates a paradoxical tension. It reflects the inherent social dynamics that can emerge when alcohol is introduced—a desire for deeper connections or an attempt to overcome social awkwardness.
The Connor Brothers' work often explores the intricacies of human behavior and societal norms, and this piece is no exception. It offers a provocative commentary on the role of alcohol as a social lubricant, challenging the notion that it is solely responsible for making people more engaging or captivating. It invites viewers to question the underlying motivations and expectations tied to social interactions in the presence of alcohol.
"I drink to make people more interesting" encourages us to reflect on our own behavior and attitudes towards socializing. It prompts us to consider the nature of genuine connection and whether substances like alcohol truly enhance our understanding of others or simply mask underlying complexities.
Furthermore, this artwork urges us to delve deeper into the dynamics of social engagement. It invites us to question the role of authenticity and vulnerability in fostering meaningful connections. It prompts us to recognize that true interest in others stems from genuine curiosity, empathy, and active listening rather than relying on external factors to artificially augment their perceived interest.
"I drink to make people more interesting" is a thought-provoking artwork that invites introspection and critical examination of our social interactions. Through its compelling composition and poignant statement, The Connor Brothers challenge us to consider the complexities of human connection, encouraging us to seek genuine understanding and engagement without relying on external substances or superficial means.
Ihr Ansprechpartner
Frank Fluegel
E-Mail: info(at)frankfluegel.com
Ihr Ansprechpartner
Frank Fluegel
E-Mail: info(at)frankfluegel.com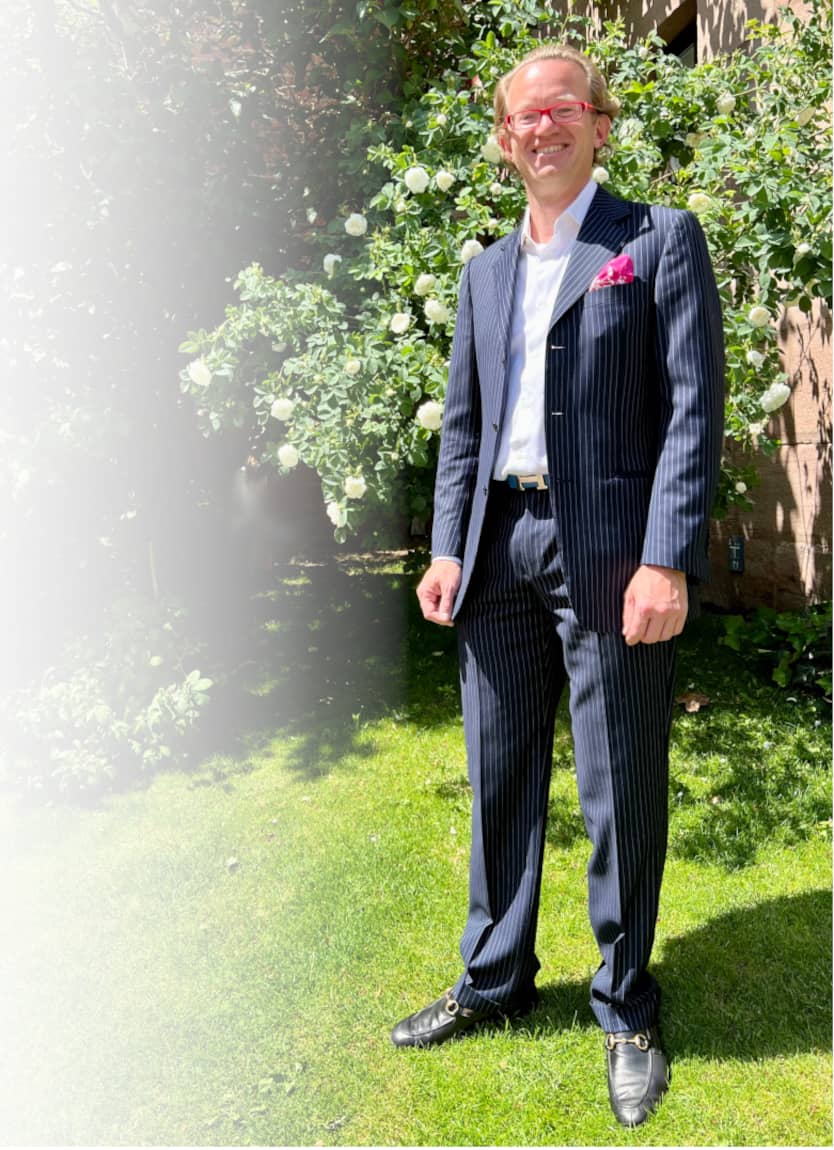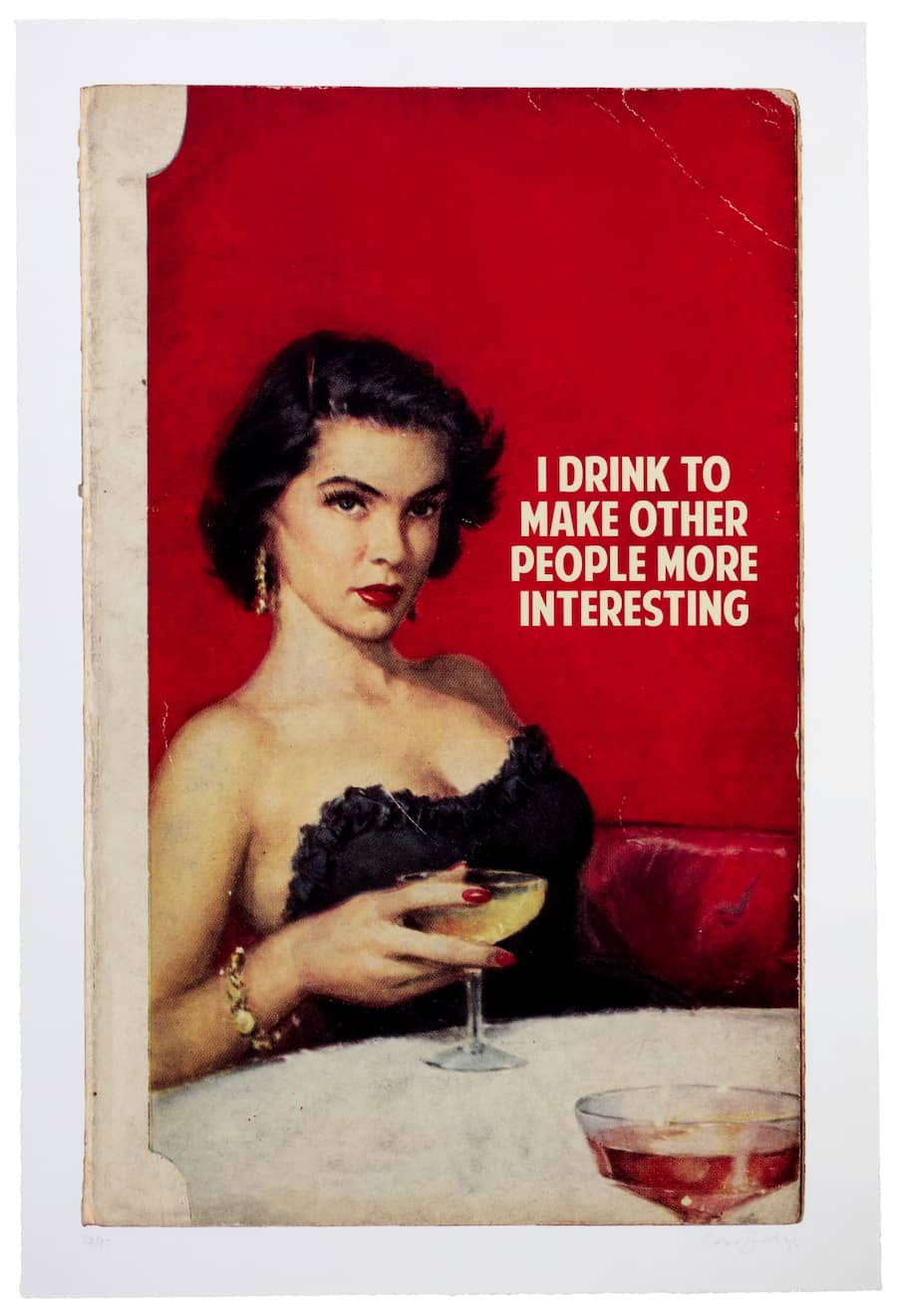 The Connor Brothers I Drink / Silkscreen / signed, numbered / edition 150
Year:
2017
Format:
90 x 130 cm / 35.4 x 51.2 inch
Material:
400g Somerset Velvet Paper
Method:
Silkscreen, varnish
Edition:
150
Other:
signed, numbered