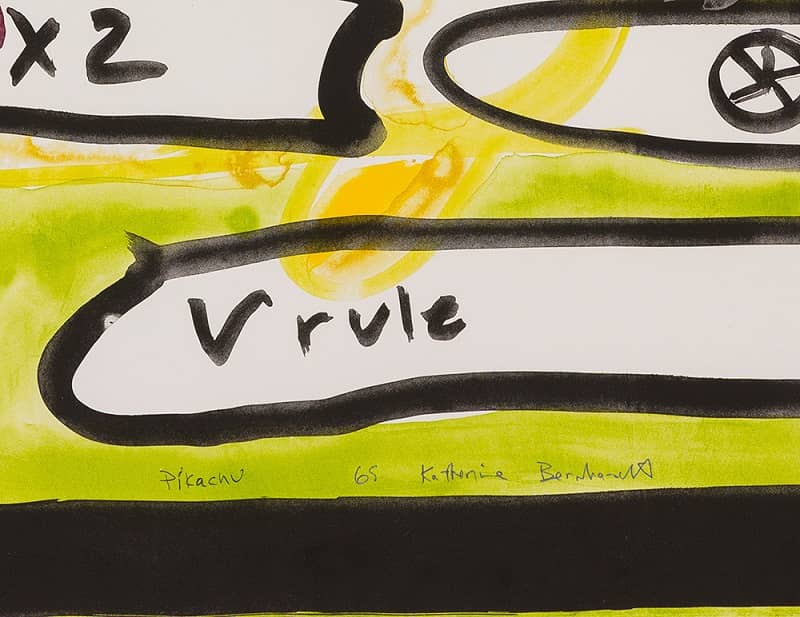 Katherine Bernhardt Pikachu / Lithograph / signed / edition 65
| | |
| --- | --- |
| Year: | 2022 |
| Format: | 83 x 129 cm / 32.7 x 50.8 inch |
| Material: | Somerset Radiant White Tub Sized 410gsm |
| Method: | 10 Colour lithograph |
| Edition: | 65 |
| Other: | handsigned, numbered |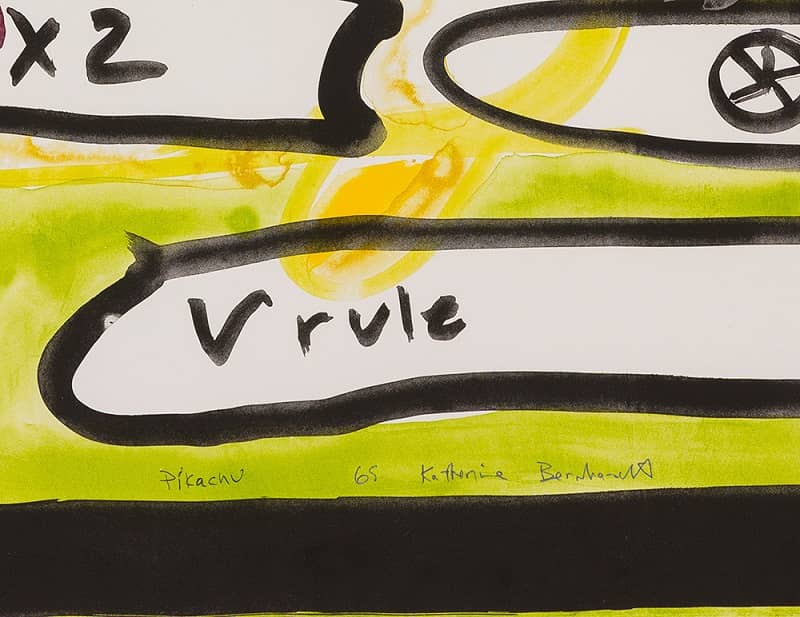 Katherine Bernhardt – Pinkachu
| | |
| --- | --- |
| Year: | 2022 |
| Format: | 83 x 129 cm / 32.7 x 50.8 inch |
| Material: | Somerset Radiant White Tub Sized 410gsm |
| Method: | 10 Colour lithograph |
| Edition: | 65 |
| Other: | handsigned, numbered |
Pokemon Series - Katherine Bernhardt
Pikachu (2022) is one of two new large-scale lithographs by Katherine Bernhardt that are part of an ongoing body of work depicting cultural trends that have captured her son's imagination. Pikachu and Ditto are the eponymous characters from the Pokémon universe that Bernhardt renders in her exuberant style. As with painting, the artist takes an instinctive approach to printmaking, often incorporating accidental byproducts of the printing process.
Katherine Bernhardt, represented by David Zwirner and others, is a U.S. artist. She now lives and works in St. Louis. The enormous interest in her work from collectors around the world is due to the fact that she belongs to a growing number of so-called ultra-contemporary artists. Since 2019, we have a name for the newest segment of the art market: ultra-contemporary or ultra-contemporary. Coined by the editors of Artnet News in their Spring 2019 Intelligence Report, the term refers to artists born between 1975 and the present, and was created in response to the growing number of young artists playing a serious role in the secondary market. Artworks from this segment continually fetch record prices at auction. What is driving this sector? Galleries' enthusiasm for new, young artists has led to a limited supply of works on the primary market and long waiting lists for collectors that are difficult to manage. In short, auctions are the most accessible option for collectors who have the means. And in turn, we've seen meteoric prices for ultra-contemporary artists' works at auction.
Katherine Bernhardt explores the everyday iconography of contemporary society in bright, expressive paintings of pop culture figures, food and consumer goods. The artist picks up similar patterns or motifs on several canvases; E.T., the Pink Panther, shoes and tropical fruit are frequent refrains. Bernhardt often outlines her roughly drawn shapes and sets them in flat fields of neon color. Her distinctive painting style is a link between graffiti, color fields and action painting. Bernhardt received her MFA from the School of Visual Arts in New York and has exhibited in New York, Tokyo, London, Brussels, Los Angeles, Paris, Stockholm and other cities. Her work is in the collections of the High Museum, the Hirshhorn Museum and Sculpture Garden, the Rubell Museum, the Portland Museum of Art, and the Fondazione Sandretto Re Rebaudengo, among others.
Ihr Ansprechpartner
Frank Fluegel
E-Mail: info(at)frankfluegel.com
Ihr Ansprechpartner
Frank Fluegel
E-Mail: info(at)frankfluegel.com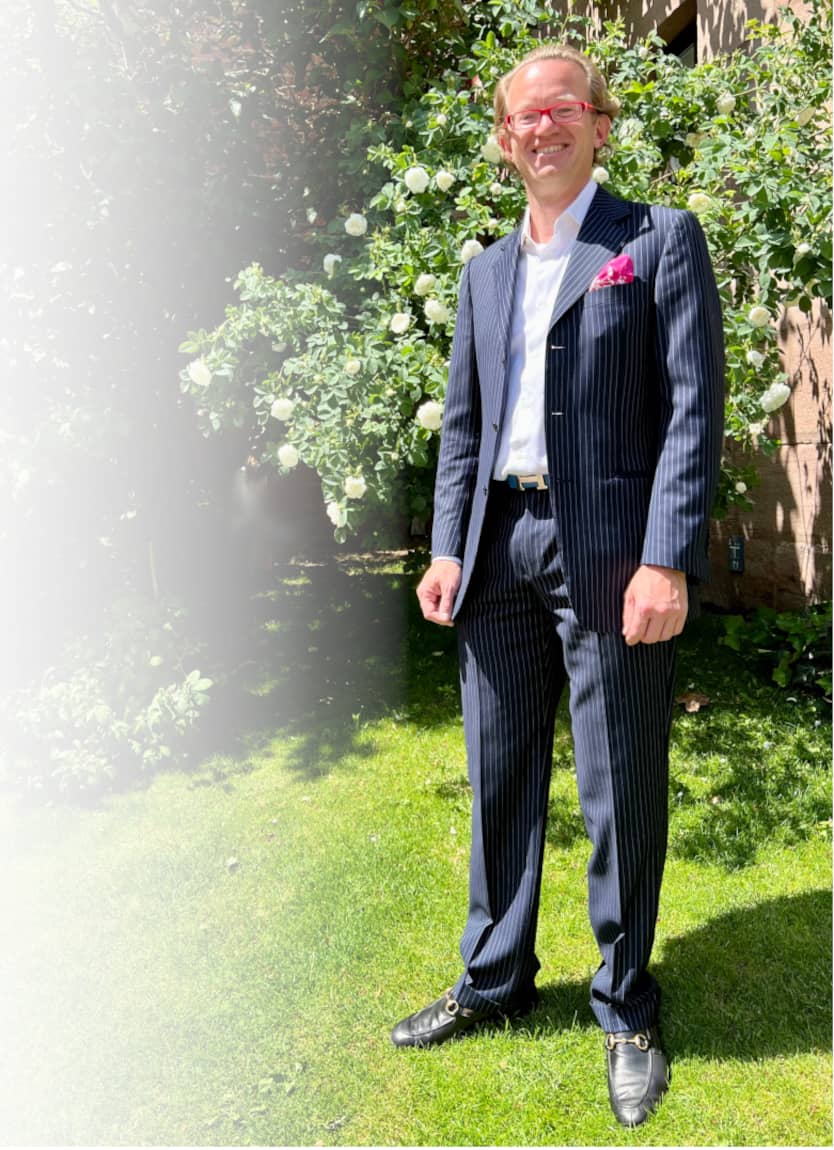 Katherine Bernhardt Pikachu / Lithograph / signed / edition 65
Year:
2022
Format:
83 x 129 cm / 32.7 x 50.8 inch
Material:
Somerset Radiant White Tub Sized 410gsm
Method:
10 Colour lithograph
Edition:
65
Other:
handsigned, numbered