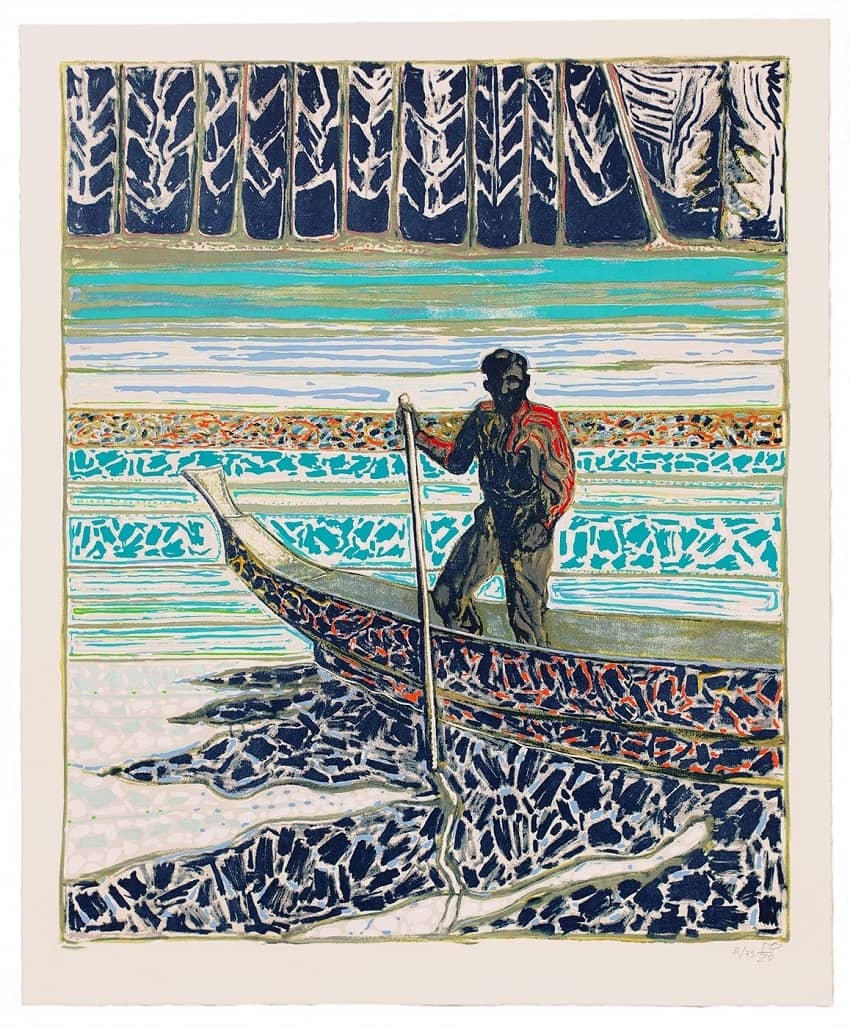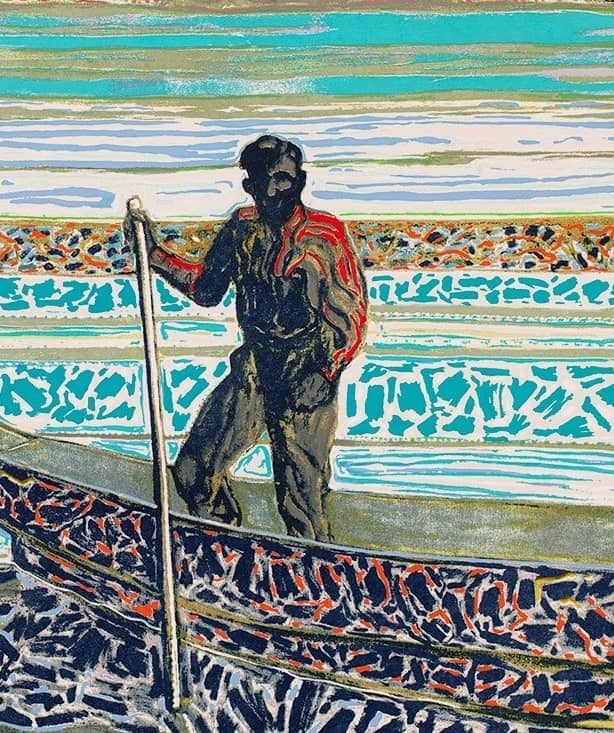 Billy Childish Sailish Fisherman / Screenprint / signed, numbered / 75
| | |
| --- | --- |
| Year: | 2020 |
| Format: | 73 x 89 cm / 28.7 x 35 inch |
| Material: | Somerset Velvet Warm White 400gsm paper. |
| Method: | 5 colour hand-pulled lithograph with 11 screenprinted colours. |
| Edition: | 75 |
| Other: | Handsigned and numbered. |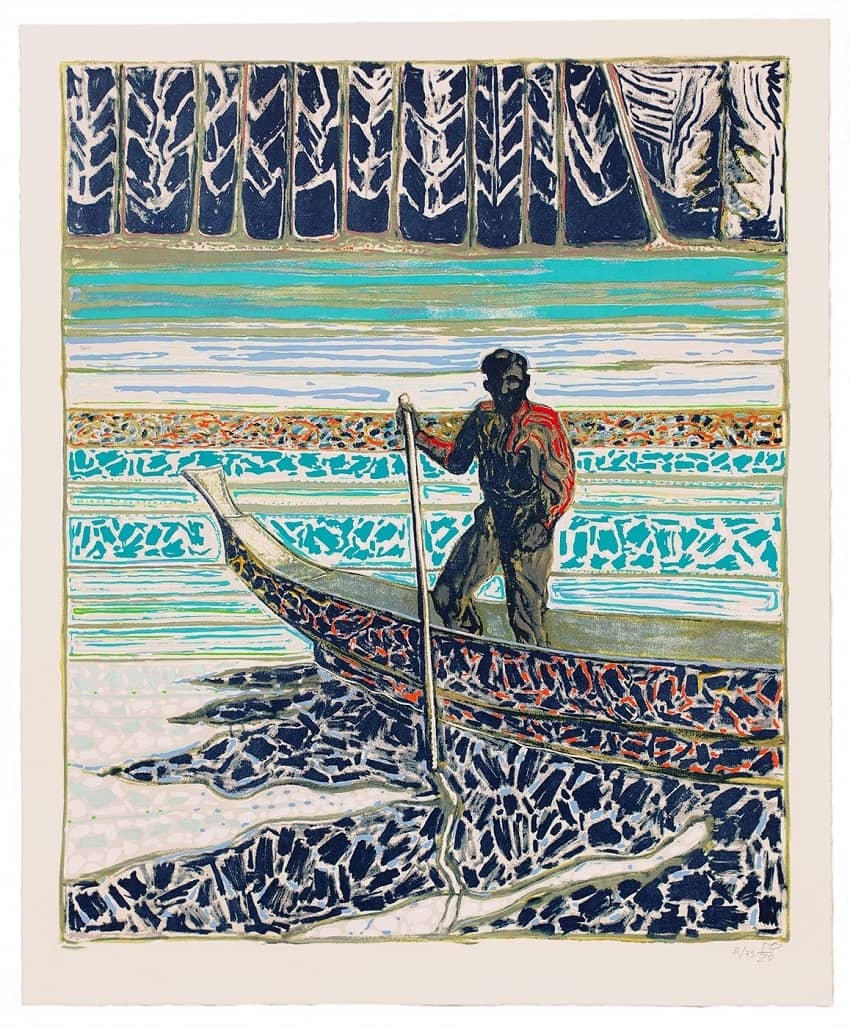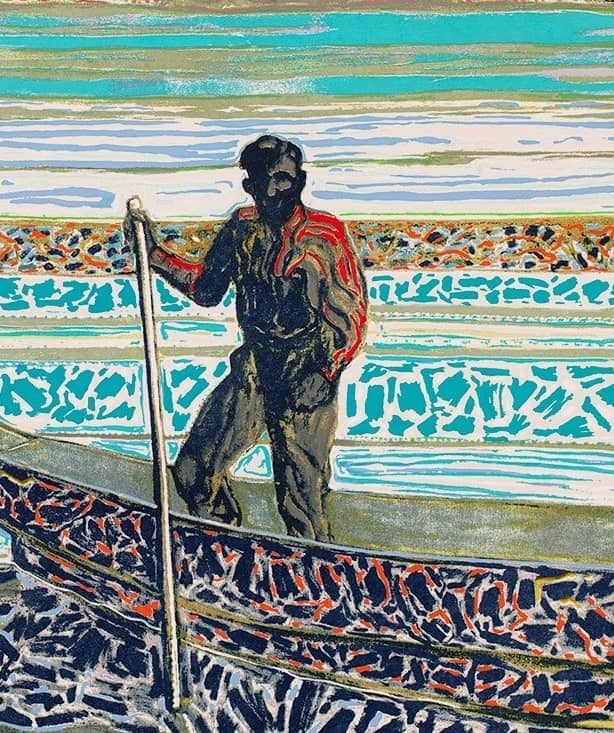 Billy Childish Sailish Fisherman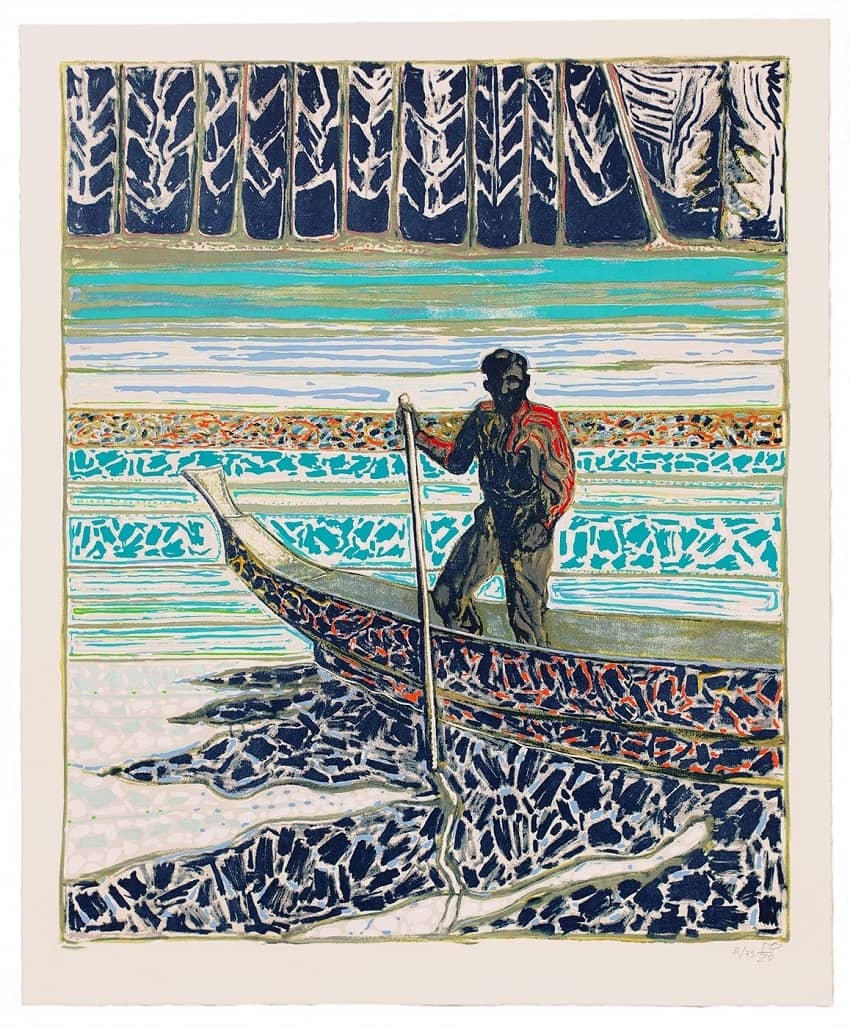 | | |
| --- | --- |
| Year: | 2020 |
| Format: | 73 x 89 cm / 28.7 x 35 inch |
| Material: | Somerset Velvet Warm White 400gsm paper. |
| Method: | 5 colour hand-pulled lithograph with 11 screenprinted colours. |
| Edition: | 75 |
| Other: | Handsigned and numbered. |
Billy Childish Sailish Fisherman
Sailish Fisherman is a silkscreen print by Billy Childish. While the motifs of the river and sailors are universal themes, many of Billy Childish's paintings are associated with the estuaries of the Thames and Medway. The estuary has a special resonance as a place where water (time) flows in both directions and where swirling currents meet stillness and relative calm. "Sailing Fisherman" (2020) also has a certain stillness, as do the water reflections and the figure's pose, which create a moment of calm that plays directly into the hallucinatory palette, dynamic composition, and immediacy of thought and action expressed through fluid outlines and quick marks.
The painting "towards a shore, 2019" set a new auction record for Billy Childish at Christie's sale on March 1, 2022, when it was knocked down at £163,800 or US$220,000 after an estimate of £30,000-£50,000.
Billy Childish is a prolific painter and printmaker known for his uninhibited, expressive imagery, characterized by great vitality. Free of irony or superficial novelty, his works represent values such as authenticity, spirituality, and beauty, and convey a sense of vibrant physical presence. Above all, they express Childish's serious engagement with life.
Many of Childish's works, which are strongly autobiographical, place the artist at the center. In more recent works, the figure of the artist is relegated in favor of archetypes, be they well-known historical figures such as Edward Elgar and Charles Bukowski, or nameless oyster boat sailors and dockworkers who once populated the River Medway and the shipyards of Chatham, where Childish grew up and now has a studio.
Billy Childish is an extraordinary and prolific artist. His paintings, woodcuts, poems, lyrics, and music share a biting honesty that is not nombrile but deeply compelling and idiosyncratic. Childish's practice is marked by a relentless curiosity about subjects as diverse as war, the history and topography of his local and personal environment, social protest, mountain hiking, and religious philosophy. Without the need for validation or recognition from the art world, Childish has developed an authentic, independent, and defiant position within the culture that is admired by many worldwide.
Ihr Ansprechpartner
Frank Fluegel
E-Mail: info(at)frankfluegel.com
Ihr Ansprechpartner
Frank Fluegel
E-Mail: info(at)frankfluegel.com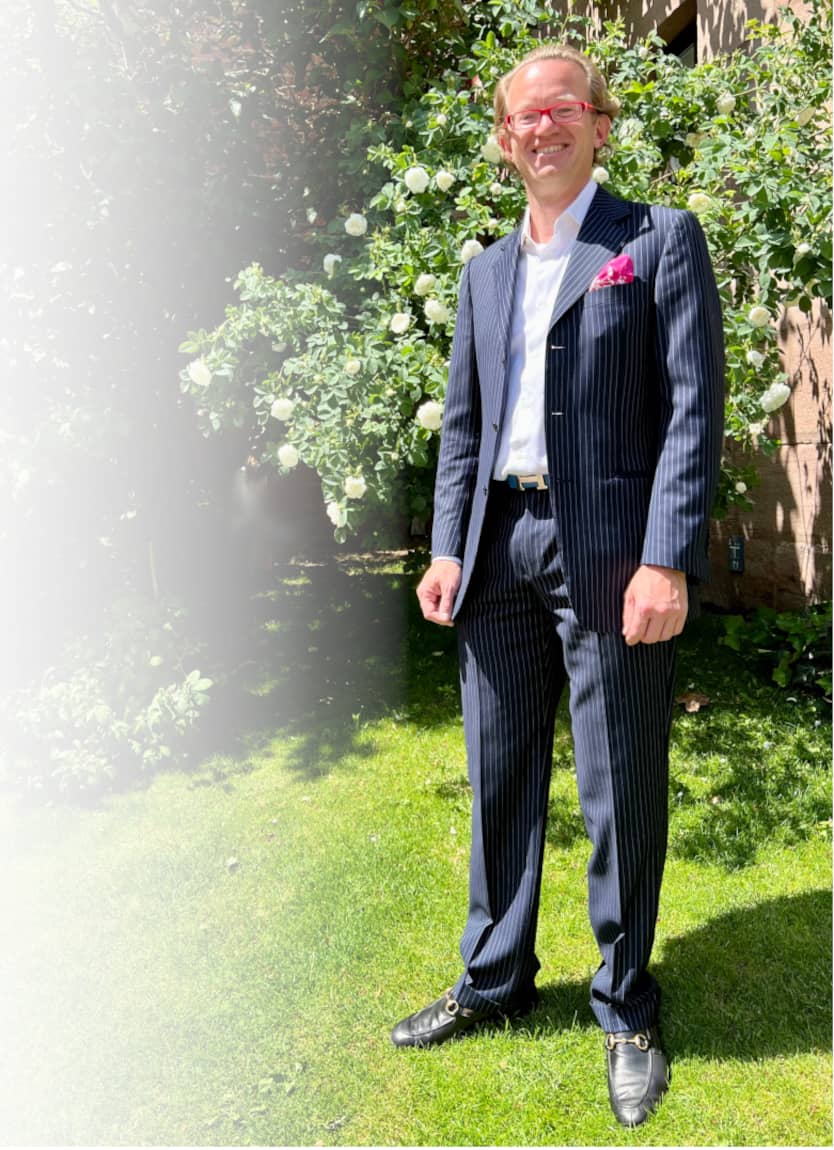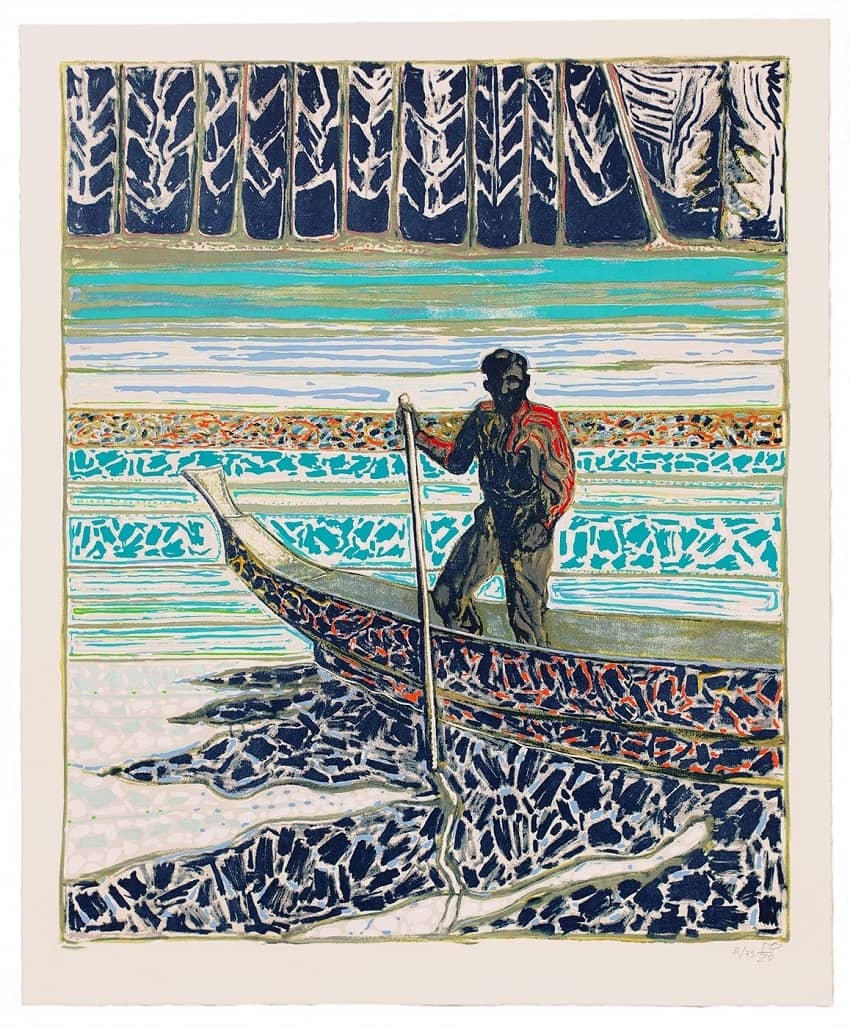 Billy Childish Sailish Fisherman / Screenprint / signed, numbered / 75
Year:
2020
Format:
73 x 89 cm / 28.7 x 35 inch
Material:
Somerset Velvet Warm White 400gsm paper.
Method:
5 colour hand-pulled lithograph with 11 screenprinted colours.
Edition:
75
Other:
Handsigned and numbered.