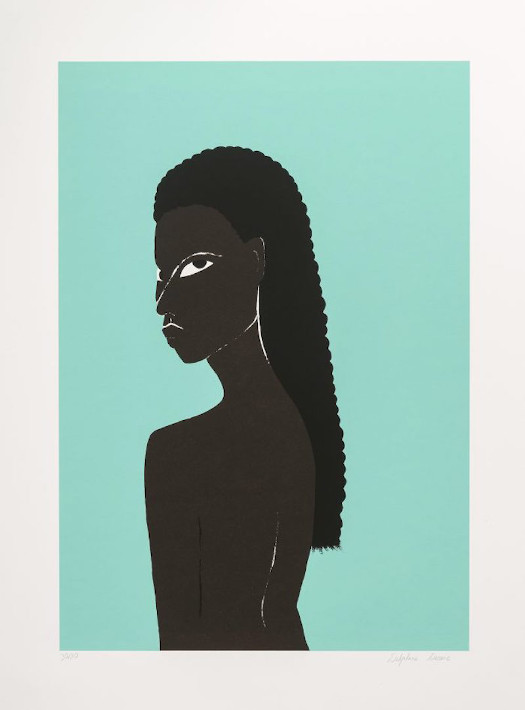 Delphine Desane Who? Me? / Silkscreen / signed, numbered / edition 30
| | |
| --- | --- |
| Year: | 2020 |
| Format: | 49,5 x 66,4 cm / 19.3 x 26 inch |
| Material: | Fine Art Paper |
| Method: | Silkscreen |
| Edition: | 30 |
| Other: | signed, numbered |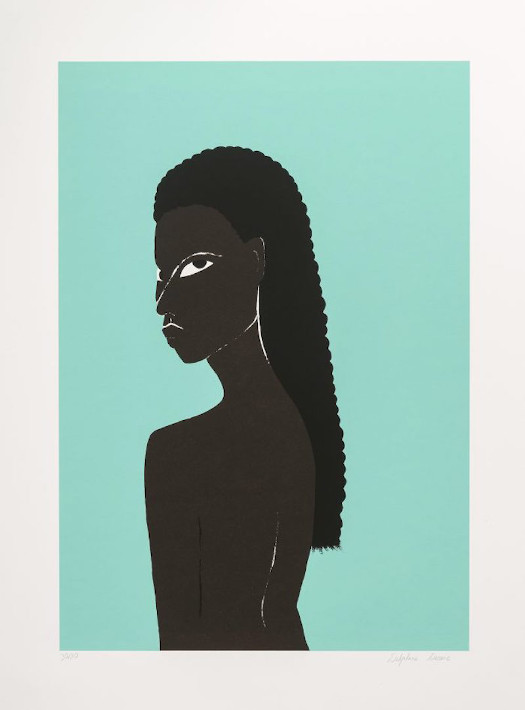 Delphine Desane – Who? Me?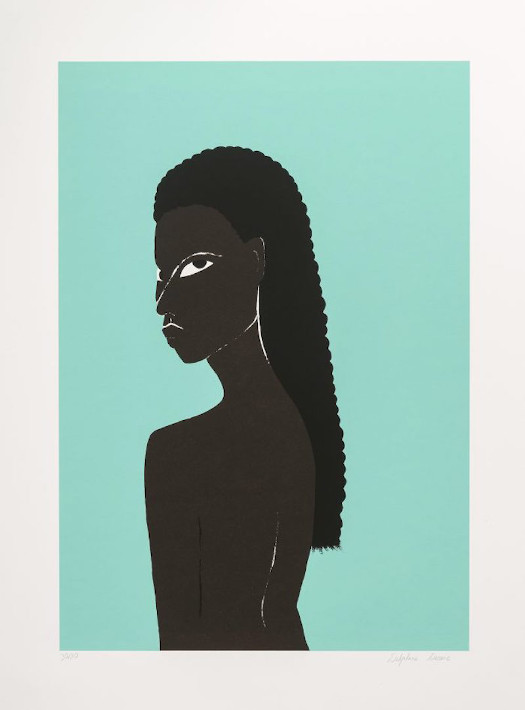 | | |
| --- | --- |
| Year: | 2020 |
| Format: | 49,5 x 66,4 cm / 19.3 x 26 inch |
| Material: | Fine Art Paper |
| Method: | Silkscreen |
| Edition: | 30 |
| Other: | signed, numbered |
Looking at Delphine Desane's work, it's hard to imagine that the artist first picked up a paintbrush as recently as 2018. Her portrait-style paintings depict black women as strong, confident figures holding court in the jewel-toned spaces they occupy, each confronting the viewer head-on with their powerful, meditative gaze.
Formerly a stylist who grew up in Paris, Brooklyn-based Desane is the daughter of two Haitian-born immigrants. Her experiences as a Black woman, a Black mother, an immigrant to the U.S., and a woman of diverse backgrounds inform her work.
After a whirlwind start to the year when she graced the cover of Vogue Italia, the artist's career has gone from strength to strength.
One recognizes in Delphine Desane's work minimalist, flat, brush-painted female figures against a Fauvist palette – similar to Hector Hyppolite's allusion to Katsu Naito and Mexican magical realist Rodolfo Morales. Interest in Desane exploded after she designed the cover for Vogue Italia in 2020. Although self-taught and relatively new to art, Desane clearly has a deep understanding of her medium and its history and how it can be used.
Raised in Paris by Haitian parents and now living in Brooklyn – where she recently established a studio – Desane began making art as a way to cope with postpartum depression following the birth of her son. The female experience, and in particular representations of black female existence, are at the heart of her beguiling work. Desane's first solo exhibition just concluded at Luce Gallery in Turin, featuring new paintings that explore the multiplicity of identity when detached from time and place.
Desane also painted looks from the Jacquemus Spring/Summer 2021 collection for their new campaign. In April, you can see her work in a group exhibition at Noho Studios, organized by Taymour Grahne Projects in London.
Born and raised in Paris, France in 1988.
Bachelor degree in Fashion Design Studio Berçot, Paris 2008
Solo shows
2021 Luce Gallery, Dreams of a Dreamer, Turin, Italy
Group shows
2021 MOMU – Fashion Museum Fashion Museum (upcoming)
E/Motion – Fashion in Transition, Antwerp, Belgium
Taymour Grahne Gallery, Contemporary Domesticity, London, UK
Canada NYC , Black Femme: Sovereign of WAP and the Virtual Realm, New York City, US
2020 CF Hill, Black Voices, Stockholm, Sweden
Penske Projects, A Peripheral Reverie, Los Angeles, CA
Ihr Ansprechpartner
Frank Fluegel
E-Mail: info(at)frankfluegel.com
Ihr Ansprechpartner
Frank Fluegel
E-Mail: info(at)frankfluegel.com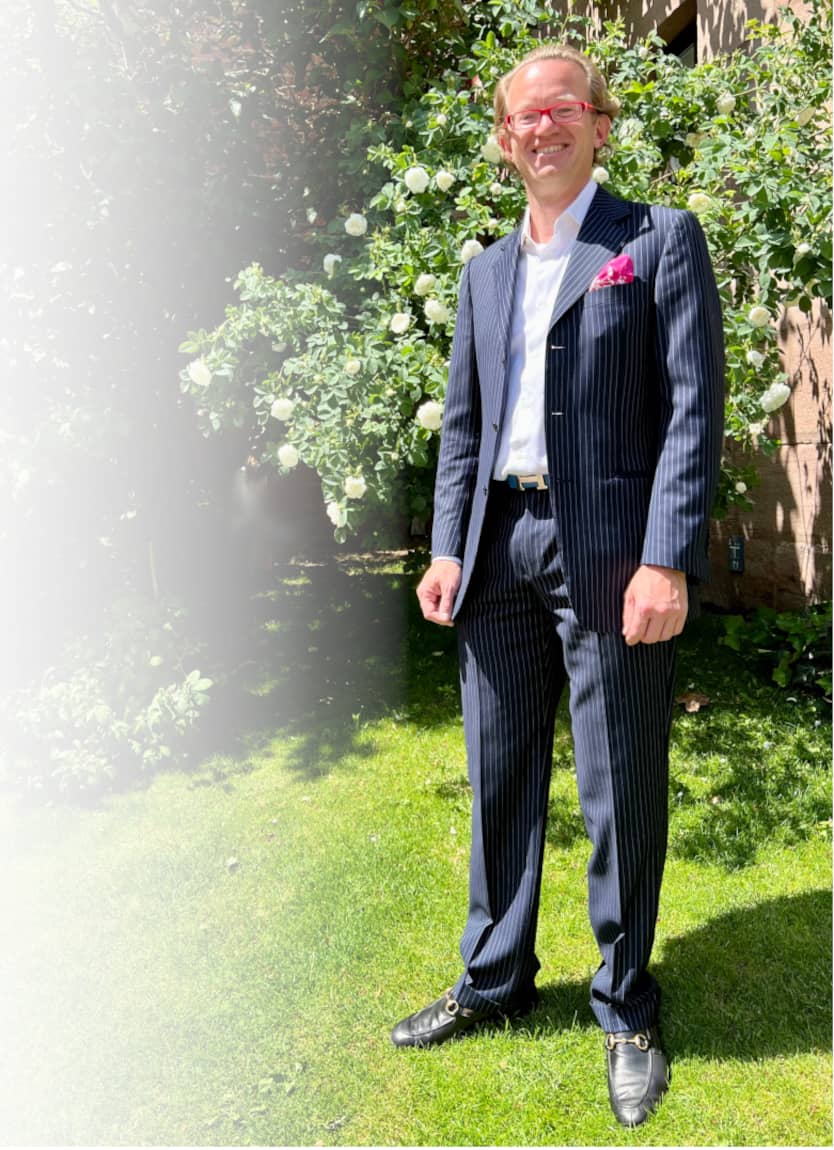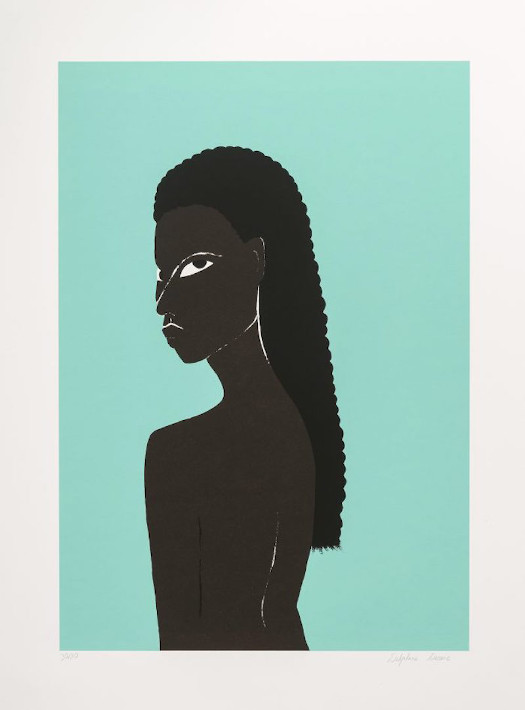 Delphine Desane Who? Me? / Silkscreen / signed, numbered / edition 30
Year:
2020
Format:
49,5 x 66,4 cm / 19.3 x 26 inch
Material:
Fine Art Paper
Method:
Silkscreen
Edition:
30
Other:
signed, numbered