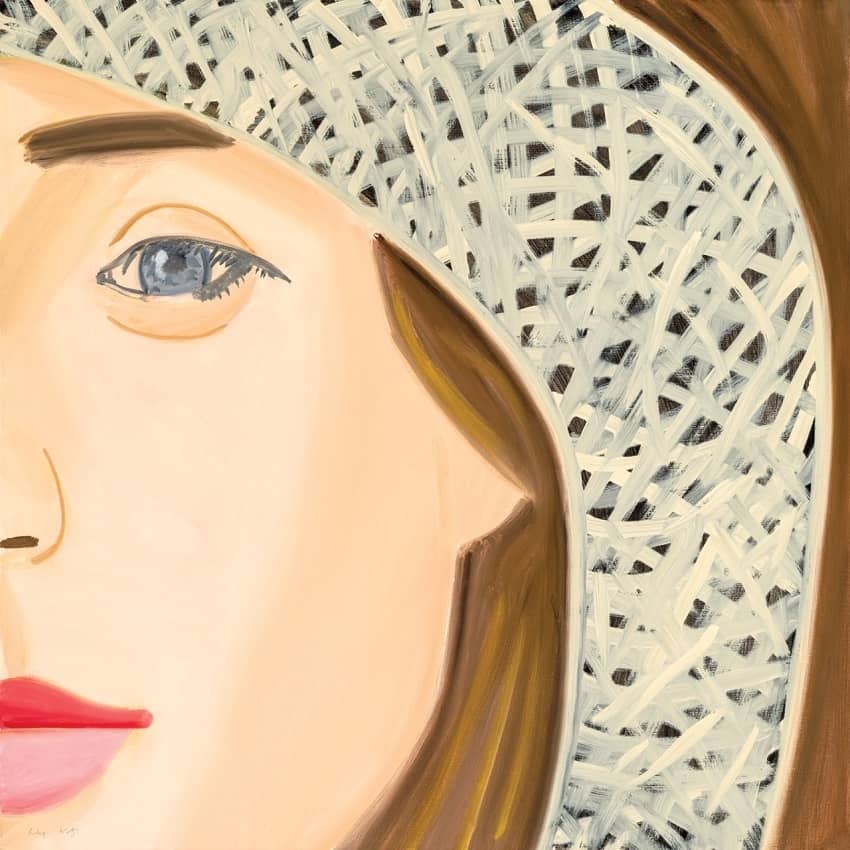 Alex Katz Straw Hat 1 / Pigmentprint / signed, numbered / edition 150
| | |
| --- | --- |
| Year: | 2022 |
| Format: | 91 x 91 cm / 35.8 x 35.8 inch |
| Material: | Innova Etching Cotton Rag 315 gsm. |
| Method: | Pigmenprint. |
| Edition: | 150 |
| Other: | handsigned and numbered. |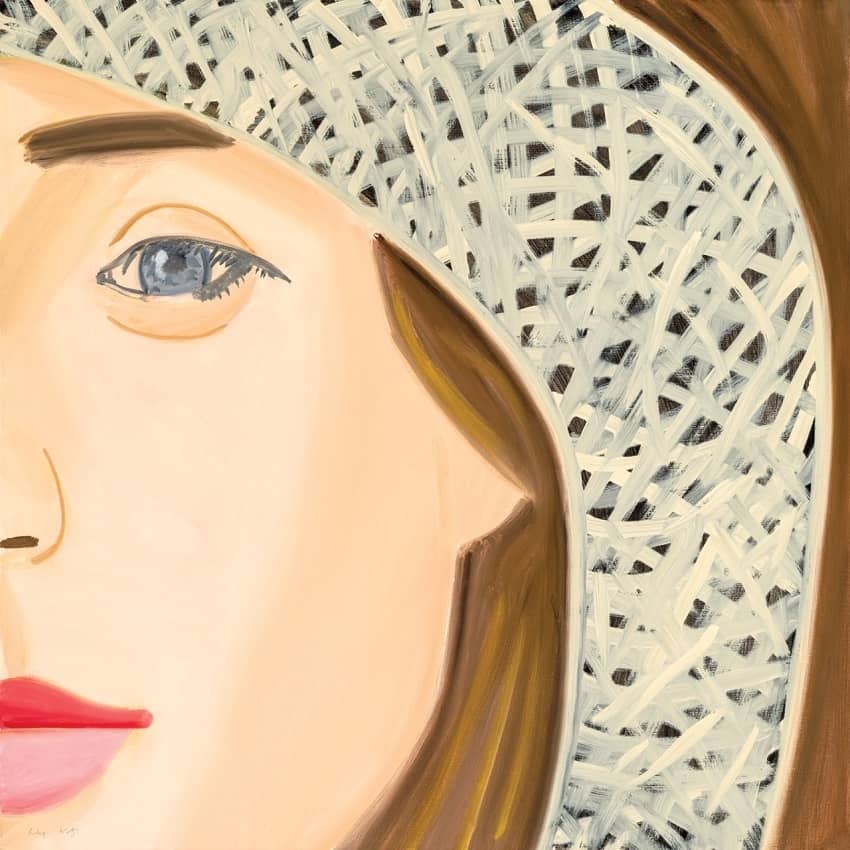 Alex Katz  – Straw Hat 1 – 밀짚 모자.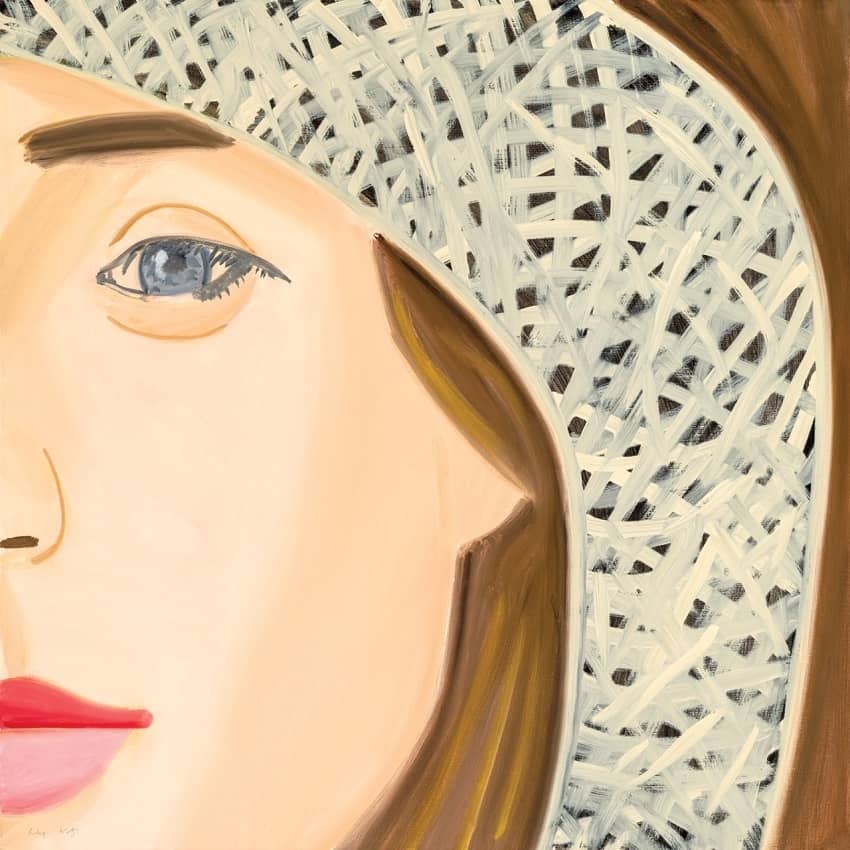 | | |
| --- | --- |
| Year: | 2022 |
| Format: | 91 x 91 cm / 35.8 x 35.8 inch |
| Material: | Innova Etching Cotton Rag 315 gsm. |
| Method: | Pigmenprint. |
| Edition: | 150 |
| Other: | handsigned and numbered. |
Straw Hat 1 by Alex Katz. 밀짚 모자.
Straw Hat 1 is an original graphic by Alex Katz. The square portrait shows a brunette woman. The series was created in Seoul, Korea for the exhibition Flowers at Thaddaeus Ropac. From the numerous oil paintings of Straw Hats, one motif was selected for the graphic edition presented here.
Straw Hat 1 is an exemplary work by Alex Katz. In this print, Katz's clean lines and minimal approach to portraiture are on display. Of course, so does the monochrome background that is typical of his compositions. These portraits have no clear narrative – it is not important for the viewer to know the person or the story behind the artwork. What Alex Katz is trying to emphasize is actually the beauty of the subjects. The use of soft colors and emphasis on fashionable details in his paintings transforms the coldness of sharp lines, lack of detail, and flatness into a work of art that the viewer can enjoy. Straw Hat 1 is a pigment print similar to screen printing.
Reaching for the straw hat to complete our seaside look – or honestly, any summer outfit – is as instinctive to us as, say, breathing. Next to sunglasses, the straw hat is one of the most obvious accessories to protect us from the sun's UV rays, but its origin is not entirely clear. When an item is as ubiquitous as a straw hat, it is virtually impossible to determine its original maker or even find the first documentation of its existence. It is believed to have appeared in Europe and Asia as early as the 15th century. In most Asian countries, including Japan, China, Indonesia, Malaysia, and Vietnam, rice field workers wore cone-shaped hats on their heads to protect themselves from the sun and rain. According to Vietnamese legend, the hat (nón lá) originated when a goddess descended from heaven wearing a giant hat made of four large leaves held together by bamboo sticks to protect people from a torrential downpour. In the Très Riches Heures du Duc de Berry, the most famous surviving example of an illuminated French Gothic manuscript written between 1412 and 1416, short-brimmed straw hats are worn primarily by men. In the 17th century, French women wore straw hats, and by the 1800s, European paintings show women posing for portraits in ribbon-adorned straw hats and upturned-brim hats covered with flowers. Vincent Van Gogh even immortalized his straw hat in an 1887 self-portrait. The first cowboy hat – made of straw, by the way – was invented by John B. Stetson in 1865, and the silhouette remains essentially unchanged today. In the late 1800s and early 1900s, straw hats were all the rage. But it wasn't until President Theodore Roosevelt visited the Panama Canal in 1906 and was photographed at the construction site in his light-colored suit and Panama hat that the accessory gained notoriety. The light summer hat looked casual and elegant at the same time and became Ecuador's number one export in 1944. Models with wider brims enjoyed great popularity about a decade later, although they were already considered indispensable for the beach. Frances Dee, Adrienne Ames and Judith Wood wore matching straw hats during a seaside portrait in the 1930s. Then-newcomer Brigitte Bardot wore a hat with an exaggerated brim when she had her photo taken in 1955. French actress Laurence de Monaghan styled her two-piece on the set of the 1970 drama Le Genou de Claire with a floppy version with a short brim. In the years that followed, straw hats appeared in all forms. Of course, fashion also had a say. One of the first straw hats on the runway – a taller model with a frayed brim – was presented in 1965. And in 1976, at the helm of French fashion house Chloé, Karl Lagerfeld sent down the runway a model wearing a ribbon-adorned straw hat with a white Greek-style dress. Perhaps it's its low-maintenance nature or its utilitarian roots, but the straw hat was (and still is) one of those incredibly rare garments that remarkably transcended age, class, gender, and fashion genres. Is it the most democratic fashion item? It certainly seems to be. There are currently other Alex Katz original prints besides Straw Hat 1 newly released: "Straw Hat 3", "Sunrise", "Halsey" and "Grace".
Alex Katz / Pioneer of Pop Art
Alex Katz is especially famous for his figurative paintings: The son of Russian Jewish immigrants, he was born in New York in 1927. As a pioneer of Pop Art, he always concentrated on the essentials and early on he began to explore simplified forms and contrasting color compositions. His art is diverse, but always has beauty as its central theme. The artist can now look back on more than 200 solo and around 500 group exhibitions; his diverse works are part of over 100 collections worldwide. Alex Katz lives and works in New York and Maine.
Ihr Ansprechpartner
Frank Fluegel
E-Mail: info(at)frankfluegel.com
Ihr Ansprechpartner
Frank Fluegel
E-Mail: info(at)frankfluegel.com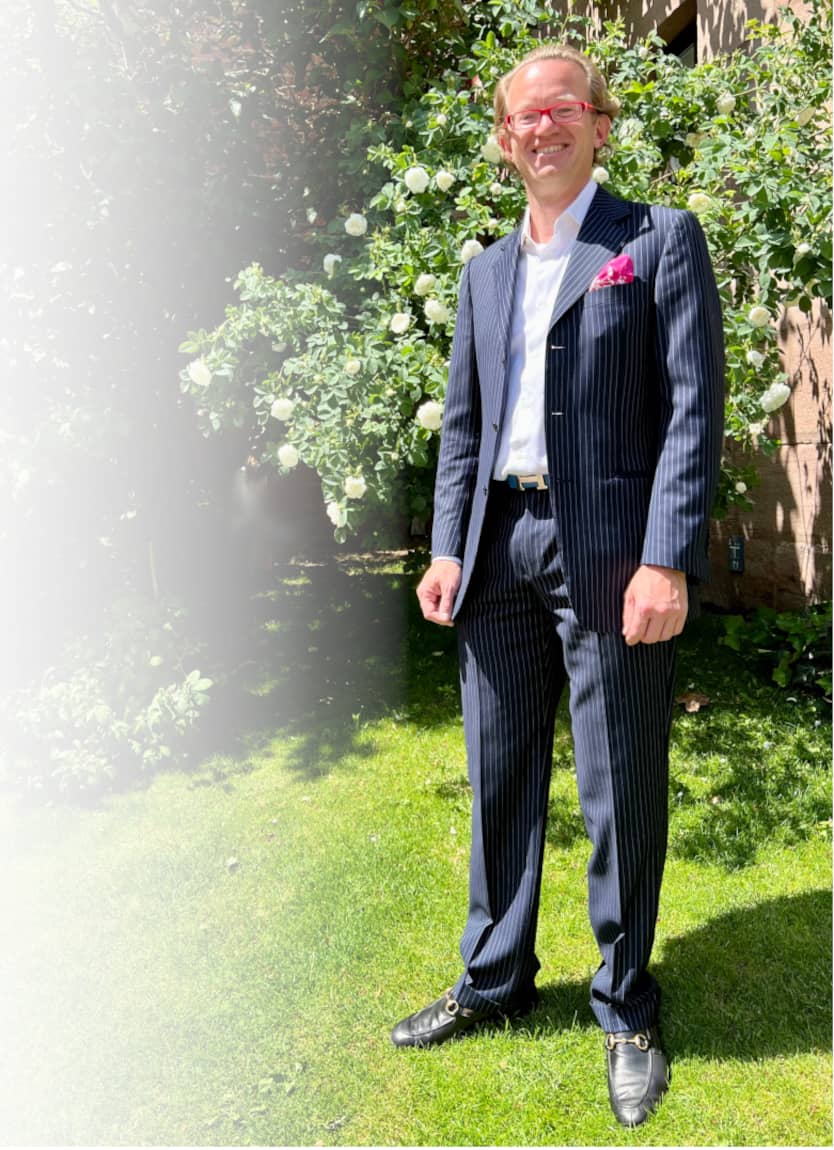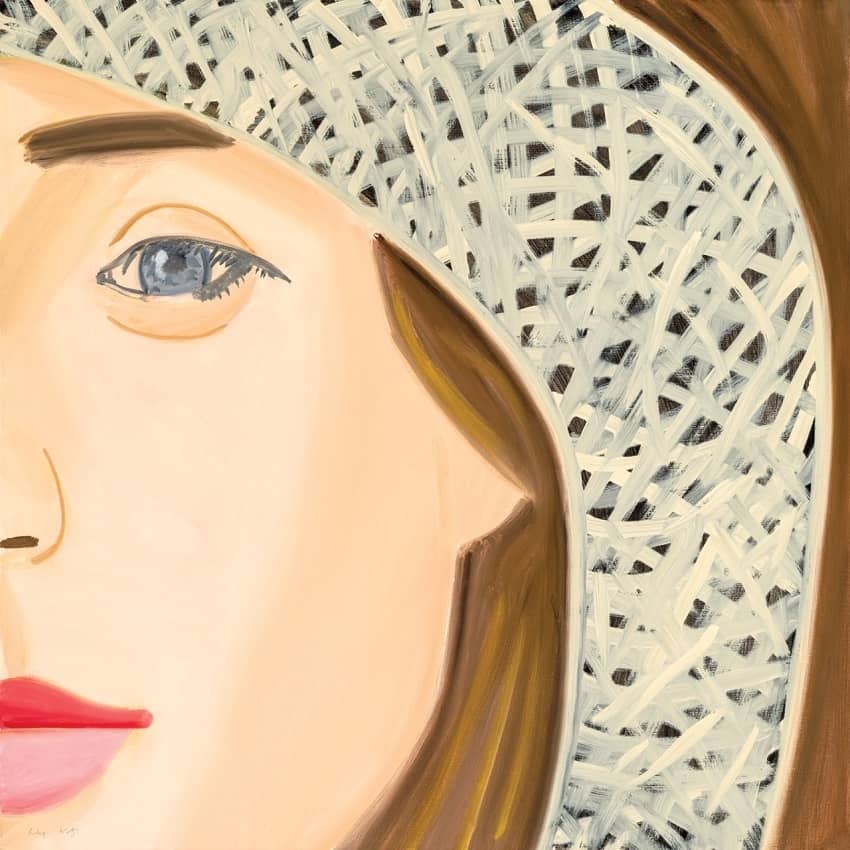 Alex Katz Straw Hat 1 / Pigmentprint / signed, numbered / edition 150
Year:
2022
Format:
91 x 91 cm / 35.8 x 35.8 inch
Material:
Innova Etching Cotton Rag 315 gsm.
Method:
Pigmenprint.
Edition:
150
Other:
handsigned and numbered.