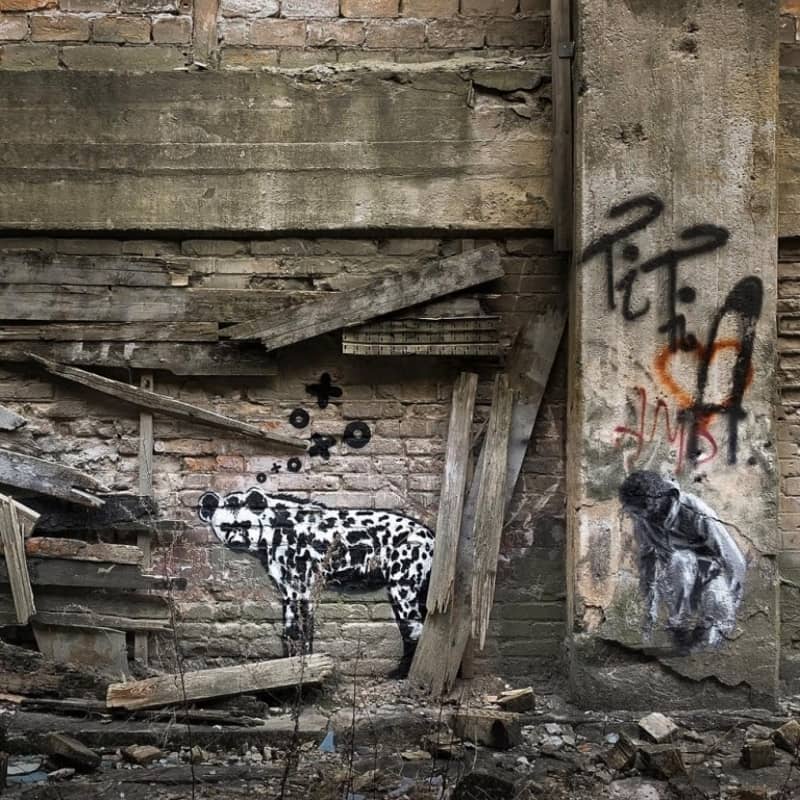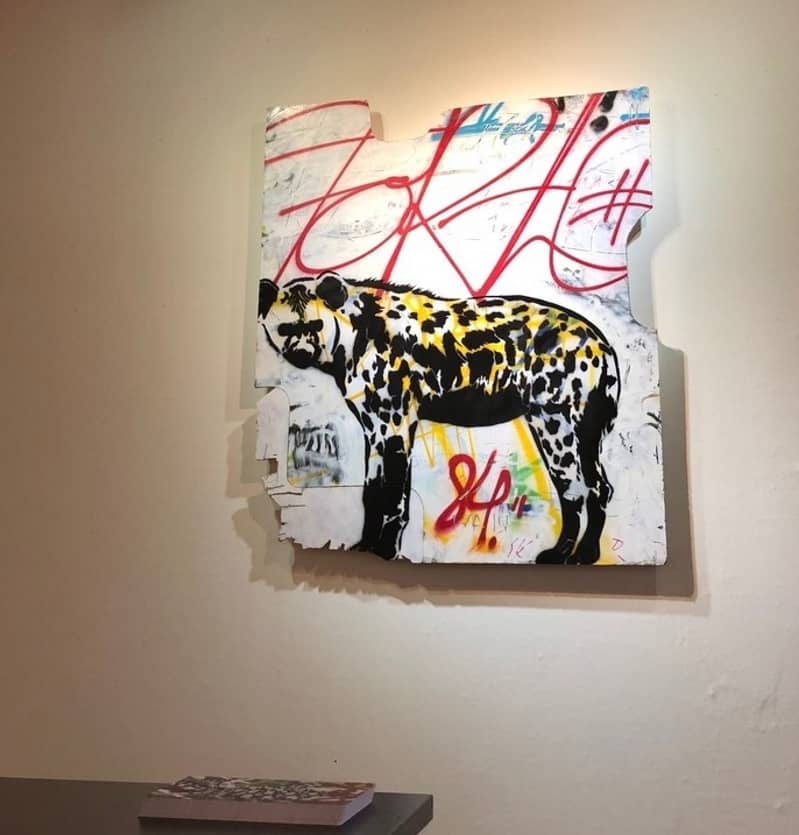 XOOOOX Hyena (Forte) / Mixed Media / signed, dated / unique
| | |
| --- | --- |
| Year: | 2018 |
| Format: | 100 x 130 cm / 39.4 x 51.2 inch |
| Material: | Plywood |
| Method: | Mixed Media, Spray Paint |
| Edition: | unique |
| Other: | signed, dated, titled |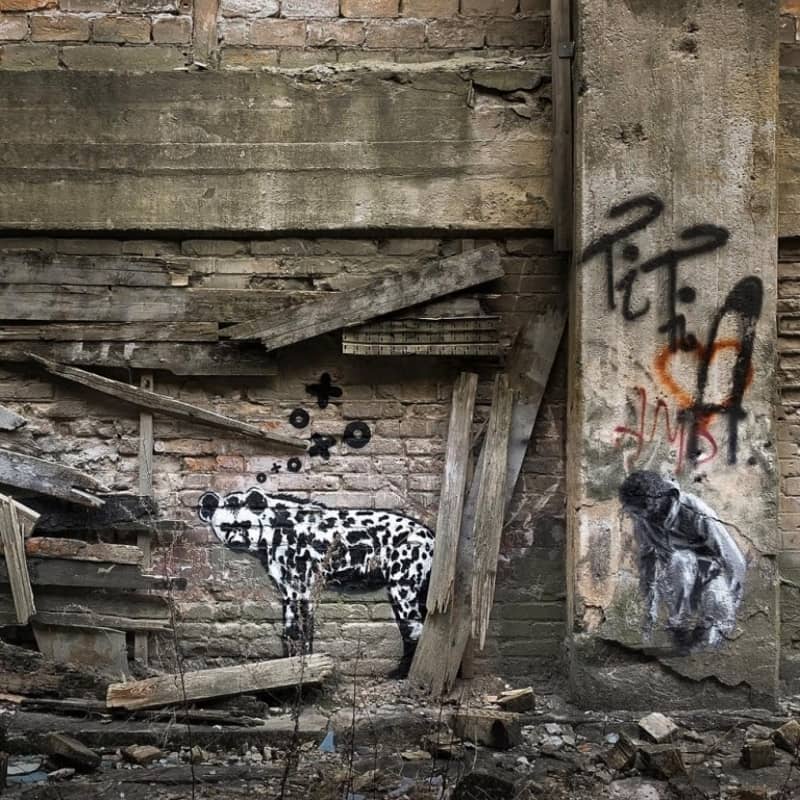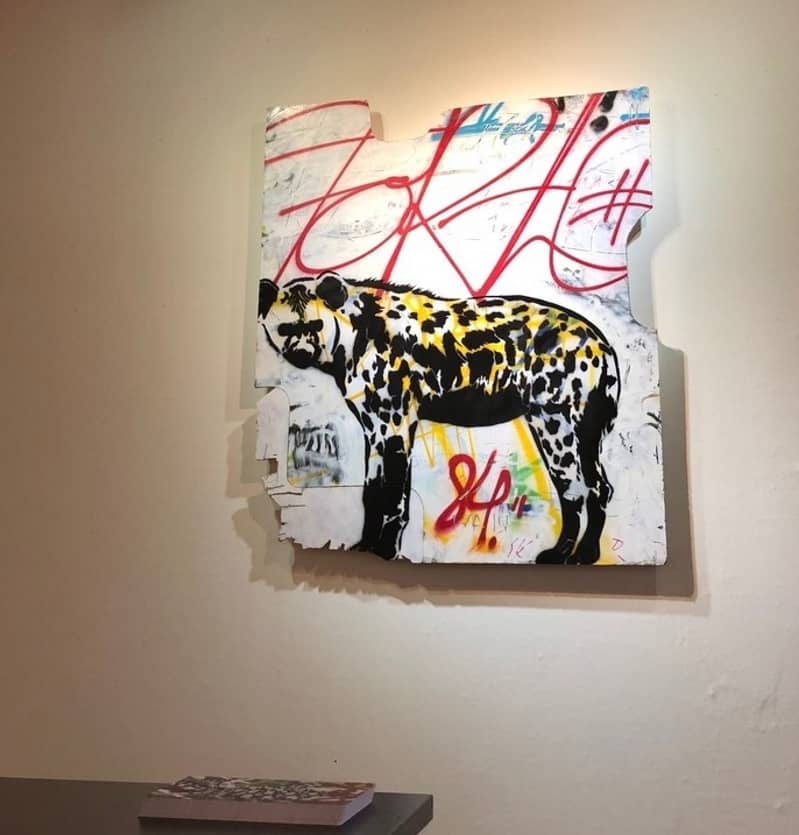 XOOOOX Hyena (Forte)
| | |
| --- | --- |
| Year: | 2018 |
| Format: | 100 x 130 cm / 39.4 x 51.2 inch |
| Material: | Plywood |
| Method: | Mixed Media, Spray Paint |
| Edition: | unique |
| Other: | signed, dated, titled |
Aesthete of transience / XOOOOX
Hyena is a mixed media and graffiti work by the internationally successful street artist XOOOOX. As a substrate he chose a weathered wooden panel. Although the main theme of the graffiti artist is the glamour world of fashion and fashion magazines, there are always individual works by him that deal with animals. In addition to this Hyena, there is also a stencil with a chicken and a pug. If you take a closer look at the artist's entire oeuvre, you will notice that he primarily chooses motifs that have a strong graphic pattern. What the plaid and patterned coats and tops are in his models, here in Hyena is the patterned fur drawing of the animal. Since the artist makes all his stencils himself and cuts them out by hand, this shows the ambition and artistic ambition that characterizes his work. While many graffiti artists choose stencils that are as simple as possible, for XOOOOX it can't be complicated enough. XOOOOX is considered by the press as the only German street artist who is internationally successful. There have been reports in Die Welt, Die Zeit, Tagesanzeiger, Focus Magazine, as well as the Goethe Institute. The two exhibitions at FRANK FLUEGEL GALERIE in recent years were both completely sold out.
At Van Ham in Cologne in 2020, a unique piece by XOOOOX measuring 60 x 80 cm fetched just under 9,000 euros at auction. Inquiries from Seoul, USA, London and Beirut underline the high international interest in the stencils and unique pieces of XOOOOX. In Amsterdam, the largest Street Art Museum in the world is being built. Works by XOOOOX will also be on display there.
Born in 1979, center of life in Berlin – Germany's first street artist with international reputation does not reveal much more about himself. From the age of 15, XOOOOX perfected his graffiti art. With his trademark life-size stencils of styled models, which he sprays on weathered, dilapidated surfaces in public spaces and signs with the two letters X and O of his pseudonym, the art scene became aware of him. At international exhibitions, the self-taught artist XOOOOX mainly shows abstract paintings, object art, works on paper and photography. Who wants to buy XOOOOX, has the choice between originals and limited, signed graphic editions.
Ihr Ansprechpartner
Frank Fluegel
E-Mail: info(at)frankfluegel.com
Ihr Ansprechpartner
Frank Fluegel
E-Mail: info(at)frankfluegel.com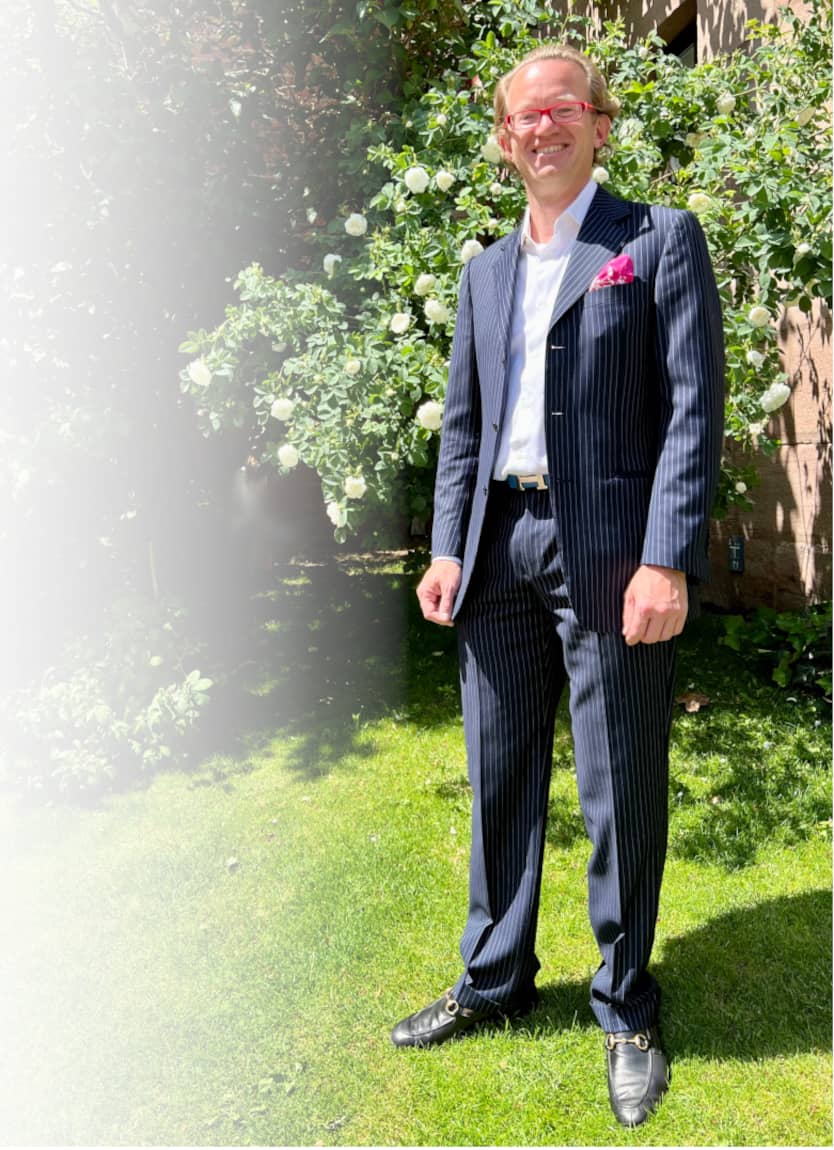 XOOOOX Hyena (Forte) / Mixed Media / signed, dated / unique
Year:
2018
Format:
100 x 130 cm / 39.4 x 51.2 inch
Material:
Plywood
Method:
Mixed Media, Spray Paint
Edition:
unique
Other:
signed, dated, titled