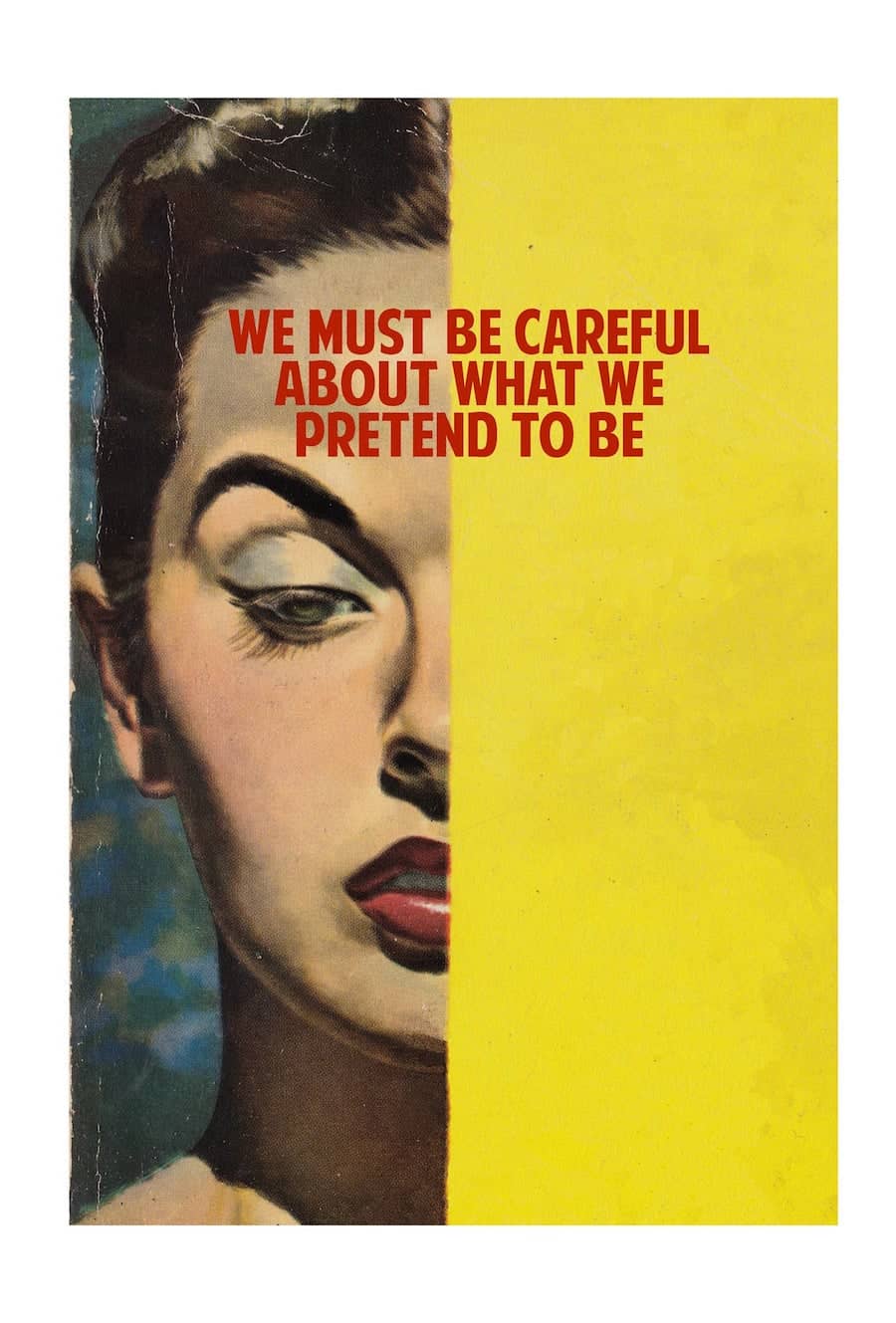 The Connor Brothers We Must be Careful / Screenprint / signed, numbered / Edition 150
| | |
| --- | --- |
| Year: | 2017 |
| Format: | 90 x 130 cm / 35.4 x 51.2 inch |
| Material: | 400g Somerset Velvet Paper |
| Method: | Screenprint, Varnish |
| Edition: | 150 |
| Other: | signed, numbered |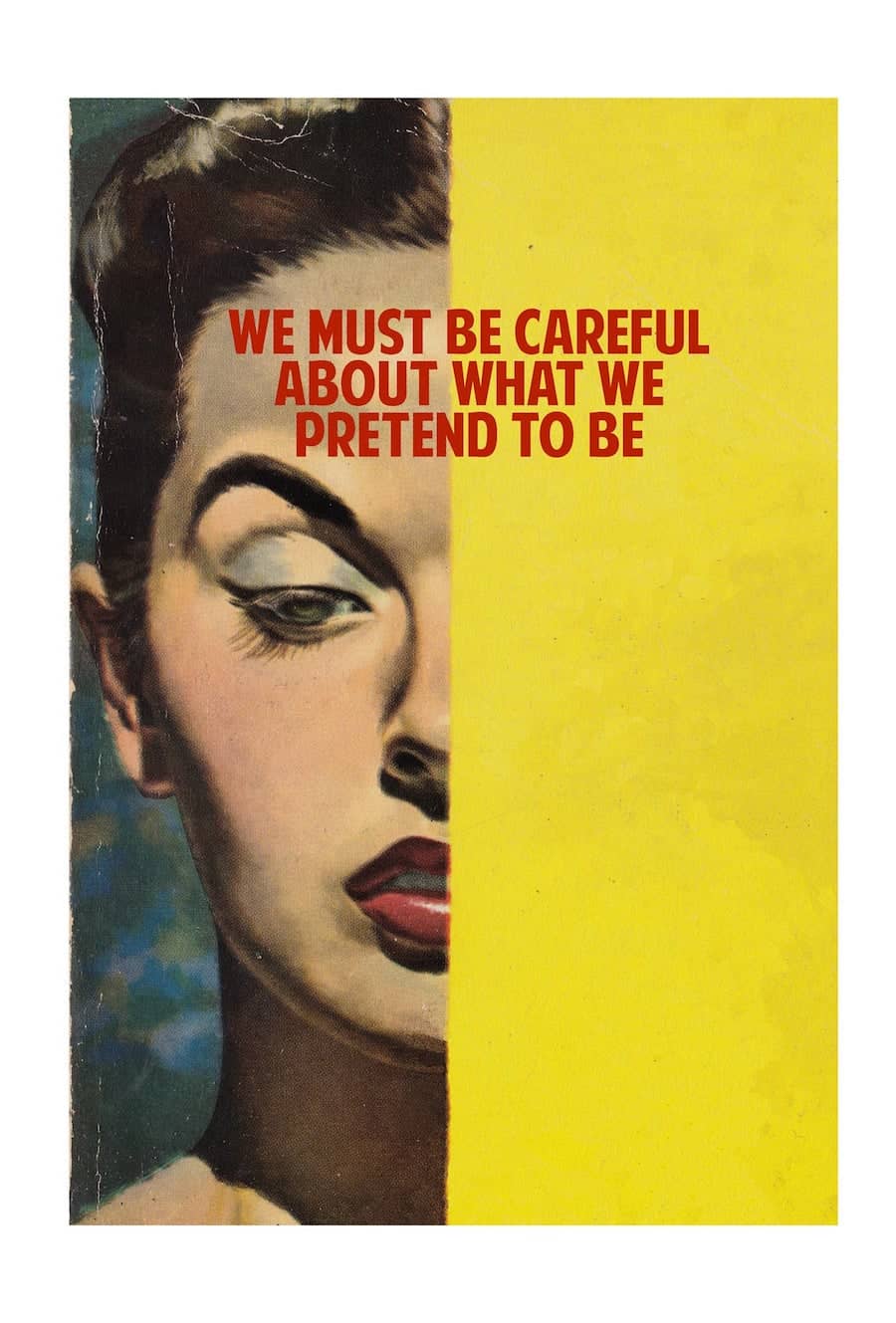 The Connor Brothers – We Must Be Careful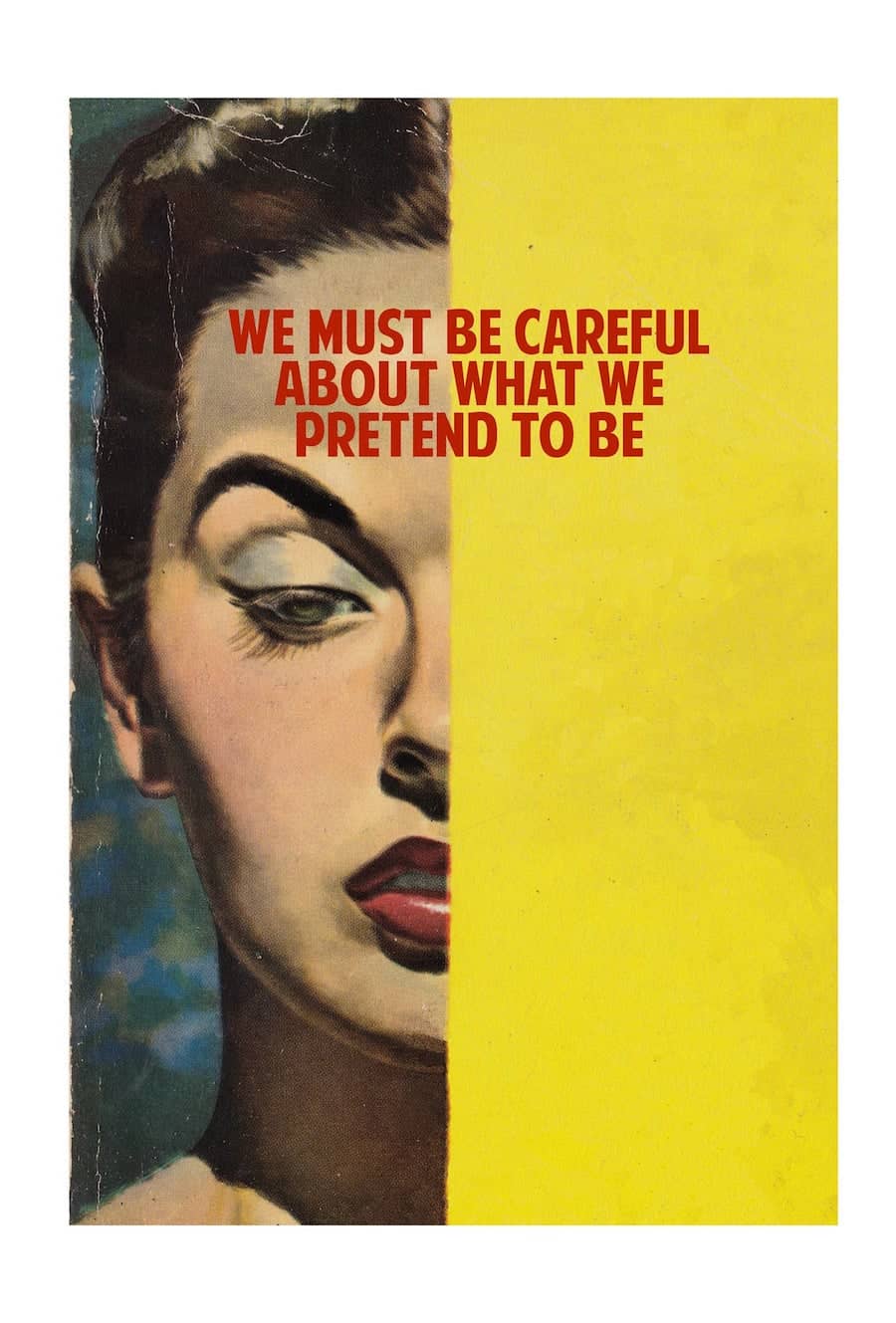 | | |
| --- | --- |
| Year: | 2017 |
| Format: | 90 x 130 cm / 35.4 x 51.2 inch |
| Material: | 400g Somerset Velvet Paper |
| Method: | Screenprint, Varnish |
| Edition: | 150 |
| Other: | signed, numbered |
The Connor Brothers - We Must Be Careful
"We Must Be Careful about What We Pretend to Be" is an intriguing artwork by The Connor Brothers, the collaborative duo consisting of James Golding and Mike Snelle. Known for their thought-provoking pieces, this particular artwork delves into the complexities of identity and the masks we wear in our everyday lives.
The artwork commands attention with its bold composition. The words "We Must Be Careful about What We Pretend to Be" are emblazoned prominently, demanding contemplation from the viewer. The typography, often crisp and striking, adds a layer of visual impact to the piece. The words themselves hold immense power, serving as a poignant reminder to question the authenticity of our projected personas.
The contrasting background plays a significant role in the artwork's overall impact. It creates a visual tension, emphasizing the juxtaposition between the act of pretending and the need for caution. This contrast reflects the inherent conflict within human nature, where the desire to fit in or conform may push us to adopt false identities, obscuring our true selves.
The Connor Brothers' work often draws inspiration from popular culture and literature, and this piece is no exception. The title itself is a reference to a quote by the Danish philosopher Søren Kierkegaard, underscoring the timeless relevance of their exploration of self-deception and the dangers it poses.
"We Must Be Careful about What We Pretend to Be" encourages introspection and prompts us to question the masks we wear in our interactions with others. It serves as a catalyst for self-reflection, inviting viewers to examine the authenticity of their own identities and the societal pressures that may influence them.
Through their thought-provoking artistry, The Connor Brothers challenge us to peel away the layers of pretense and strive for a deeper understanding of ourselves and others. By embracing our true selves and being mindful of the facades we project, we can navigate the complexities of identity with greater honesty and integrity.
Ihr Ansprechpartner
Frank Fluegel
E-Mail: info(at)frankfluegel.com
Ihr Ansprechpartner
Frank Fluegel
E-Mail: info(at)frankfluegel.com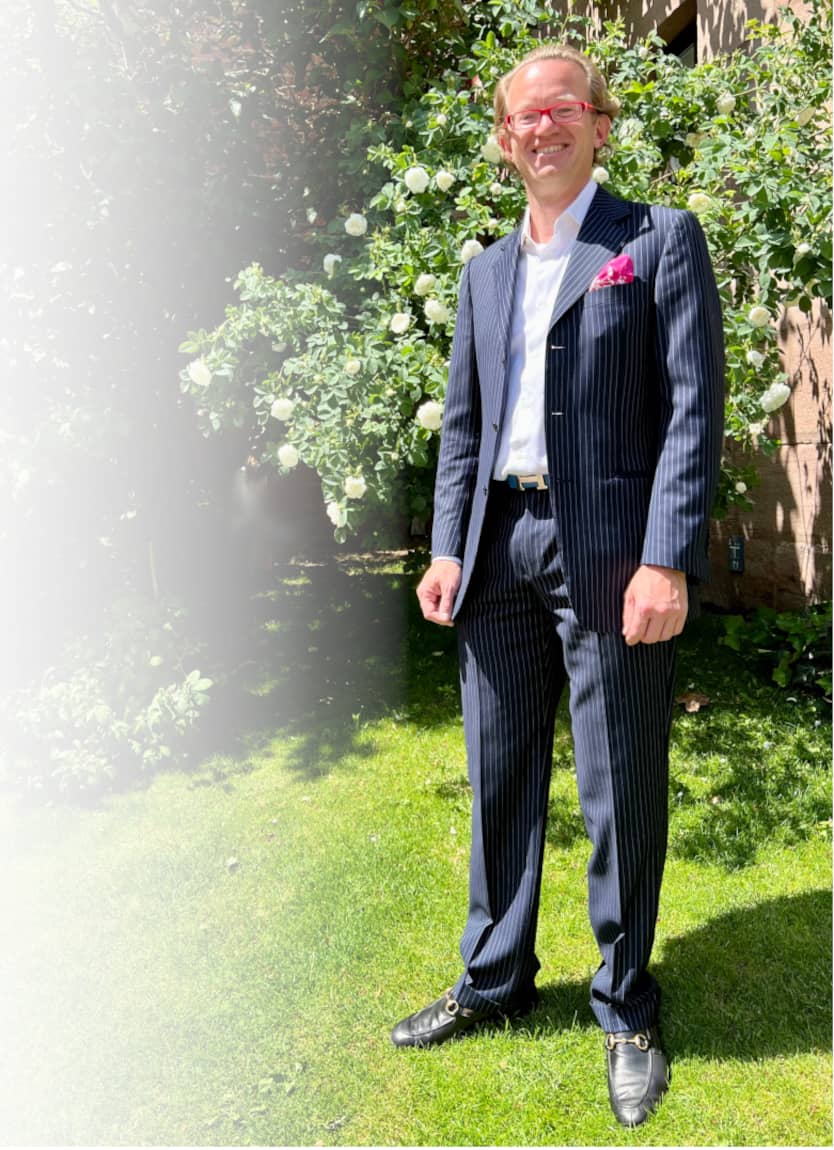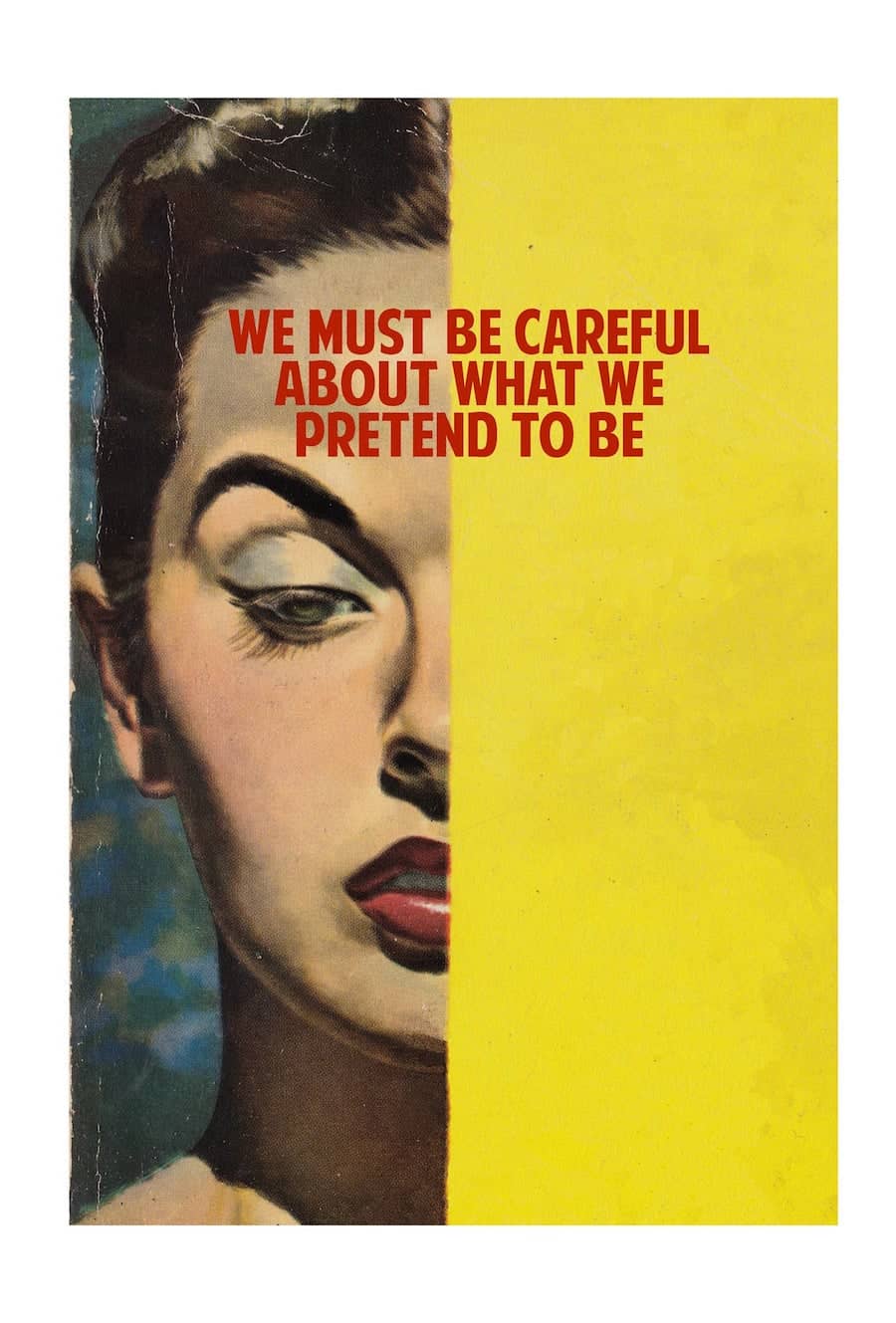 The Connor Brothers We Must be Careful / Screenprint / signed, numbered / Edition 150
Year:
2017
Format:
90 x 130 cm / 35.4 x 51.2 inch
Material:
400g Somerset Velvet Paper
Method:
Screenprint, Varnish
Edition:
150
Other:
signed, numbered