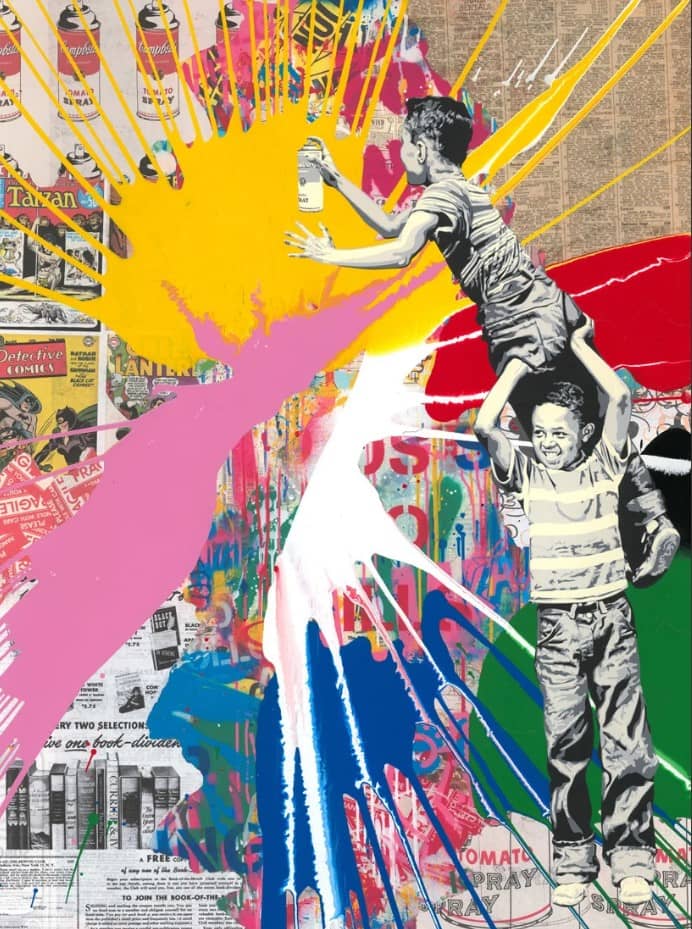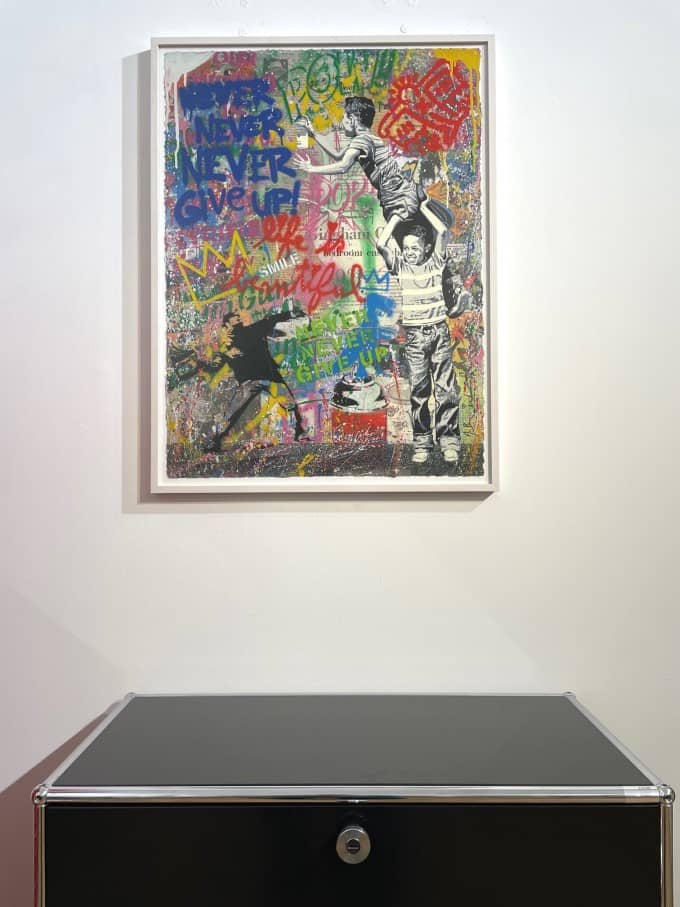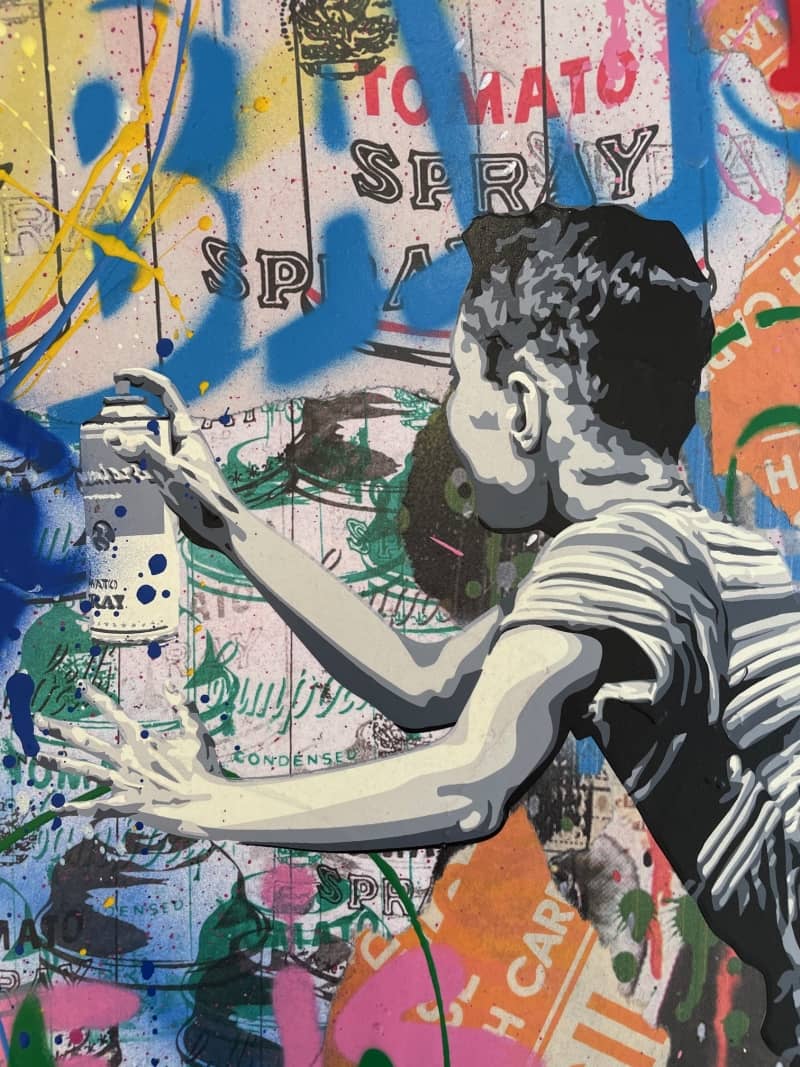 Mr. Brainwash Never, Never Give Up / Mixed Media / signed / unique
| | |
| --- | --- |
| Year: | 2022 |
| Format: | 55,9 x 76,2 cm / 21.7 x 29.9 inch |
| Material: | Fine Art Paper |
| Method: | Acrylic, Stencil, Mixed Media. |
| Edition: | unique |
| Other: | handsigned |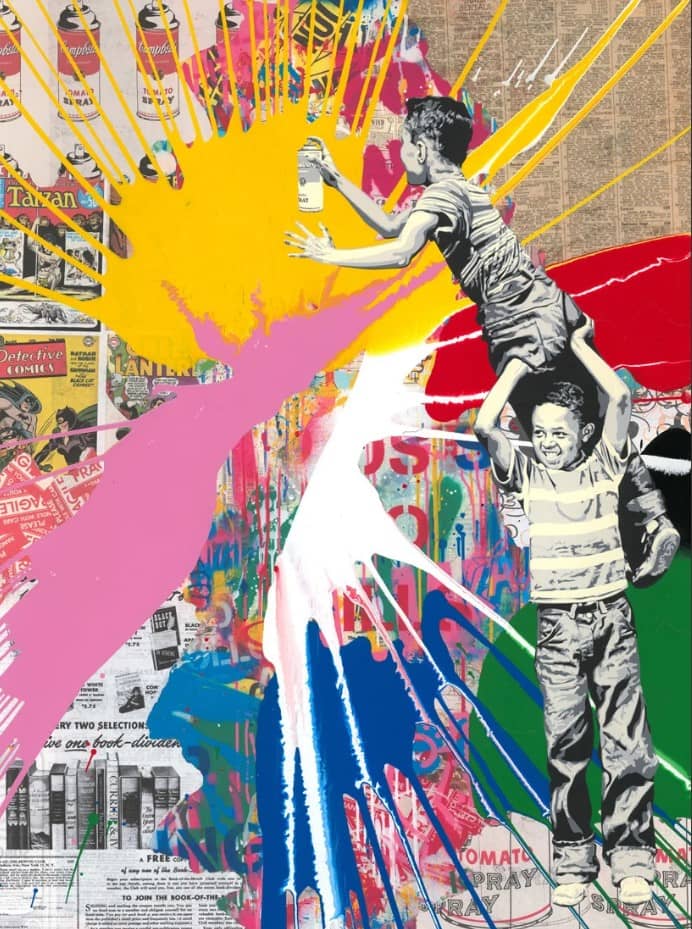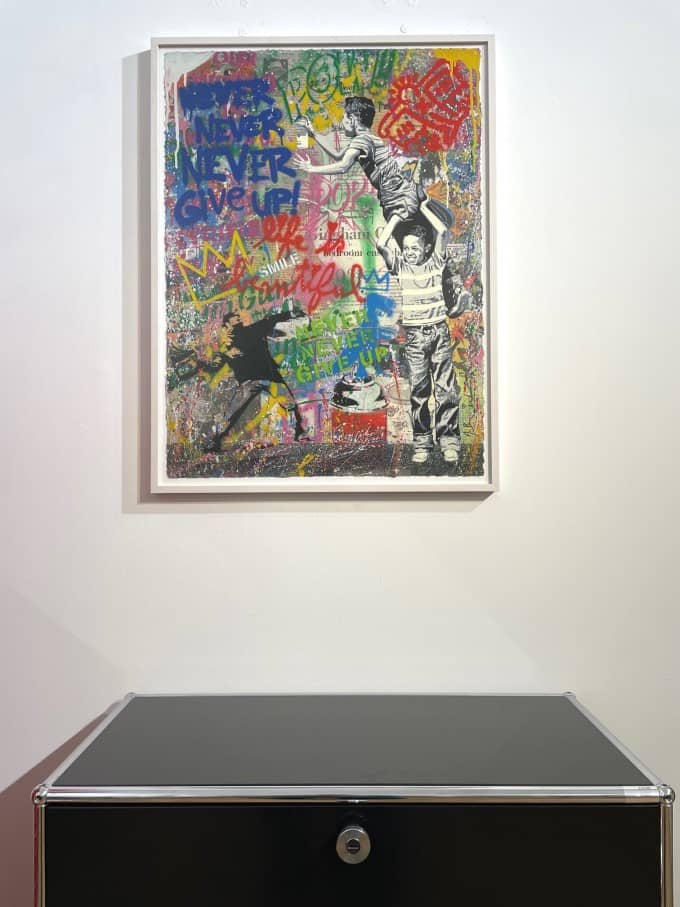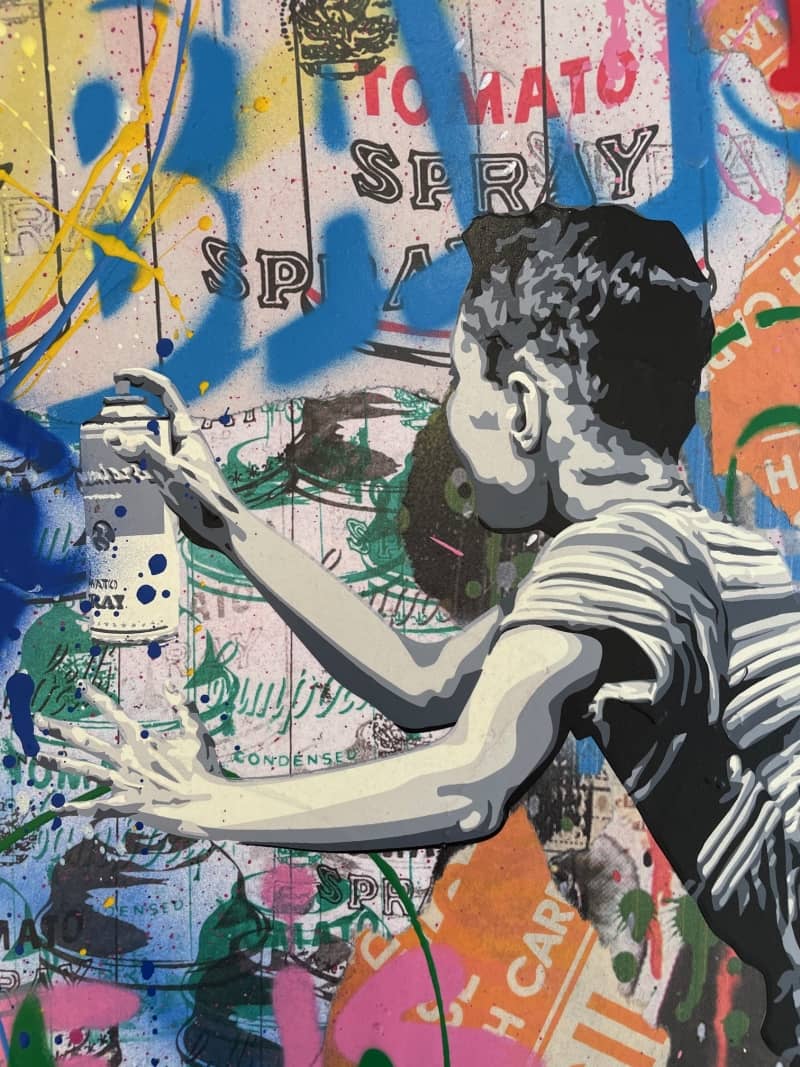 Never, Never Give Up brings well-known motifs and famous icons together in best Pop Art manner and spreads his messages of love and positivity with a wink.
Mr. Brainwash Never, Never Give Up!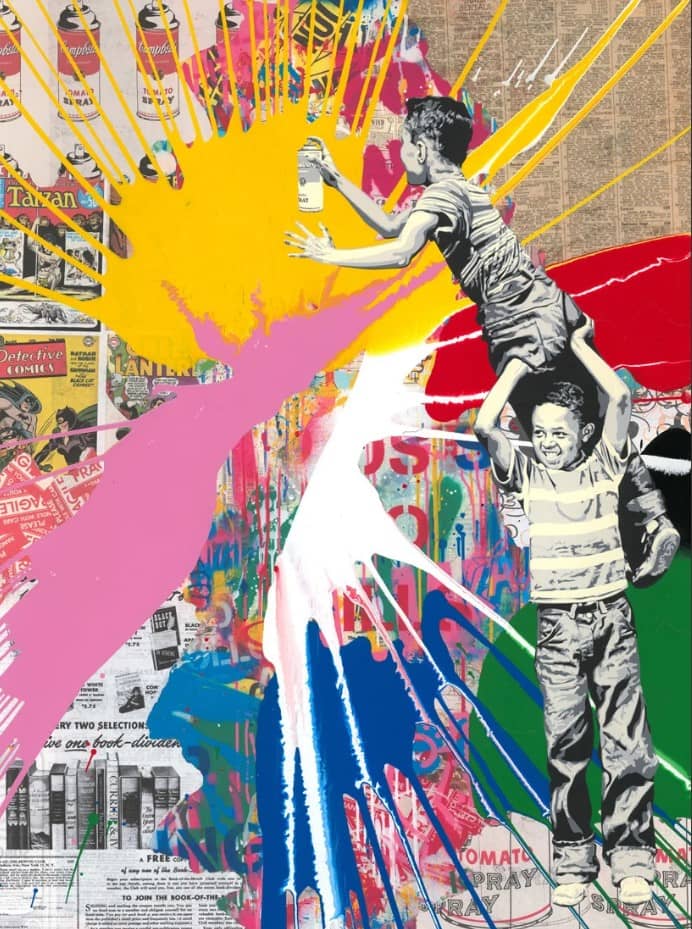 | | |
| --- | --- |
| Year: | 2022 |
| Format: | 55,9 x 76,2 cm / 21.7 x 29.9 inch |
| Material: | Fine Art Paper |
| Method: | Acrylic, Stencil, Mixed Media. |
| Edition: | unique |
| Other: | handsigned |
Mr. Brainwash - Never, Never Give Up!
In 2011 the motif "Never Never Give Up" by Mr. Brainwash appeared on the street for the first time. He teamed up with the equally famous street art artist Cope2 and created the huge mural "Never Never Give Up" in the La Brea section of Los Angeles.
Cope2 has been active in street art for over 20 years, but did not gain international attention until the mid 90s. His work has appeared in ad campaigns for Adidas and Converse as well as in Time Magazine.
The wall painting "Never Never Give Up" shows a young child helping to lift another one while finishing a graffiti on the wall.
The phrase "Never Never Give Up" was used repeatedly by Mr. Brainwash thereafter, most recently in 2016 for the celebration of International Women's Day alongside First Lady Michelle Obama at Union Market in Washington, D.C. He unveiled a series of huge, building-length murals on the theme of "Let Girls Learn.  Let Girls Learn is a US government initiative to educate girls around the world.
The murals are full of colorful hearts, clever allusions to pop culture, portraits and the slogans "Life Is Beautiful", "Follow Your Heart" and "Love Is The Answer".
"When we were thinking about how to reinforce the message of the day, we thought about art," said Jennifer Maguire Isham, director of Union Market. "We had the walls, the artist had the creativity. It was the perfect mash-up of the Union Market message."
"I'm honored to be so close to the White House here and I'm happy to be able to leave a trail," said Mr. Brainwash. "I will come back and try to do more, because I feel that Washington, D.C. needs it. When I drive, I see so many empty walls that could send messages to people that they should see life more beautiful and never give up.
Mr. Brainwash believes that art has the power to be transformative and create community.
"Art can change the world because it is something that speaks loudly but is very quiet," he says. "It's just a very strong message that sometimes, even if you're very quiet in life, when you see it, you could scream inside. Sometimes we need to make a change to be happier and more grateful for what we have".
International Shooting Star / Mr. Brainwash
Hardly any other street art artist has experienced such a rapid rise as the Frenchman Thierry Guetta aka Mr. Brainwash, born in Garges-lès-Gonesse in 1966. His path to becoming the most successful artist of recent years is closely linked to the name Banksy and his Oscar-winning film Exit Through the Gift Shop: In this documentary Banksy encourages the then still unknown Guetta to become active as an artist himself under the pseudonym Mr. Brainwash. The rumor persists that the Frenchman Brainwash is a purely fictional person invented by Banksy and that his works are actually created by Banksy.
Like many Urban Art and Street Art artists, Mr. Brainwash uses well-known motifs like celebrities or comic icons and combines them with his very own signature messages of positivity: "Love is the Answer", "Life is Beautiful" or "Follow Your Dreams". The main motif is sprayed as a stencil with acrylic paint, whereas the background is composed differently as a collage or with mixed media. Old snippets from comic books, vintage brochures and other stencils let the viewer discover new details again and again.
Ihr Ansprechpartner
Frank Fluegel
E-Mail: info(at)frankfluegel.com
Ihr Ansprechpartner
Frank Fluegel
E-Mail: info(at)frankfluegel.com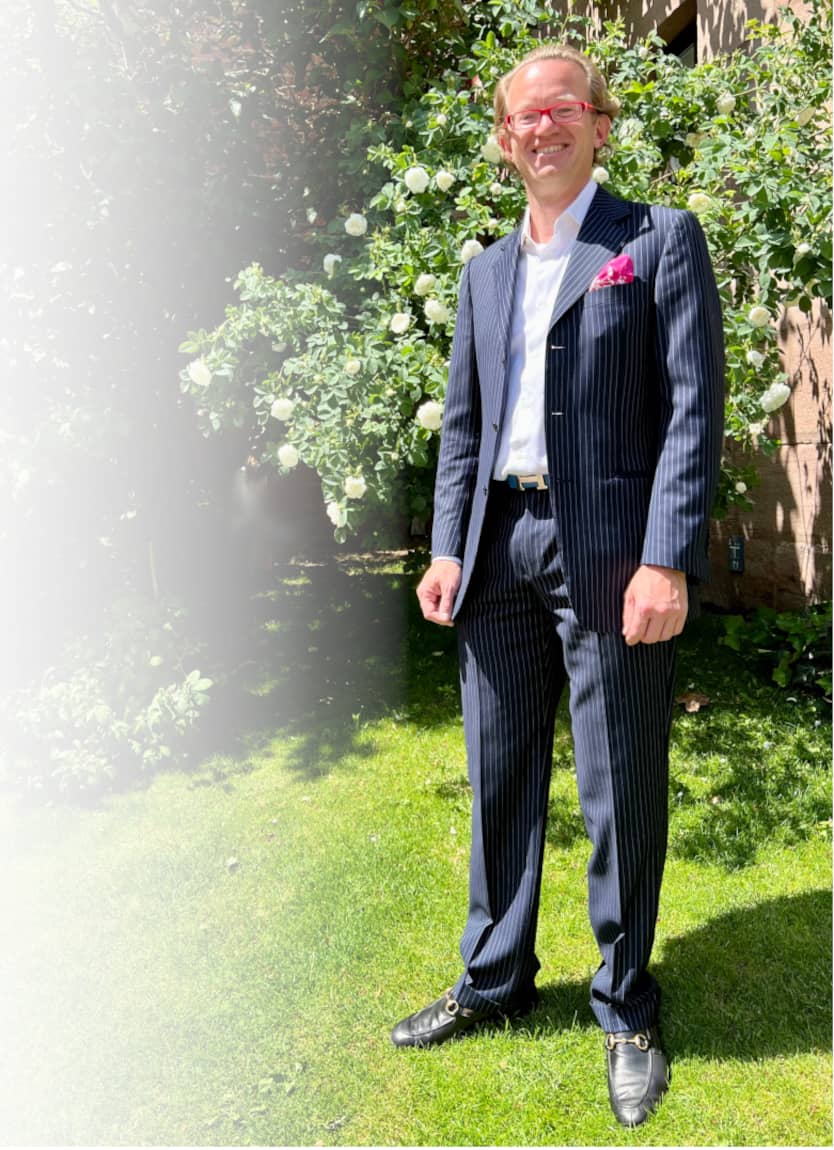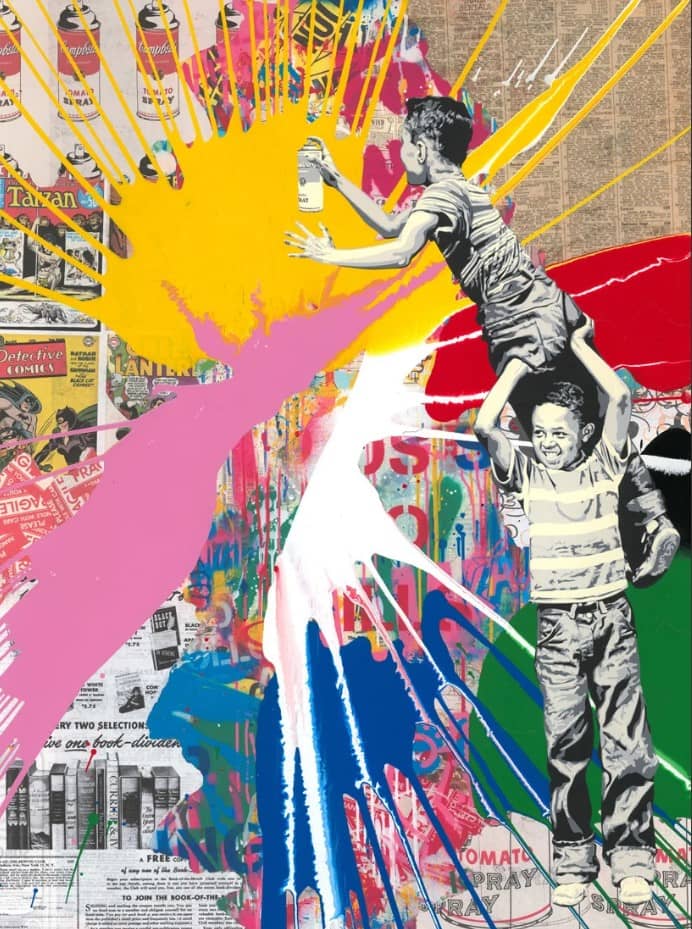 Mr. Brainwash Never, Never Give Up / Mixed Media / signed / unique
Year:
2022
Format:
55,9 x 76,2 cm / 21.7 x 29.9 inch
Material:
Fine Art Paper
Method:
Acrylic, Stencil, Mixed Media.
Edition:
unique
Other:
handsigned