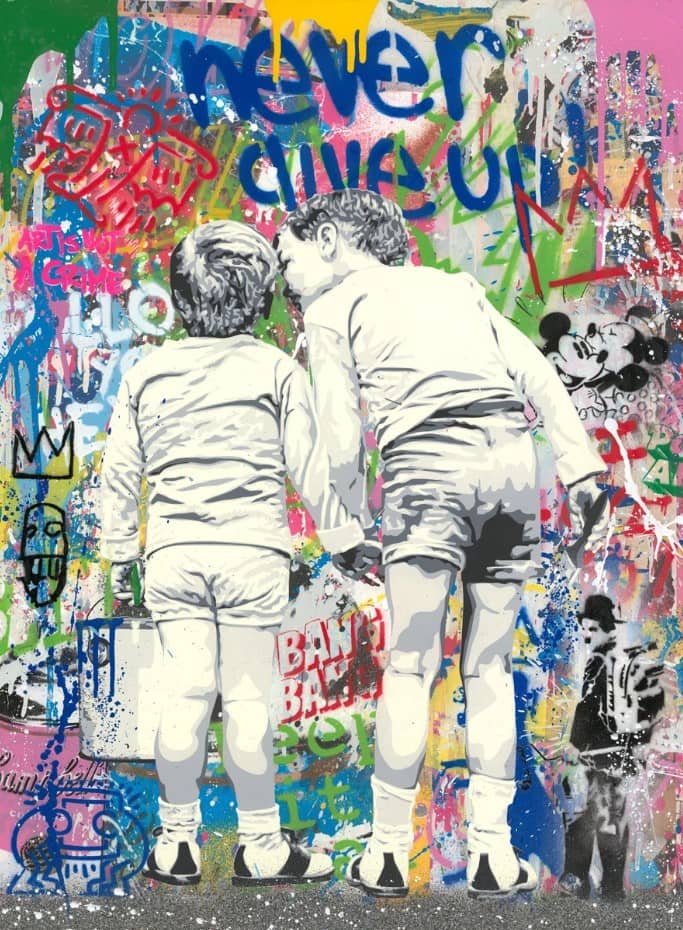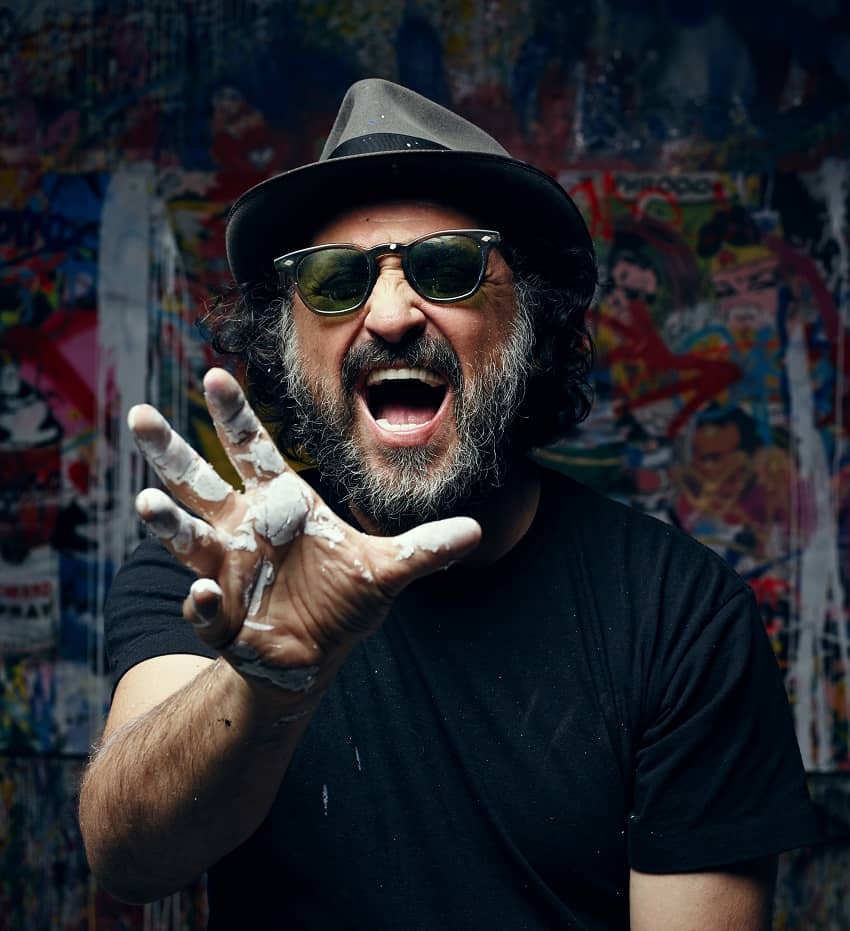 Mr. Brainwash Brothers's Advice / Mixed Media / signed / unique
| | |
| --- | --- |
| Year: | 2022 |
| Format: | 55,2 x 76,2 cm / 21.7 x 29.9 inch |
| Material: | Fine Art Paper |
| Method: | Mixed Media, Stencil, Acrylic Paint. |
| Edition: | unique |
| Other: | handsigned front and verso. |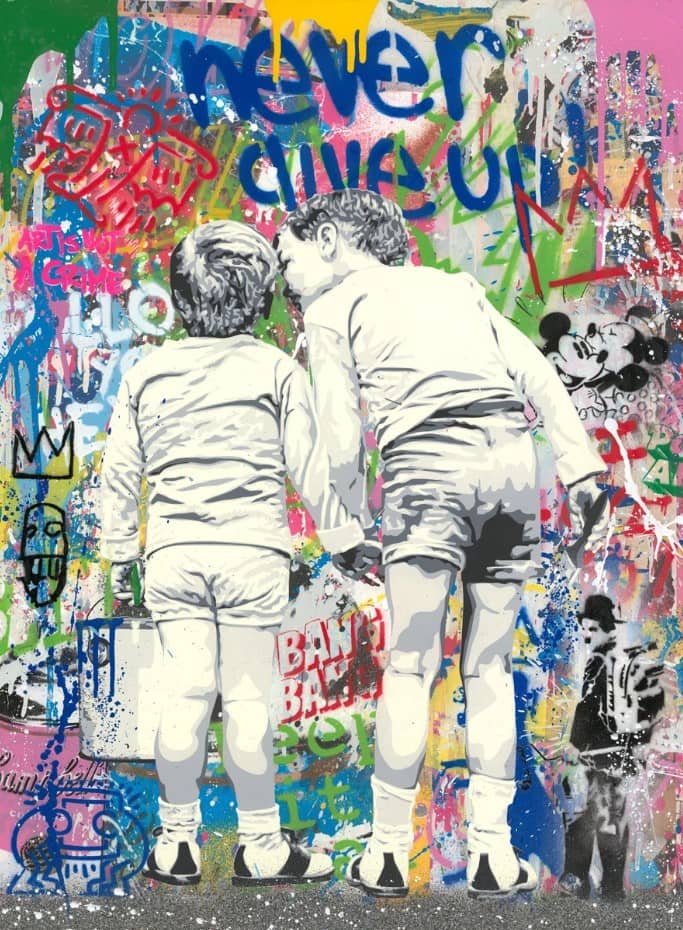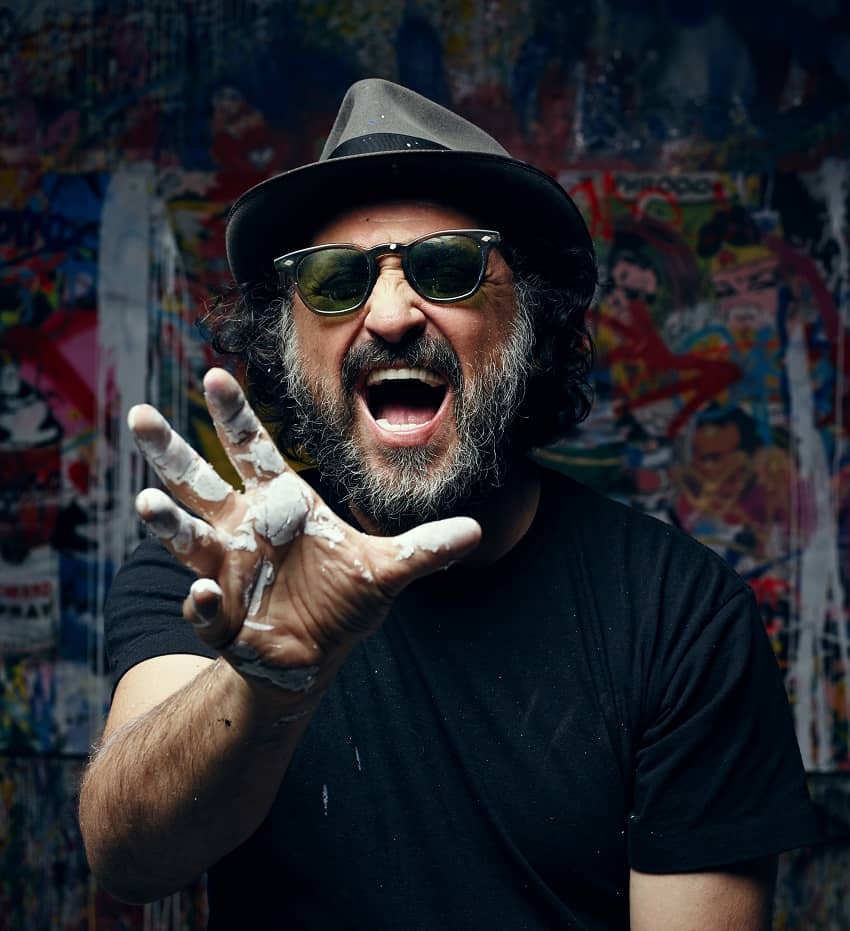 Mr. Brainwash Brothers's Advice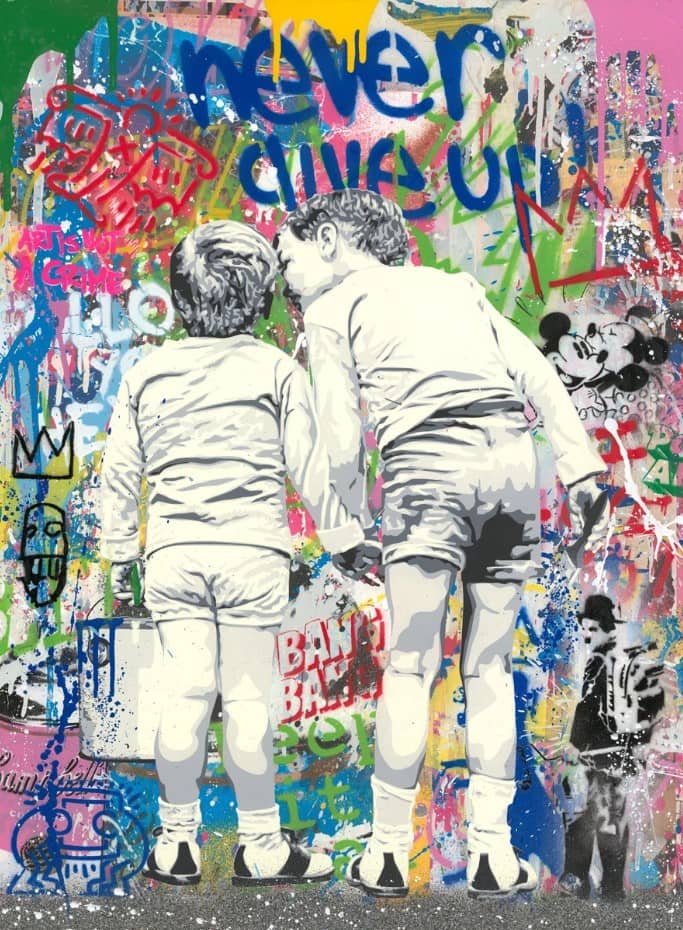 | | |
| --- | --- |
| Year: | 2022 |
| Format: | 55,2 x 76,2 cm / 21.7 x 29.9 inch |
| Material: | Fine Art Paper |
| Method: | Mixed Media, Stencil, Acrylic Paint. |
| Edition: | unique |
| Other: | handsigned front and verso. |
Brothers's Advice - 브레인워시
Brothers's Advice is another motif of the artist Mr. Brainwash with children in the center. The pair of brothers is standing with paint bucket and brush in front of a wall you are about to paint. The lightheartedness of youth is often a central theme in Mr. Brainwash. He often uses vintage templates from the 50s and 60s from the famous Saturday Evening Posts, which at that time were all still drawn by hand. As with all of Thierry Guetta's unique pieces, the background of Helping Hand is covered all over with stencils, collage elements and spray paint. One can recognize individual comic strips of the Peanuts as well as Snoopy. Of course, iconographies and original slogans by Keith Haring or Jean-Michel Basquiat are not missing.
A decade ago, the documentary Exit Through the Gift Shop, directed by Banksy and nominated for an Oscar, premiered and catapulted Mr. Brainwash to worldwide fame. Meanwhile, it can be said that the film that was supposed to tell Banksy's story, tells the story of Thierry Guetta aka Mr. Brainwash. Thierry Guetta, this unknown man who filmed street artists in Los Angeles for years until he became one himself and earned over $1 million with a monumental exhibition in a former CBS studio in the heart of the City of Angels. Today, the child of Garges-lès-Gonesse is the friend of all-Hollywood, he is invited by the Dalai Lama and the Pope to make their portraits.
On October 14, 2010, an Einstein by Mr. Brainwash was sold in London at the Contemporary Art Day Sale at Phillips at £75,650.
Hardly any other street art artist has experienced such a rapid rise as the French Thierry Guetta aka Mr. Brainwash, born in Garges-lès-Gonesse in 1966. His path to becoming the most successful artist of recent years is closely linked to the name Banksy and his Oscar-winning film Exit Through the Gift Shop: In this documentary Banksy encourages the then still unknown Guetta to become active as an artist himself under the pseudonym Mr. Brainwash.
Mr. Brainwash rocked the art world with his innovative and fearless style. He uses elements from pop art's past and the raw components of his street art beginnings to create larger-than-life exhibitions and collaborations. Mr. Brainwash's imaginative construction of gallery exhibitions and art shows throughout the world has continued to attract the attention of critics and celebrities alike. Navigating between worlds of film, celebrity culture, music, and sports, Mr. Brainwash has designed album covers for Madonna, Rick Ross, and KYGO.
His artwork was featured in films and television productions such as Molly's Game, Billions, Shameless, and the Kardashians. Mr. Brainwash's talents are showcased in creative partnerships with powerhouse brands like Hublot, Coca Cola, and Marvel Comics creator Stan Lee. He also collaborated with world known soccer player Pelé, who joined the artist in splattering paint on select artwork. While undertaking worldwide solo exhibitions and residency at Art Basel each year, Mr. Brainwash creates opportunities to engage the public in the world of art. To that end, Mr. Brainwash has traveled across the globe for speaking engagements and seminars including addresses at UCLA, Columbia University and Semi Permanent, Australia's largest creative conference.
Mr. Brainwash's passion extends his commitment to giving back to the community. He continues to donate artwork in support of the Los Angeles LGBT center, created commemorative 9/11 murals to honor the victims, and partnered with Product RED to raise AIDS awareness. Mr. Brainwash also lends his yearly support to organizations such as the Prince's Trust for the benefit of vulnerable youth. He met with former First Lady Michelle Obama in support of her organization, "Let Girls Learn" that helps adolescent girls attend and complete school. He was also honored to meet privately with Pope Francis in Rome to raise funds for Scholas, the Pope's personal foundation to serve the youth of the world.
Ihr Ansprechpartner
Frank Fluegel
E-Mail: info(at)frankfluegel.com
Ihr Ansprechpartner
Frank Fluegel
E-Mail: info(at)frankfluegel.com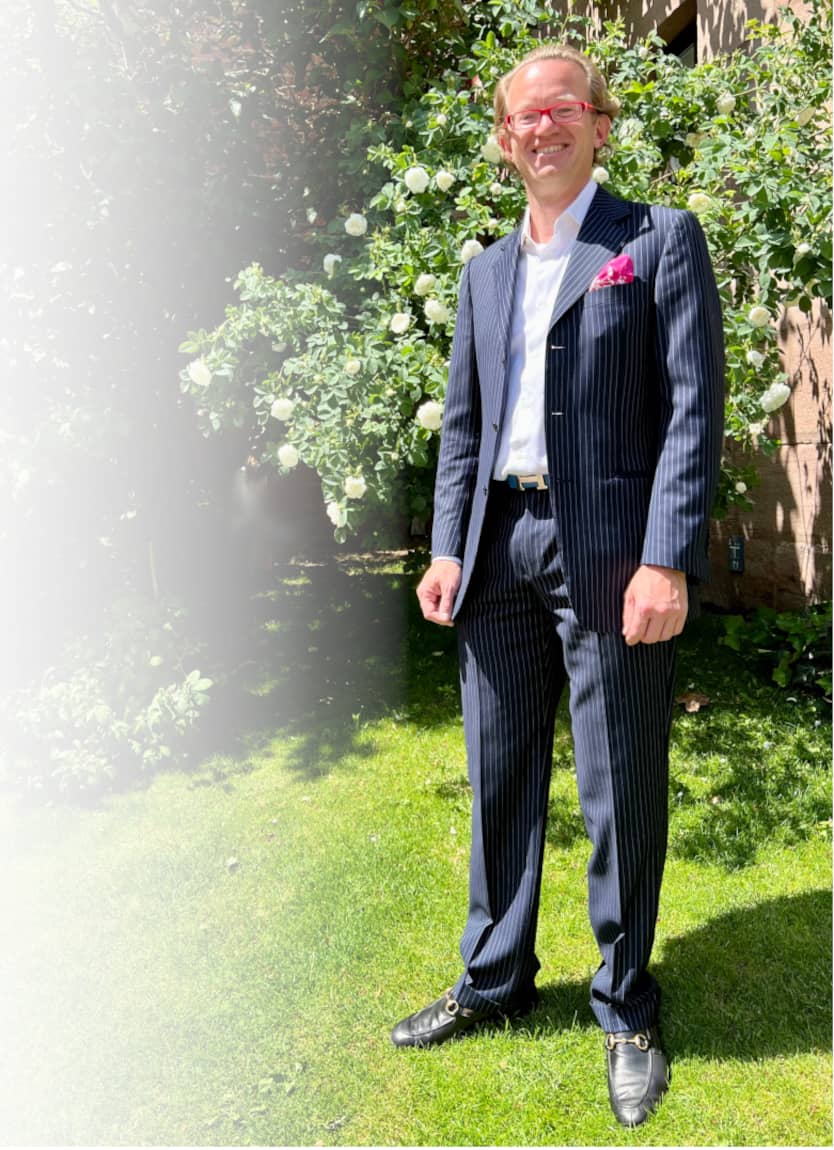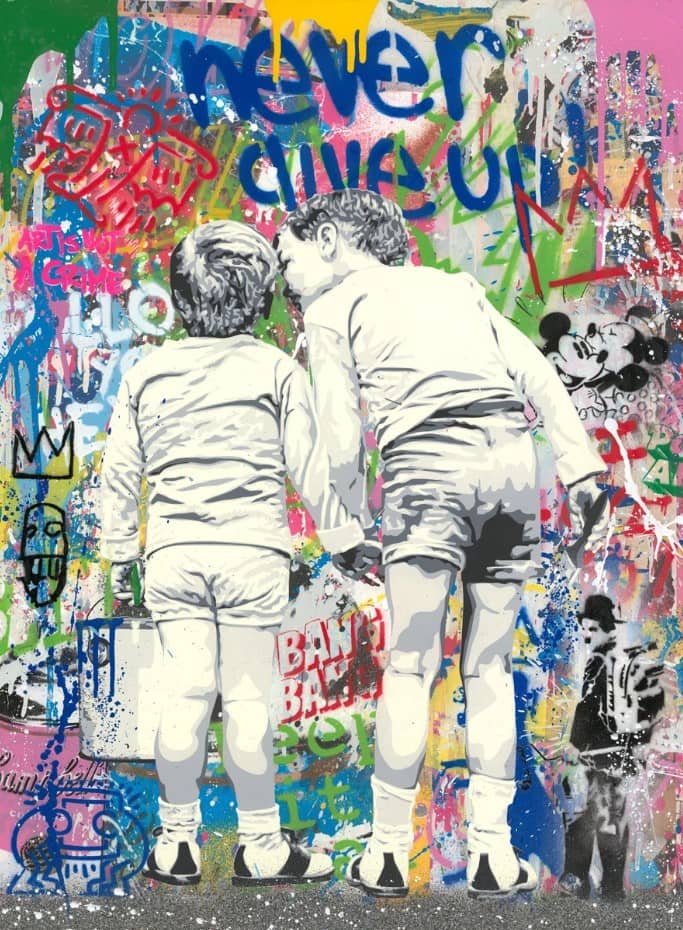 Mr. Brainwash Brothers's Advice / Mixed Media / signed / unique
Year:
2022
Format:
55,2 x 76,2 cm / 21.7 x 29.9 inch
Material:
Fine Art Paper
Method:
Mixed Media, Stencil, Acrylic Paint.
Edition:
unique
Other:
handsigned front and verso.