Alex Katz rare Landscapes Portfolio released.
Alex Katz Landscapes portfolio - Sunset in Maine.
GALERIE FRANK FLUEGEL has an extremely rare landscape portfolio by Alex Katz available. The Sunset / Sunrise Portfolio in an edition of only 35 copies was created from large-format oil paintings that formed an exhibition at Gavin Brown in New York in 2019.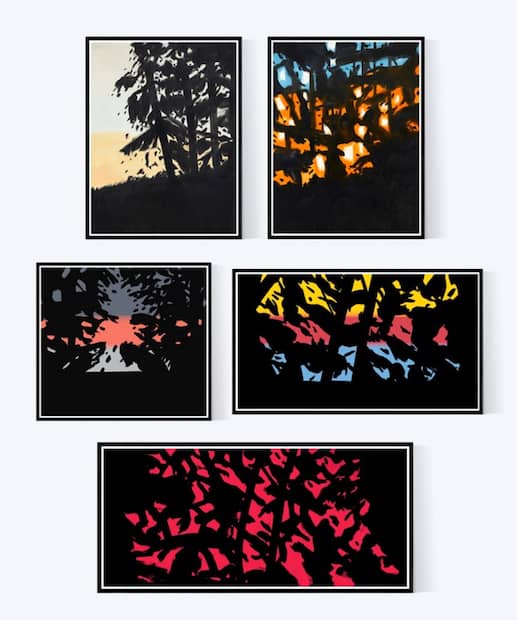 View in Maine
For more than half a century Alex Katz painted these landscapes with a virtuosity paired with consistent elegance.
You can see landscapes observed from the edge of his house in Maine. Alex Katz is in the middle of a storm.
The sun breaks orange against dark spruces; the day falls from a thicket of trees; and a nocturnal sky emerges from nothing but irrepressible movements of black and gray.
In these new works Alex Katz manifests his vision to those in the darkness, dealing with secrets that he can almost conjure up in color. The life of a painting can be truly mysterious, especially for the painter. These paintings exist metaphorically where life borders on death, and may have something uncanny to tell us.
There are two kinds of life in these pictures: The one that the pictures embody, the one that we think we are observing, and then there is another. It is this other that causes the trouble, this other that we long for.
"As artists we compete for audiences. I compete with the Abstract Expressionists. I will sweep them off the wall. And I'm going to compete with the next generation."

Alex Katz

At Sotheby's auction house in New York on Wednesday, October 28, 2020, the second-highest auction result for a painting by the artist Alex Katz was achieved: USD 3.1 million for the work "The Red Band" in the Contemporary Art Evening Auction. At Phillips auction house in London on Wednesday, October 2, 2019, the previous world record for a painting by the American artist Alex Katz was set. The painting Blue Umbrella I from 1972 sold for £3,375,000 or the equivalent of 4.1 million US dollars.
Alex Katz is an American painter, sculptor and graphic artist who became famous for his figurative paintings. His works are immediately recognizable by their colorful, two-dimensional style, which was created in response to the Abstract Expressionism of the 1950s. Although Alex Katz is widely recognized for his role as a precursor of the Pop Art movement, he has avoided being associated with any style or movement throughout his career.
Galerie Frank Fluegel has had the artist Alex Katz in its program from the very beginning and has also pointed out for years that he has long been completely underestimated in Europe. Now that he is over 90 years old, his work is increasingly becoming the focus of collectors.
Like Picasso, Katz develops more and more creativity as he grows older and seems unstoppable in the creation of new works.
Many Alex Katz exhibitions have been dedicated to his talent in recent years. Amongst others at the Serpentine Gallery in London, the Guggenheim Museum in Bilbao or the Metropolitan Museum in New York. 2019 in Munich/Germany at Museum Brandhorst; Daegu/Korea Daegu Kunstmuseum, Paris/France Musée de L'Orangerie. His works of art hang together with Andy Warhol, Roy Lichtenstein, Basquiat or KAWS in museums worldwide. In 2021 there will be a new Alex Katz exhibition in the Museo Nacional Thyssen-Bornemisza in Madrid/Spain. The Guggenheim Museum in New York will show a retrospective of Alex Katz in 2022.
2022 Alex Katz Nationalmuseum Thyssen-Bornemisza, Madrid, Spain
2022 Museum Voorlinden, Wassenaar, Netherlands.
2022 National Museum of Art Osaka, Osaka, Japan.
2022 Guggenheim Museum New York, USA.
Selected works by Alex Katz
---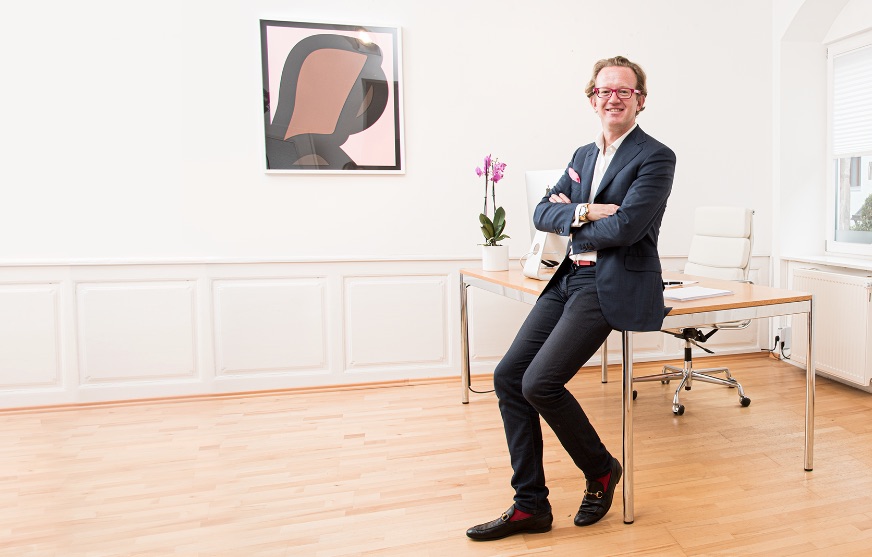 About the author
Frank Fluegel is specialized in high quality originals of Pop Art, Street Art as well as Contemporary Art. Since 1999 he has been managing the GALERIE FRANK FLUEGEL with locations in Nuremberg, Germany and Kitzbuehel, Austria.