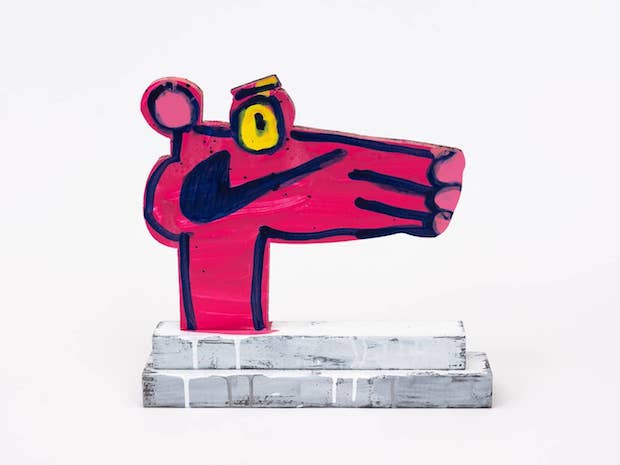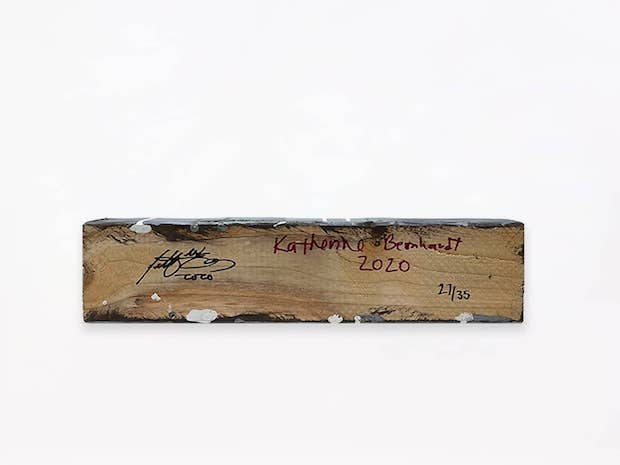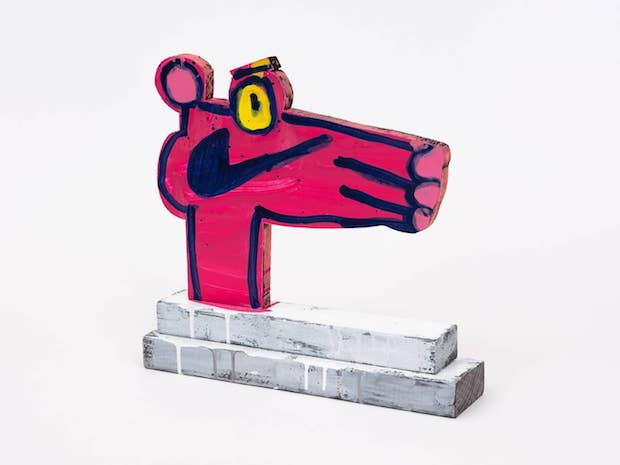 Katherine Bernhardt Panther Panther Rosa Rosa / Wood / signed / unique
| | |
| --- | --- |
| Year: | 2020 |
| Format: | 38 x 36 x 9 cm / 15 x 14.2 x 3.5 inch |
| Material: | Acrylic on wood |
| Method: | Sculpture |
| Edition: | 35 |
| Other: | signed, dated and titled on bottom |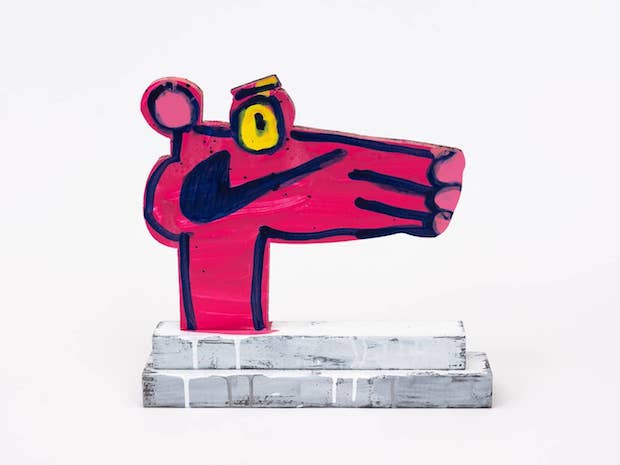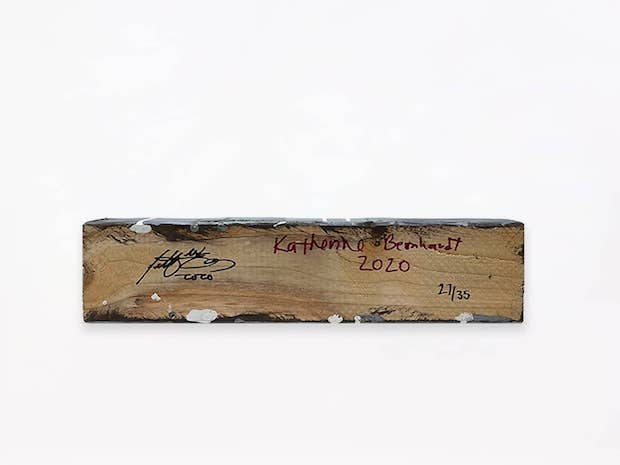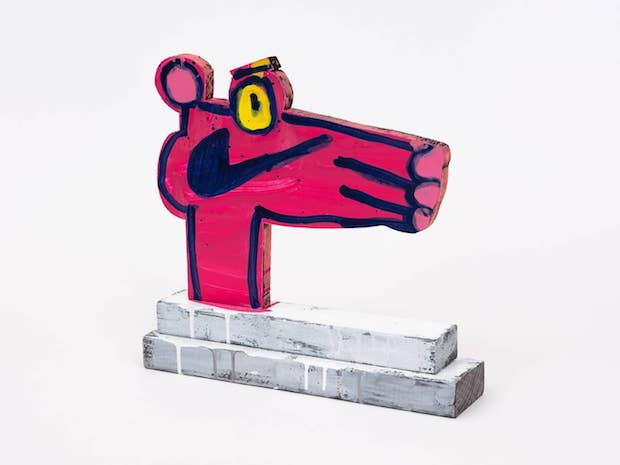 The panther sculpture, created by Jonathan Edelhuber together with Katherine Bernhardt, is a flat, two-sided, hand-painted sculpture.
Katherine Bernhardt Panther Panther Rosa Rosa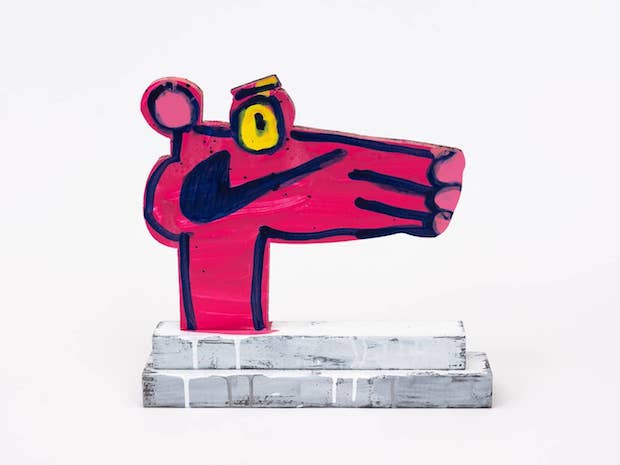 | | |
| --- | --- |
| Year: | 2020 |
| Format: | 38 x 36 x 9 cm / 15 x 14.2 x 3.5 inch |
| Material: | Acrylic on wood |
| Method: | Sculpture |
| Edition: | 35 |
| Other: | signed, dated and titled on bottom |
Katherine Bernhardt - Pattern painting
Panther Panther Rosa Rosa is a sculpture in wood by Katherine Bernhardt and Jonathan Edelhuber. It is published in a small edition of 35 copies, and each sculpture is unique. Each has been signed on the bottom by both artists. The Pink Panther is a central motif in the work of Katherine Bernhardt. A piece of this series sold recently at Seoul Winter Auction on 2021.11.23 at 17,000 US$ plus premium, approx. 22,500 US$.
Katherine Bernhardt 캐서린 베른하르트 (born 1975 in Clayton, Missouri) is an US-american artist. She currently lives and works in St. Louis in her midtown studio which was a former auto shop.
Over the past decade, Katherine Bernhardt has focused on painting all kinds of pop culture icons (e.g. Darth Vader, R2D2, Garfield, the Smurfs, E.T., the Pink Panther, etc.) as well as objects from more everyday pop culture (such as cigarettes, toilet paper, NYC metro passes, plantains, sharks, watermelons, tennis shoes, Coca Cola, Pepsi, Scotch Tape, ice cream, pizza, etc.).
Katherine Bernhardt had a memorable exhibition curated by Roya Sachs at Lever House, New York in 2017, where she presented a series of soft sculptures alongside her paintings and a wild and colorful installation with plants.
In November 2019, Katherine Bernhardt was nominated for the New York Artwalk, a citywide charity event for the homeless. Katherine Bernhardt has also been involved in numerous collaborations in the art and fashion industry, such as W Magazine, Chanel, and Miss Sixty.
Katherine Bernhardt's paintings can fetch up to $230,000. Around $80,000 US was reached for PLANTAINS, BANANAS & TOILET PAPER (2015) at Sotheby's in 2018, and was slightly more than double the estimate. 캐서린 베른하르트 also had a show in Seoul.
In July 2021, David Zwirner announced Katherine Bernhardt will now represented by him worldwide. David Zwirner will present an exhibition of new work by Bernhardt in London in spring 2022.
Katherine Bernhardt's boundless visual appetite has established her as one of the most energetic painters working today. She first gained attention in the early 2000s for her paintings of supermodels, taken directly from the pages of fashion magazines such as Elle and Vogue. In the decade that followed, she began painting sample paintings featuring an ever-growing list of everyday subjects. Tacos, coffee makers, toilet paper, cigarettes, E.T., Garfield, Darth Vader and the Pink Panther form unlikely visual combinations in expansive fields of exuberant color. She delights in variety and fully explores each of her obsessions before moving on to another. Bernhardt's confidence in the fundamental underpinnings of painting gives her the freedom to depict whatever she wants, and the democratizing surfaces of her canvases function without illusion, perspective, logical shifts in scale, or atmosphere. With Bernhardt's blunt yet lyrical approach, each painting has the feel of a complete thought, incorporating the artist's rich and raw free association.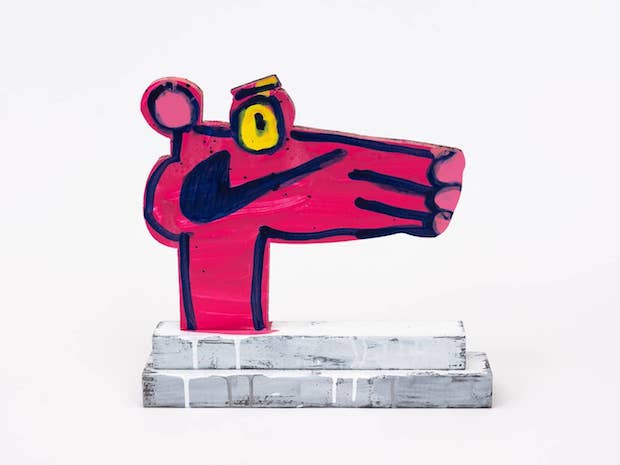 Katherine Bernhardt Panther Panther Rosa Rosa / Wood / signed / unique
Year:
2020
Format:
38 x 36 x 9 cm / 15 x 14.2 x 3.5 inch
Material:
Acrylic on wood
Method:
Sculpture
Edition:
35
Other:
signed, dated and titled on bottom