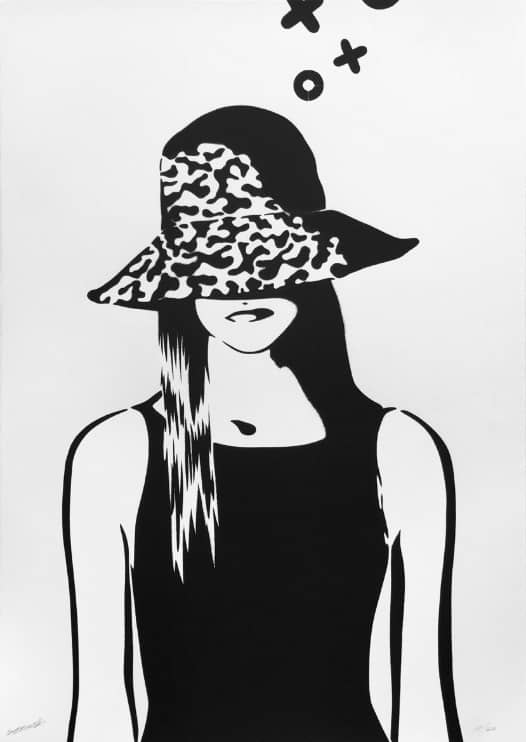 XOOOOX Edition Skimmer / Screenprint / signed, numbered/ Edition of 70
| | |
| --- | --- |
| Year: | 2018 |
| Format: | 50 x 70 cm / 19.7 x 27.6 inch |
| Material: | handmade paper |
| Method: | Screenprint |
| Edition: | 70 |
| Other: | signed, numbered |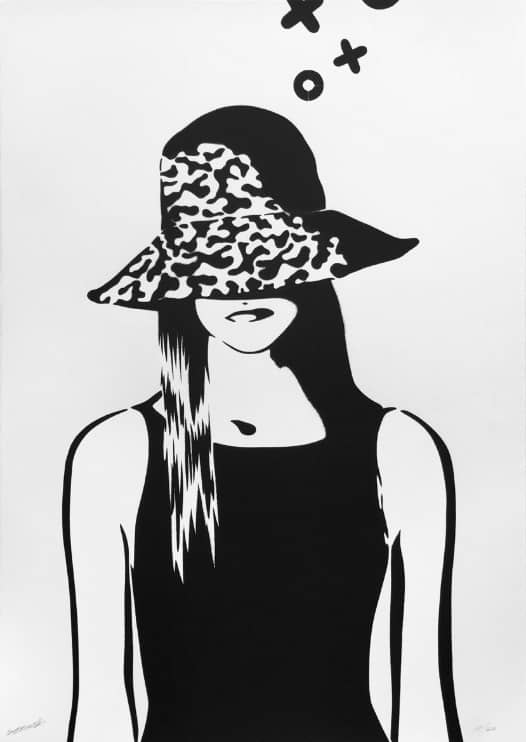 XOOOOX Skimmer (Second Edition of XOOOOX)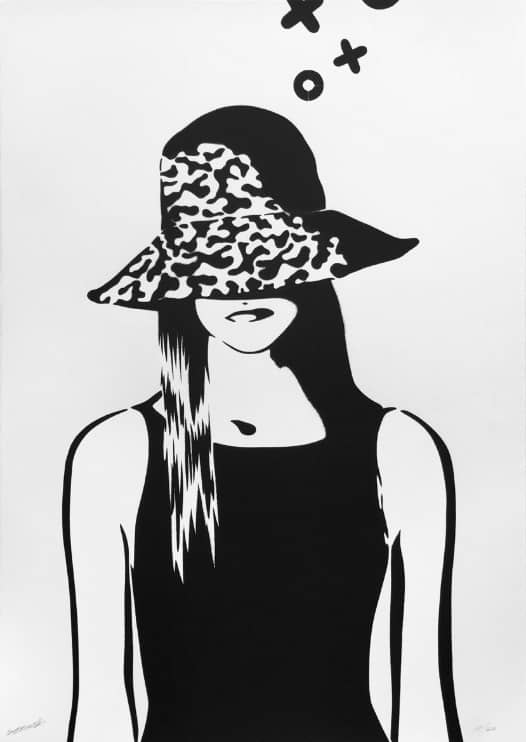 | | |
| --- | --- |
| Year: | 2018 |
| Format: | 50 x 70 cm / 19.7 x 27.6 inch |
| Material: | handmade paper |
| Method: | Screenprint |
| Edition: | 70 |
| Other: | signed, numbered |
Aesthete of transience / XOOOOX
XOOOOX, the only internationally successful street art artist from Germany according to media reports, has released a new graphic edition. The work entitled Skimmer is based on a wood work from 2017. In spring 2018, FOCUS magazine already reported on the Berlin street art artist XOOOOX in issue 17/2018 and recommended the first graphic edition as an art tip and investment. XOOOOX is a German street art artist who lives and works in Berlin. Similar to Banksy, the true identity behind this pseudonym is unclear. However, it is interesting to know that he was sent to prison for a few days during his school days for damage to property after his Street Art had been betrayed by someone at the police. His life-size stencil works show perfectly styled female models, which he stages according to fashion campaigns. But for the background he uses materials with a history, such as decayed or weathered woods and fabrics. Thus he creates a contrast to the glamour of the fashion world. In many of his works he also uses logos of fashion brands like Hermes or Chanel, which he alienates. In some cases, this can be understood as homage, as is the case with brands that look back on a long tradition. In others, it is rather a criticism of the over-industrialization of fashion and invites the viewer to question it.
International exhibitions in Berlin, Hamburg, Nuremberg, London, Amsterdam and in 2020 in Chicago underline the rapid rise of the exceptional talent XOOOOX. Galerie Frank Fluegel has worked closely with XOOOOX for a long time and has also published editions. This makes it possible for a broader public to enter street art – after all, not everyone can buy a unique piece right away. Works by the artist have also been sold successfully at Phillips Auctions in London in the Contemporary Art auction.
Born in 1979, living in Berlin and as a teenager in prison for damage to property – Germany's first street art artist of international renown does not reveal much more about himself. From the age of 15, XOOOOX perfected his graffiti art. His trademark – life-size stencils of styled models, which he sprayed onto weathered, decayed surfaces in public spaces and signed with the two letters X and O of his pseudonym – attracted the attention of the art scene. At international exhibitions, the autodidact XOOOOX shows mainly abstract paintings, object art, works on paper and photography. Anyone who wants to buy XOOOOX has the choice between originals and limited, signed graphic editions.
Ihr Ansprechpartner
Frank Fluegel
E-Mail: info(at)frankfluegel.com
Ihr Ansprechpartner
Frank Fluegel
E-Mail: info(at)frankfluegel.com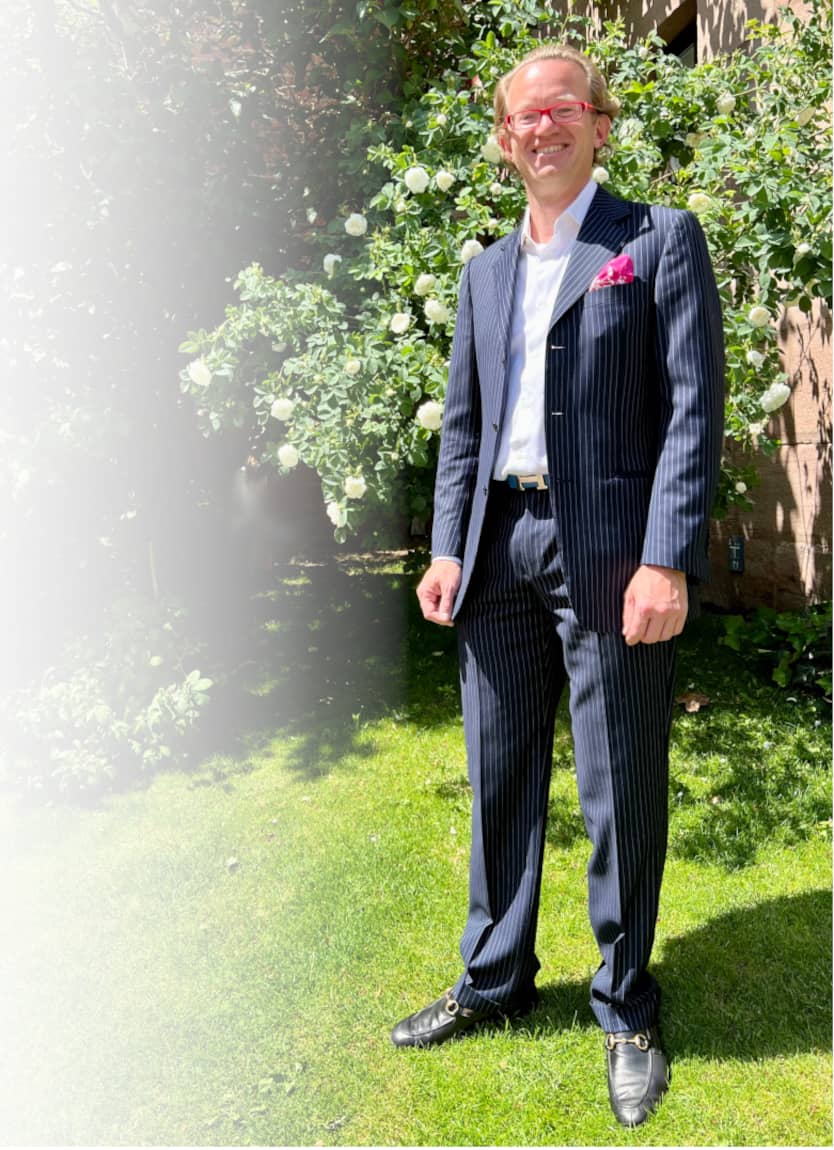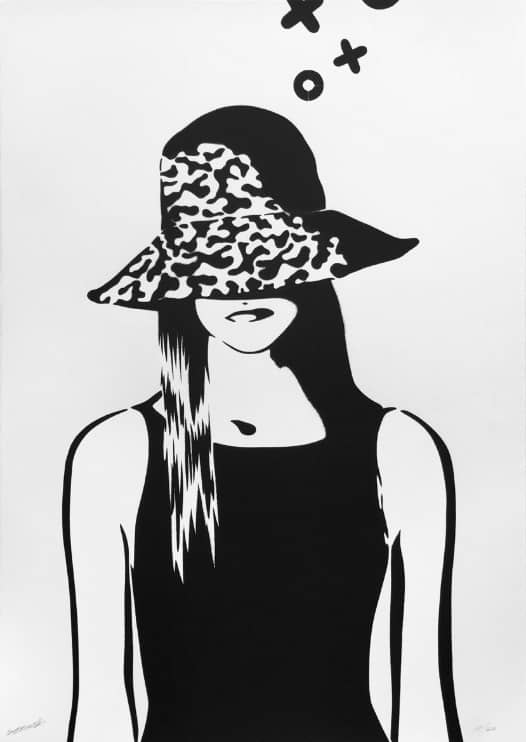 XOOOOX Edition Skimmer / Screenprint / signed, numbered/ Edition of 70
Year:
2018
Format:
50 x 70 cm / 19.7 x 27.6 inch
Material:
handmade paper
Method:
Screenprint
Edition:
70
Other:
signed, numbered