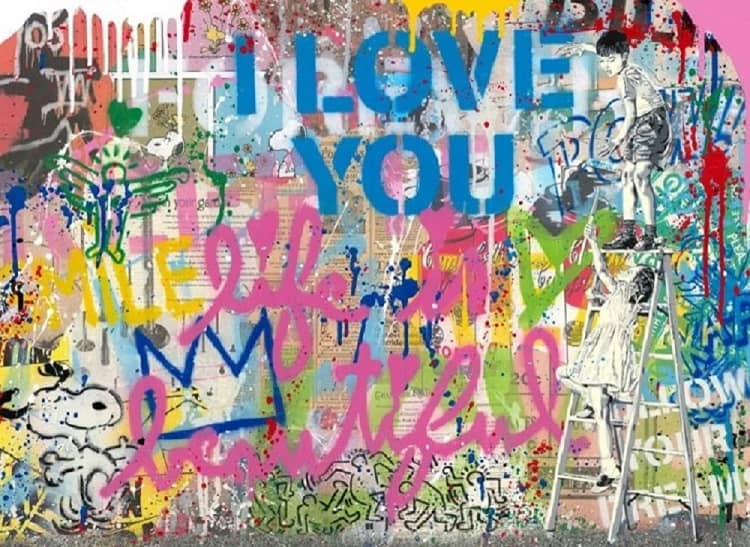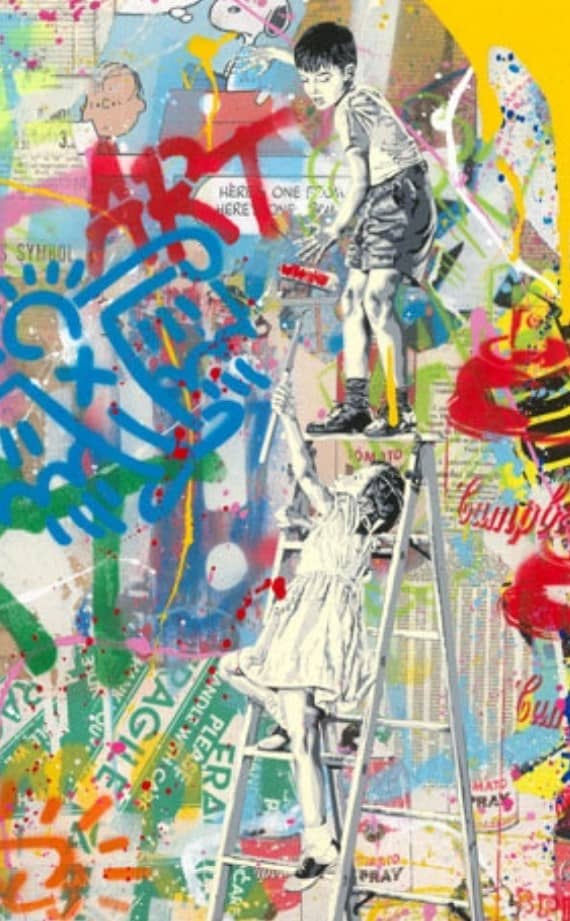 Mr. Brainwash Helping Hand / Mixed Media / signed / unique
| | |
| --- | --- |
| Year: | 2022 |
| Format: | 55,9 x 76,2 cm / 21.7 x 29.9 inch |
| Material: | Fine Art Paper |
| Method: | Stencil, Mixed Media, Acrylic Paint. |
| Edition: | Unique |
| Other: | handsigned front and verso. |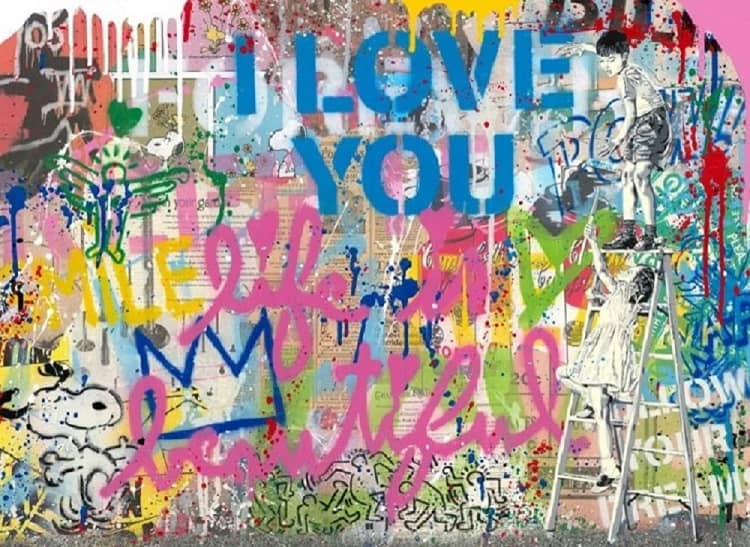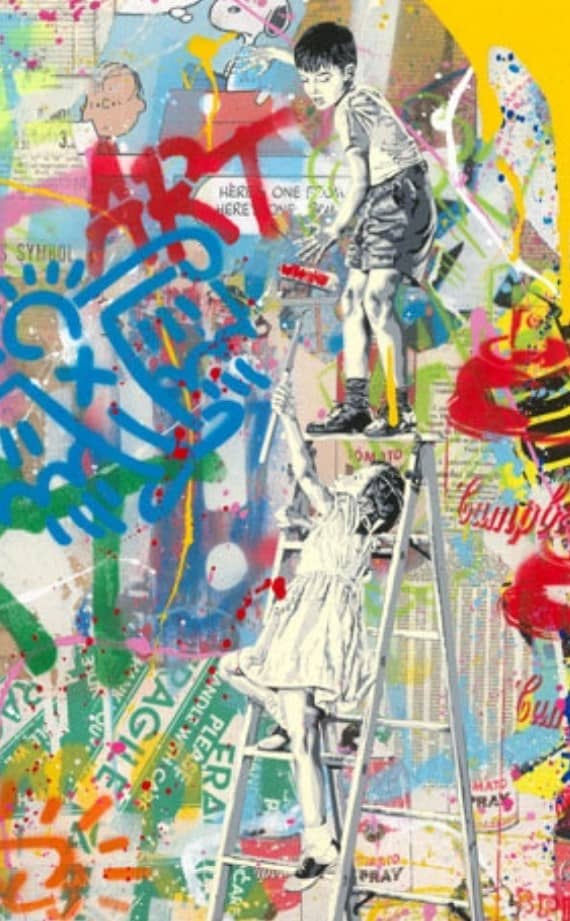 Helping Hand by Mr. Brainwash is another one-of-a-kind artwork that focuses on children.
Mr. Brainwash Helping Hand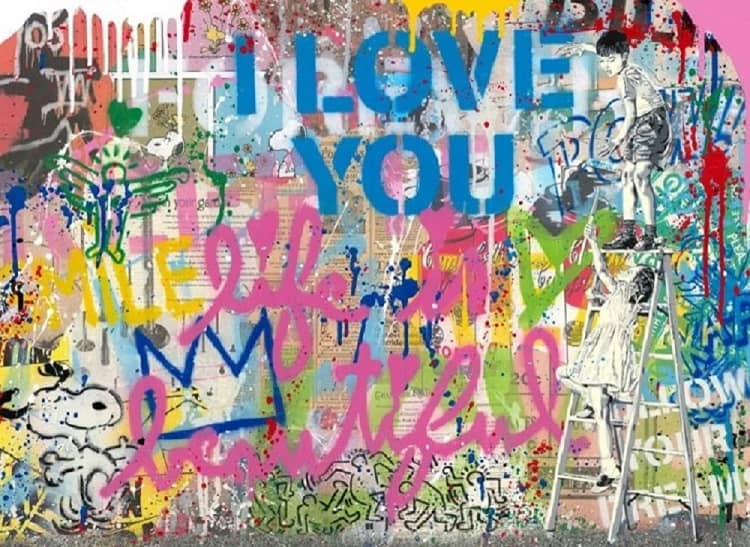 | | |
| --- | --- |
| Year: | 2022 |
| Format: | 55,9 x 76,2 cm / 21.7 x 29.9 inch |
| Material: | Fine Art Paper |
| Method: | Stencil, Mixed Media, Acrylic Paint. |
| Edition: | Unique |
| Other: | handsigned front and verso. |
Helping Hand - Mr. Brainwash.
Helping Hand is a unique piece of Mr. Brainwash like some other images of the artist also, children in the center. The two teenagers who stand on the right edge of the picture on the ladder are painting a wall. The little girl hands the brush to the boy on top of the ladder. The lightheartedness of youth is often the central theme of Mr. Brainwash. He often uses vintage templates from the 50s and 60s from the famous Saturday Evening Posts, which were all hand-drawn at the time. As with all of Thierry Guetta's unique pieces, the background of Helping Hand is covered with stencils, collage elements and spray paint. One can recognize individual comic strips of the Peanuts as well as Snoopy. Of course, iconographies and original slogans by Keith Haring or Jean-Michel Basquit are not missing.
A decade ago the documentary film Exit Through the Gift Shop, directed by Banksy and nominated for an Oscar, premiered and catapulted Mr. Brainwash to world fame. In the meantime, it can be said that the film that was actually supposed to tell Banksy's story is the story of Thierry Guetta alias Mr. Brainwash. Thierry Guetta, this unknown man who filmed street artists in Los Angeles for years until he became one himself and earned over $1 million with a monumental exhibition in a former CBS studio in the heart of the City of Angels. Today the child of Garges-lès-Gonesse is the friend of All-Hollywood, he is invited by the Dalai Lama and the Pope to do their portraits.
He explains his motto "Life is Beautiful" in an interview with Paris Match in June 2019 as follows
"Art is a weapon. To be able to share, to give, especially to love, is the most beautiful weapon. It is not just a phrase or a sculpture, it is a medicine for the brain, for thinking." He himself lives the American dream. He says so himself:
"When I won a Spirit Award, I saw myself again as a little boy in my Paris suburb, I must have been 9 years old, and I wondered what I was going to do with my life. These are the tricks that life can play on you! From where I come from to where I am today, not even a plane can take you there!"
In addition to Madonna for whom he created the cover of the Celebration album, he is now also working for Hublot and other companies. On March 21, 2019, Mr. Brainwash again met the Pope in Rome and in December 2019 created a work of art entitled "Pope Art" in cooperation with Pope Francis for the third time. For charity, Mr. Brainwash has long collaborated with other stars such as Rick Ross, football player Pele, Stan Lee, Michelle Obama, the LA Clippers and many others. In addition to Art Basel in Miami and Hong Kong, he also regularly creates Juxtapose murals for the AMFAR Gala. His latest project was released in London in 2021, the giant mural at Battersea Power Station, a new subway stop. Helping Hand is a typical unique artwork by Mr. Brainwash.
Ihr Ansprechpartner
Frank Fluegel
E-Mail: info(at)frankfluegel.com
Ihr Ansprechpartner
Frank Fluegel
E-Mail: info(at)frankfluegel.com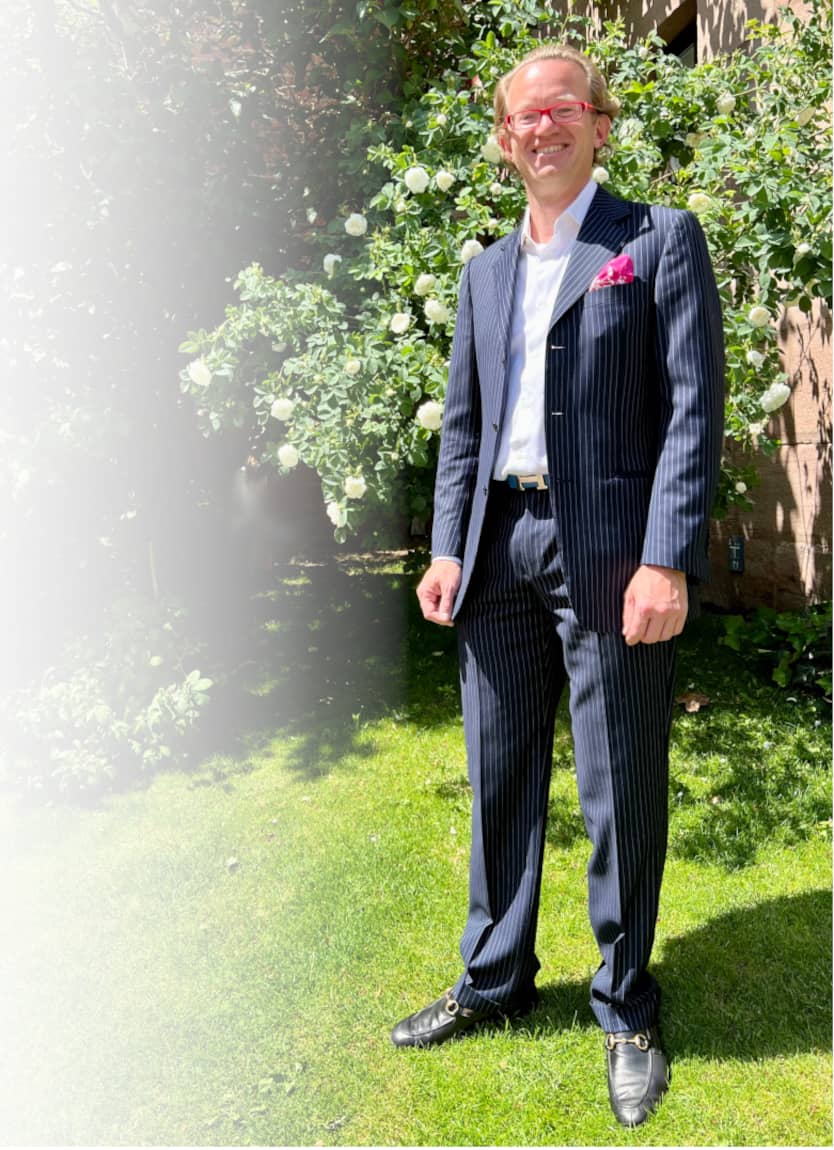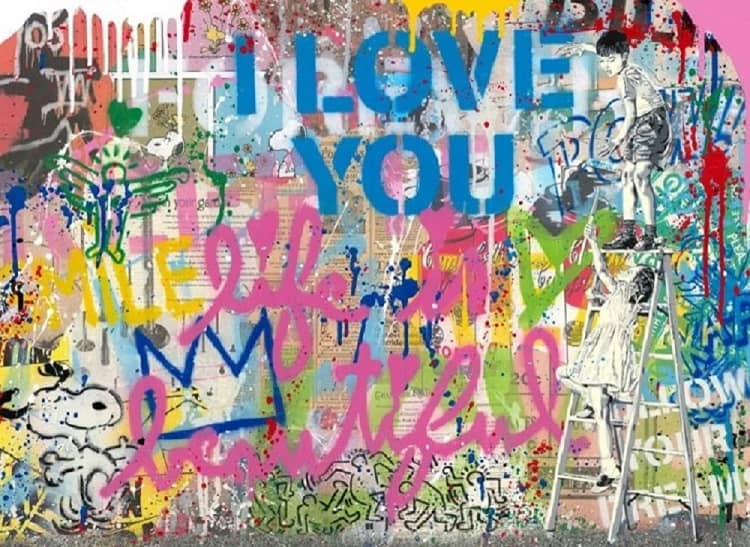 Mr. Brainwash Helping Hand / Mixed Media / signed / unique
Year:
2022
Format:
55,9 x 76,2 cm / 21.7 x 29.9 inch
Material:
Fine Art Paper
Method:
Stencil, Mixed Media, Acrylic Paint.
Edition:
Unique
Other:
handsigned front and verso.