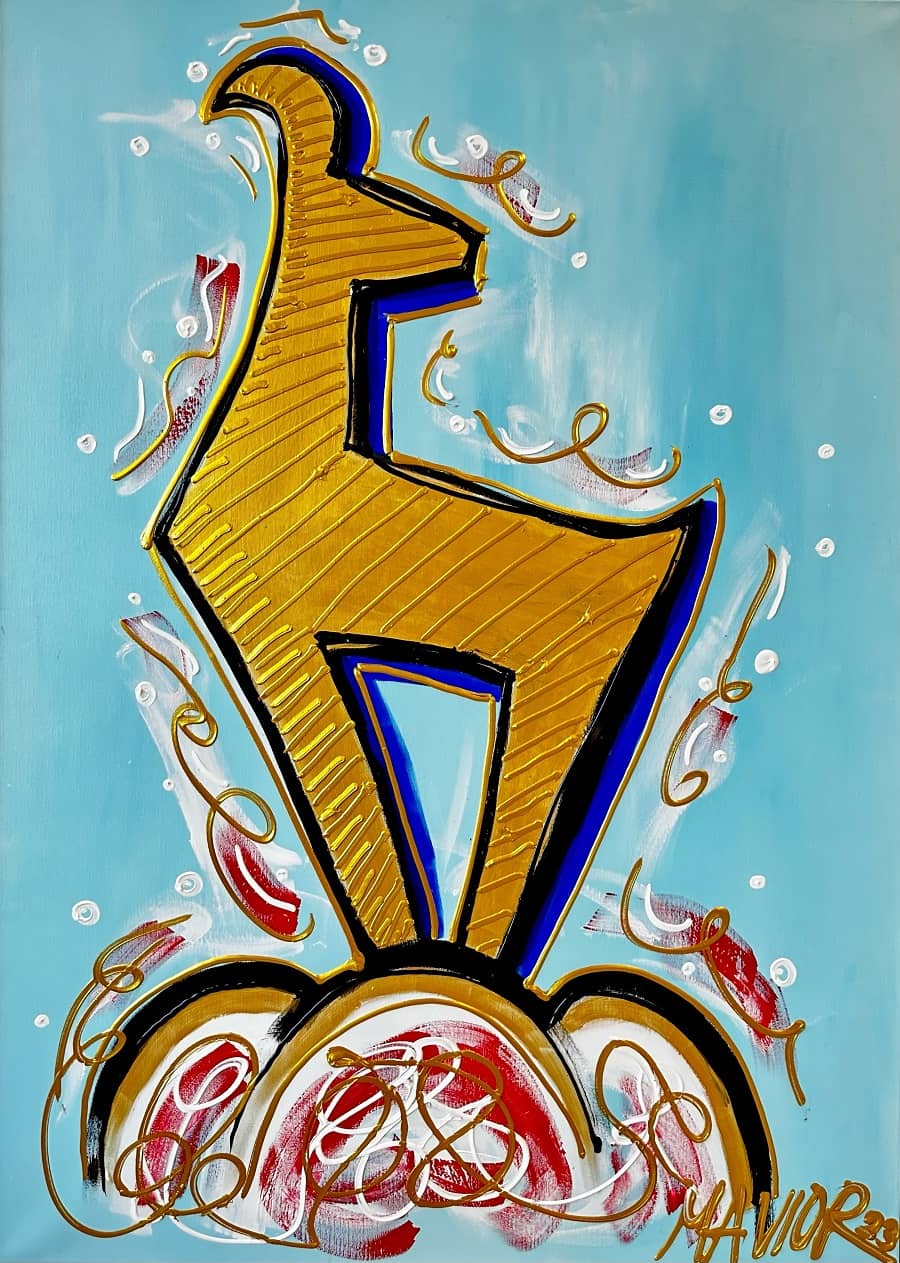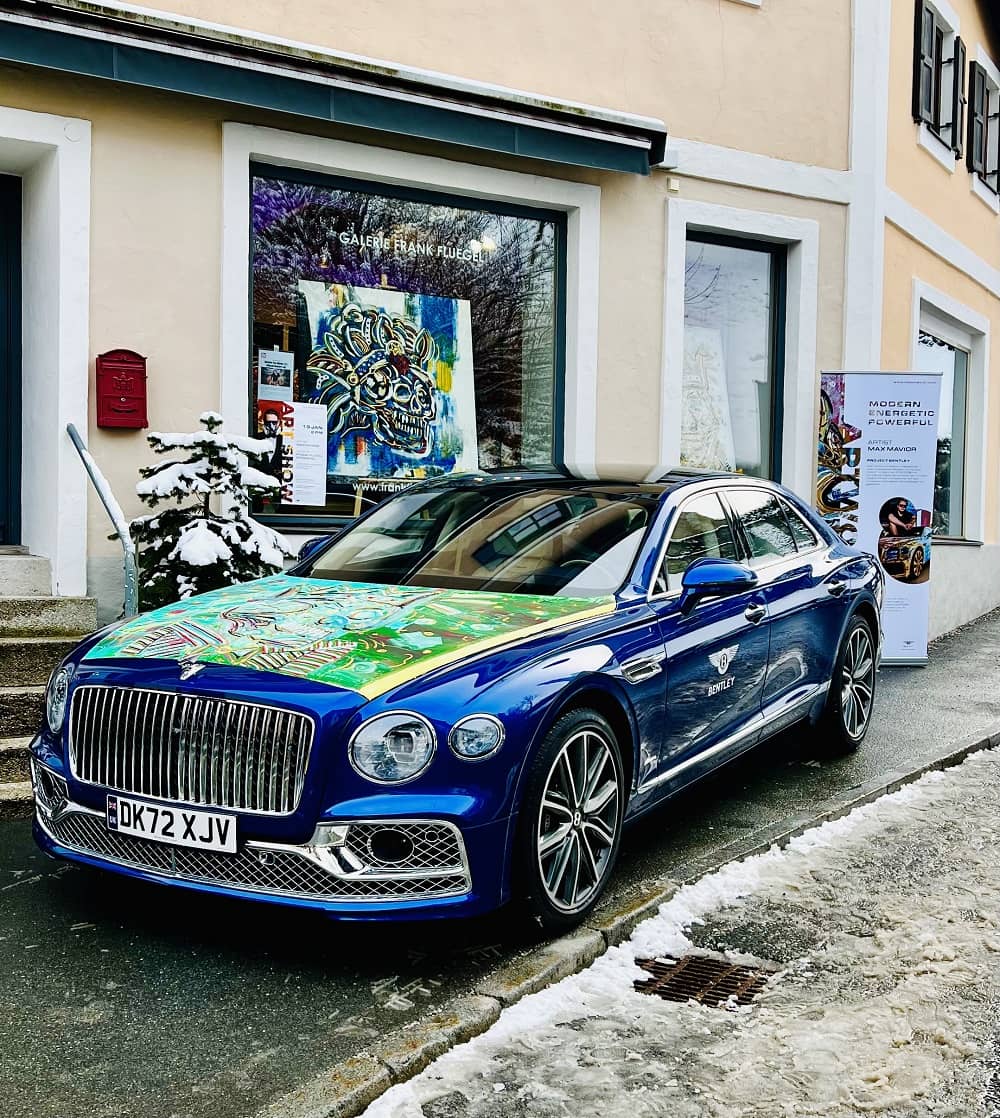 Max Mavior Kitz / Painting / signed / Unique
| | |
| --- | --- |
| Year: | 2023 |
| Format: | 100 x 140 cm / 39.4 x 55.1 inch |
| Material: | Canvas. |
| Method: | Acrylic on canvas, squeegee technique |
| Edition: | Unique. |
| Other: | handsigned. |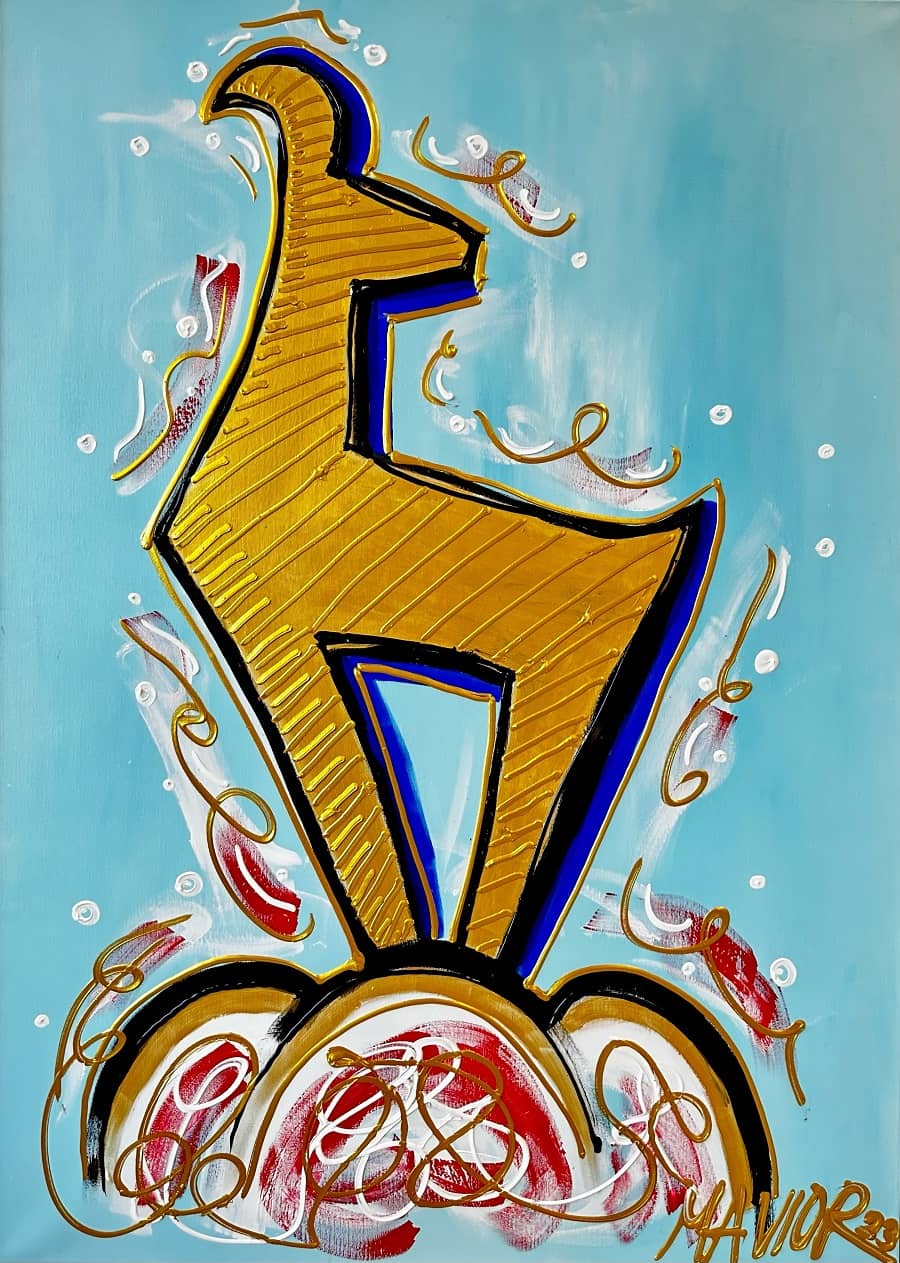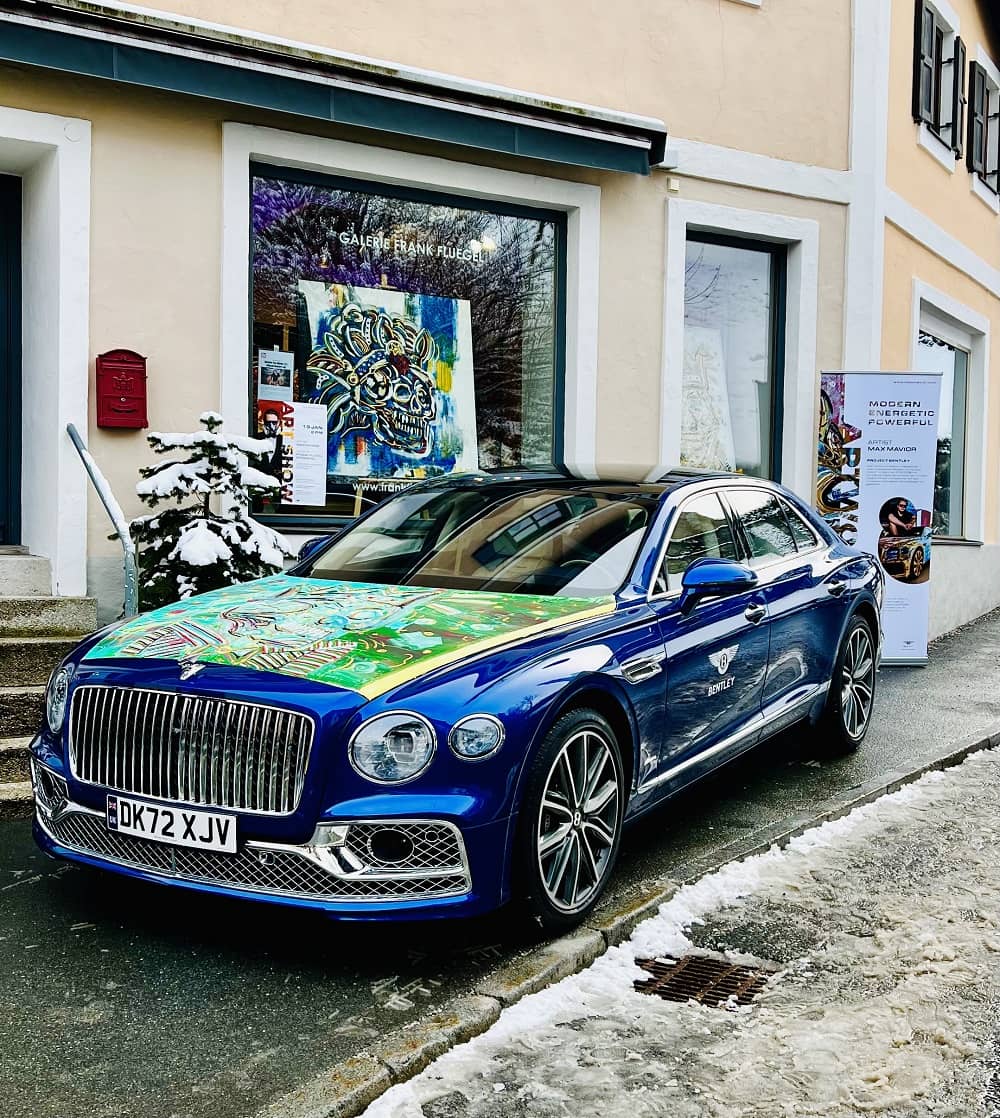 Max Mavior – Kitz.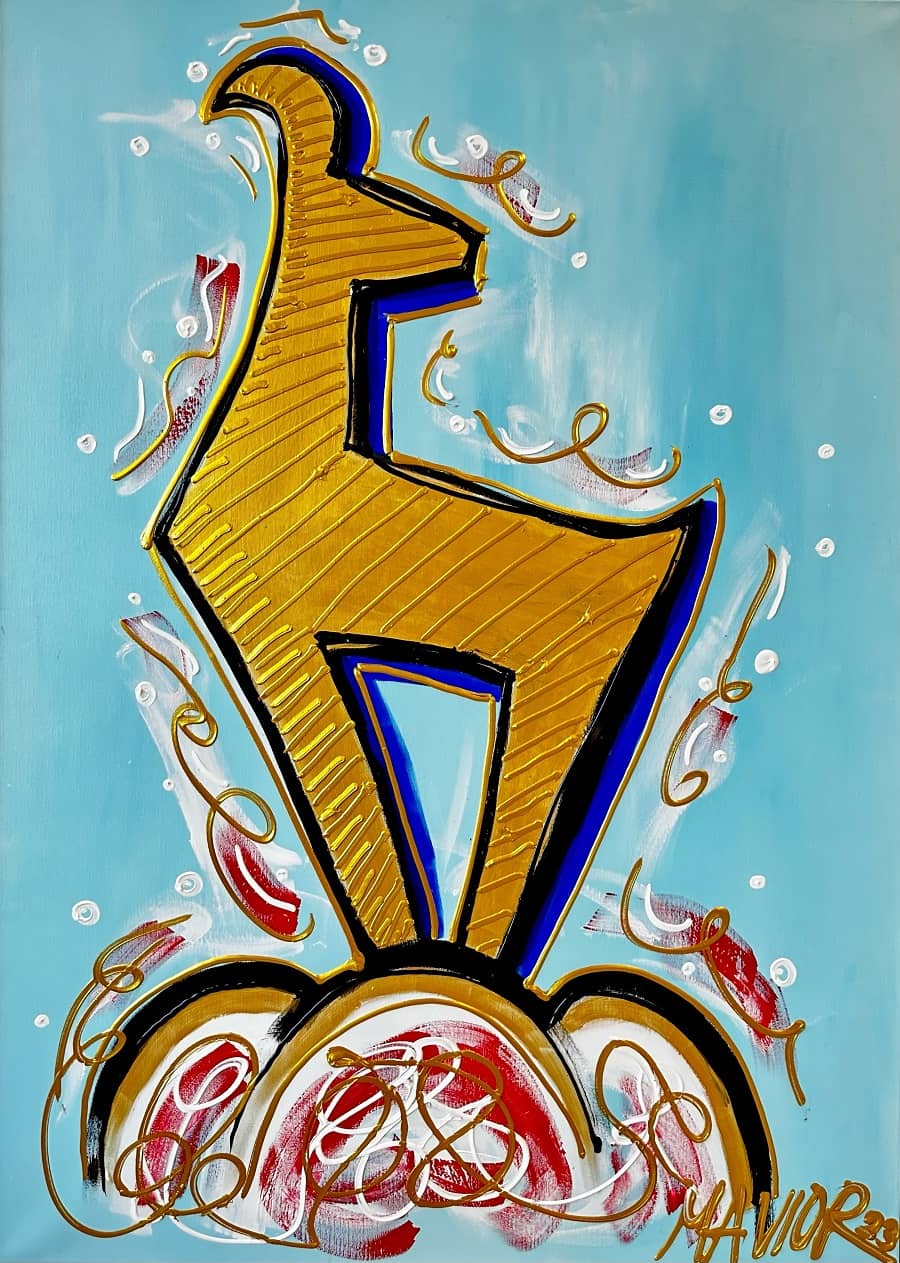 | | |
| --- | --- |
| Year: | 2023 |
| Format: | 100 x 140 cm / 39.4 x 55.1 inch |
| Material: | Canvas. |
| Method: | Acrylic on canvas, squeegee technique |
| Edition: | Unique. |
| Other: | handsigned. |
Max Mavior - Kitz.
"Kitz – There is freedom in the mountains"  is a painting by the young, emerging artist Max Mavior. It was created with acrylic paint on canvas. For the background, the artist chose the so-called squeegee technique. This squeegee technique, among other things, is also a feature of the famous German painter Gerhard Richter, who has created many of his works in this method. Here, first thick acrylic paint is applied to the canvas and then pulled with a squeegee – a slightly wider wooden spatula – with rhythmic movements over the canvas, so that unpredictable, purely random wave-like color gradients arise. In combination with the plastically applied acrylic paint of the actual motif, this creates a certain depth effect in the artworks of Max Mavior.
His paintings are stylistically, similar to the paintings of the so-called "New Wilds", but also find reference to the motifs and painting style of Jean-Michel Basquiat. "Mankind has always been on the move, seeking new ways and innovations. However, the path to success is often associated with a constant reinvention of oneself and resembles a resurrection." Through his art, Max Mavior deals with existential questions of life. Life and death, joy, courage, wealth and power are themes that show up in his paintings. The central point in his art is the meaning and transience of life and the constant struggle with oneself to take courage and to draw motivating ideas from defeats as well as to go new ways. Moreover, this courage should help to master the ups and downs of life to leave a legacy at the end and become immortal. Due to the abstract expressionistic depiction of the figures as well as the special kind of line management, an impression of liveliness is created in his paintings. The powerful color combinations evoke electrifying emotions when viewed, embodying energy and joie de vivre.
"We are all part of this game and we can win it."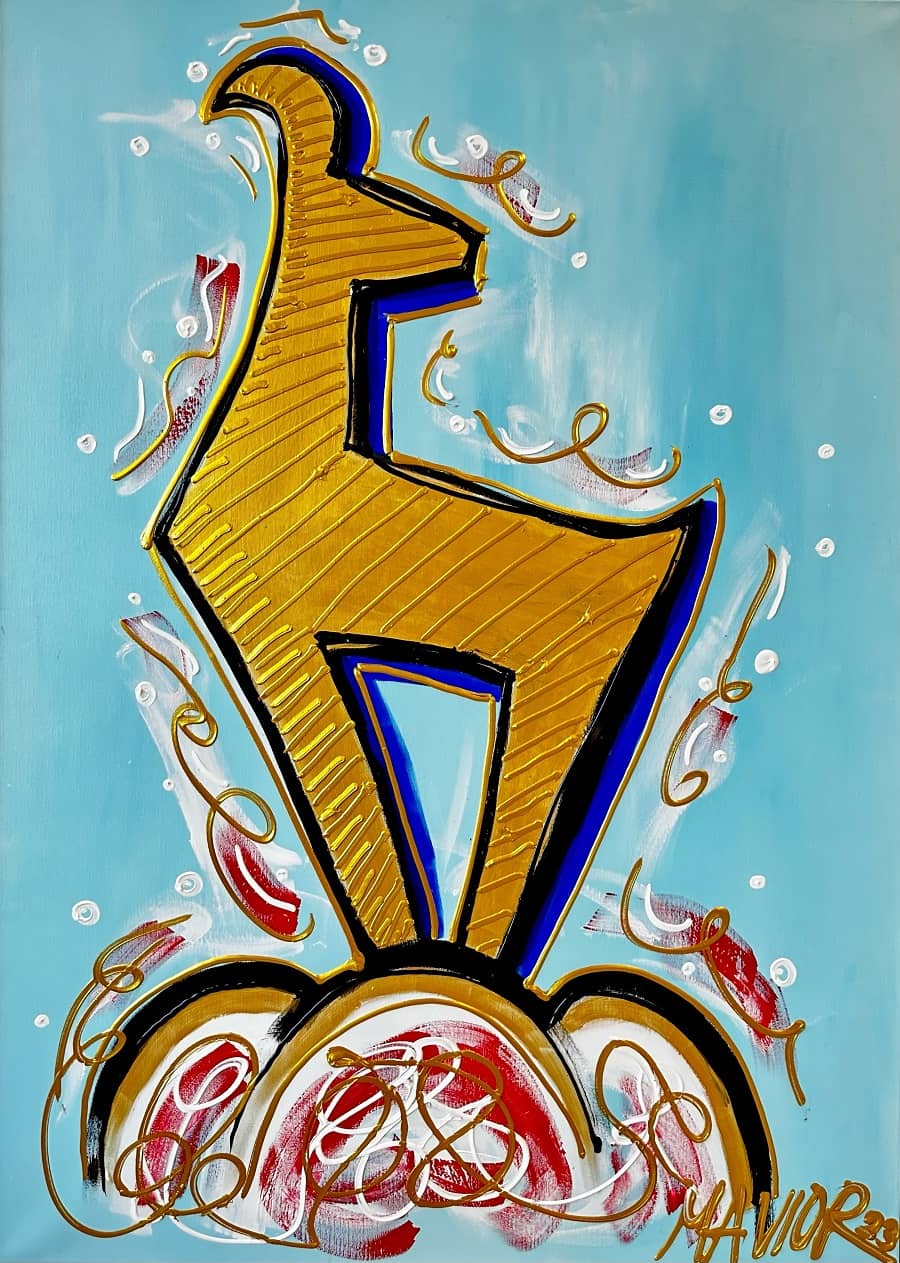 Max Mavior Kitz / Painting / signed / Unique
Year:
2023
Format:
100 x 140 cm / 39.4 x 55.1 inch
Material:
Canvas.
Method:
Acrylic on canvas, squeegee technique
Edition:
Unique.
Other:
handsigned.