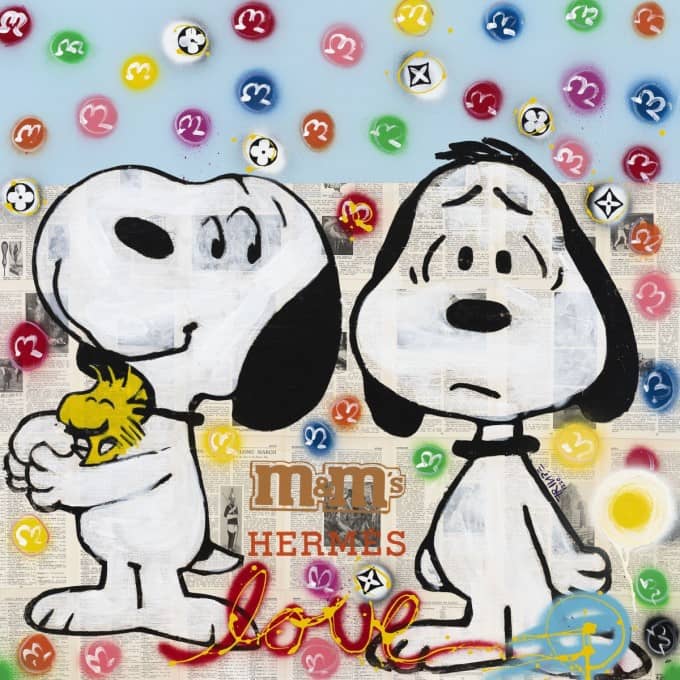 FRINGE Hermès Love / Oil and spray paint / signed / unique
| | |
| --- | --- |
| Year: | 2021 |
| Format: | 100 x 100 cm / 39 x 39 inch |
| Material: | Canvas |
| Method: | Oil and spray paint |
| Edition: | unique |
| Other: | signed |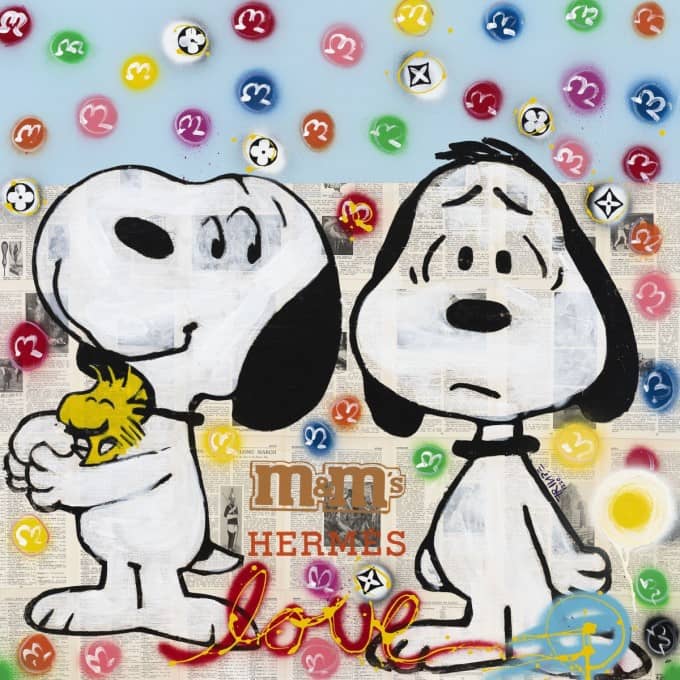 FRINGE Hermès Love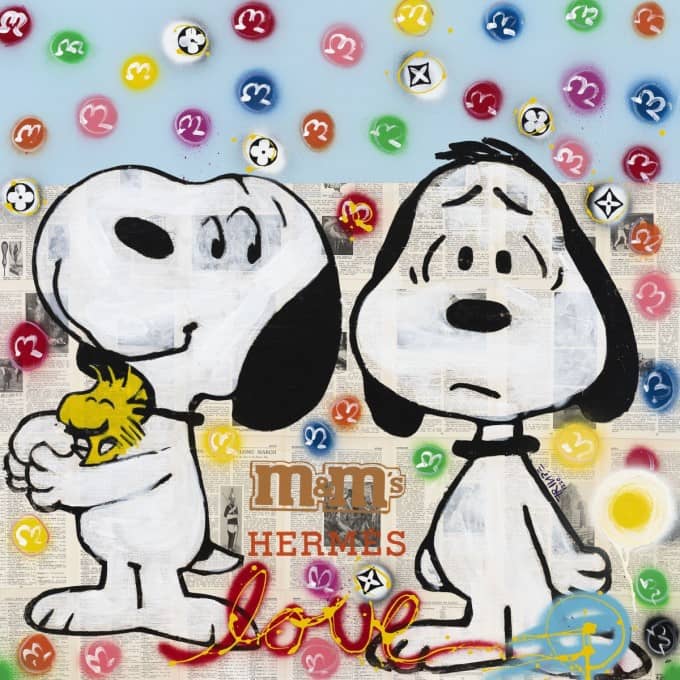 | | |
| --- | --- |
| Year: | 2021 |
| Format: | 100 x 100 cm / 39 x 39 inch |
| Material: | Canvas |
| Method: | Oil and spray paint |
| Edition: | unique |
| Other: | signed |
In Greek mythology, Hermes is the messenger of the gods who delivers Zeus' messages. But he is also the patron god of travelers, merchants and art dealers. Nevertheless, the French luxury brand Hermès, which was founded in Paris in 1837 by the German Thierry Hermès (born in Krefeld), initially as a saddlery, also based its logo with the horses on Greek mythology. Famous fashion labels like that of Hermès have always been processed by artists in your works, especially Andy Warhol and Pop Art. In more recent times, however, more and more street art artists make use of the well-fashioned image that emanates from brands such as Hermès or Chanel. It is up to the collector to decide whether the work is a homage or a critique of consumption. We think, who already has enough Kelly and Birkin bags in the closet should have the matching art in the collection. It's not for nothing that FRINGE THE ARTIST has over 20,000 followers on Instagram. The artist already has two solo shows in Europe that were completely sold out. In September 2017, an original artwork by Fringe was sold in London at a charity auction in aid of the African Ukuthemba Foundation. The work was auctioned off by Irish actor Graham Norton. In the context, Fringe's art received extensive attention in Europe, the U.S. and especially Asia. In 2018, the first completely sold-out FRINGE exhibition in Europe took place at Desom Wine Estate in Luxembourg. In October 2019, Fringe had another solo show in Europe at the prestigious Monaise Castle in Trier, Germany. A second artwork was auctioned in London and achieved a new record price. As always with Fringe the artist, the Hermès unique piece of course includes the fried egg as a symbol. The egg is a symbol of development and nourishment, although it does not clearly represent positivity and health.
The fried egg at FRINGE is perfectly produced in a two-tone spray technique. The white color runs as if by chance, imitating the actual preparation. At the same time, the fried egg is a rather sad symbol of mass-produced breakfast at fast food chains and franchises.
We can't look at it without automatically thinking of its importance in our industrial eating culture, which favors fast and cheap mass-produced food and is thus accused of devastating our planet. Thus, it also links back to the luxury label Hermès, which, although it wants to be expensive and exclusive, has become a mass product in the metropolises of Asia and today, like the luxury label Chanel, stands for mass consumption of the It-girls and Instagram generation.
Ihr Ansprechpartner
Frank Fluegel
E-Mail: info(at)frankfluegel.com
Ihr Ansprechpartner
Frank Fluegel
E-Mail: info(at)frankfluegel.com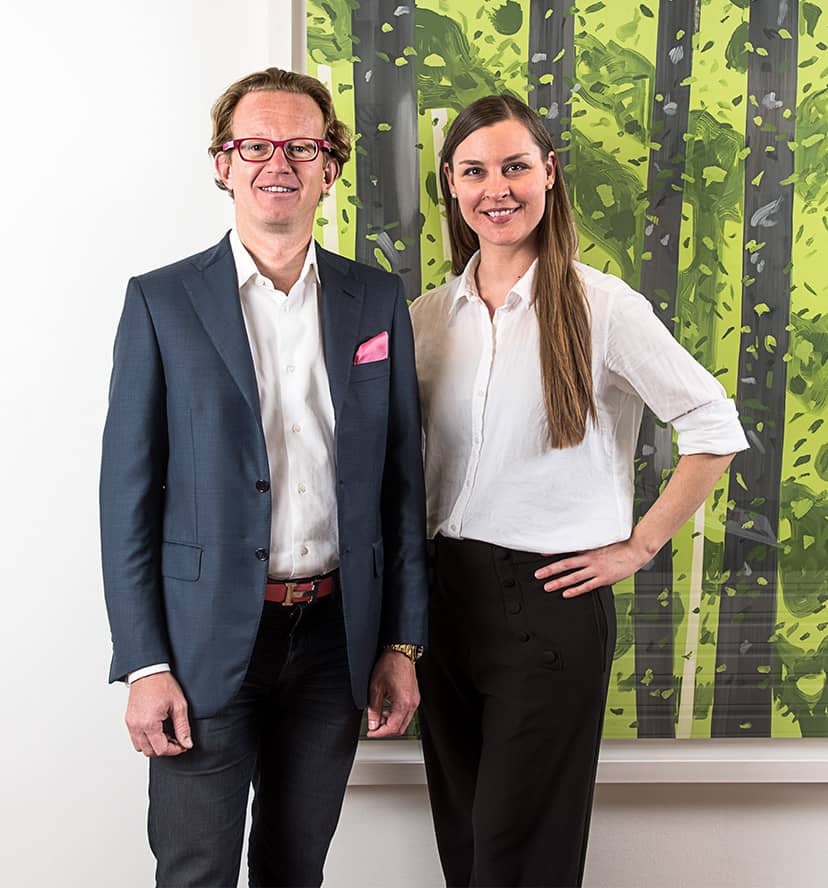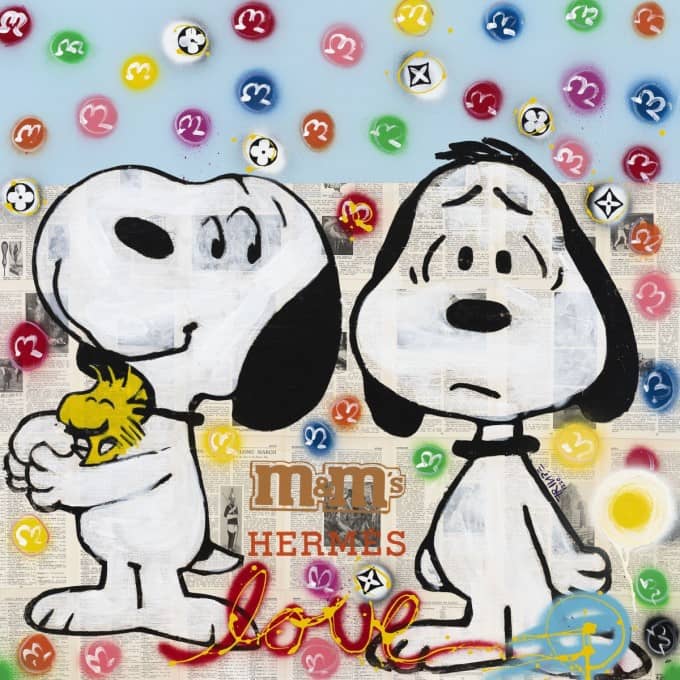 FRINGE Hermès Love / Oil and spray paint / signed / unique
Year:
2021
Format:
100 x 100 cm / 39 x 39 inch
Material:
Canvas
Method:
Oil and spray paint
Edition:
unique
Other:
signed